The Rise and Fall of Little Voice

by Jim Cartwright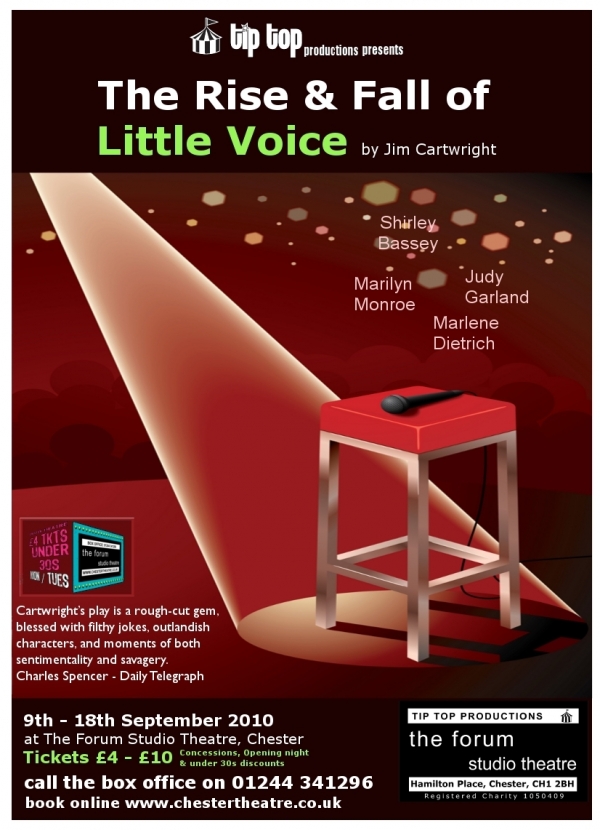 09/09/10 - 18/09/10
Venue: The Forum Studio Theatre
Little Voice's only comfort in life is the LP collection she was left by her late father. In the privacy of her bedroom she learns to sing like the stars he revered - such as Judy Garland, Marilyn Monroe, and Shirley Bassey . One night her brassy mother, Mari, brings home her latest boyfriend, a dodgy local music talent scout called Ray Say. He hears Little Voice impersonating various famous singers and realizes that there is gold in her voice. Soon she has undergone the transformation from Ugly Duckling and is being introduced as a glittering star on the stage in Mr Boos local Northern working men's club. But the whirlwind rush for success breaks Little Voice's soul and voice, dashing Ray's hopes for gold and glory, and her mother's hopes for a long term future with Ray. Only Billy, the shy young telephone engineer, can save Little Voice and give her the courage to speak and sing in her own voice. This is a funny, sentimental and savage play that combines comedy, and pathos in equal measure.
May 2020, Gail Young fondly remembers: "The very first main show I directed was Little Voice. The cast included lots of great actors who are still members today and it's wonderful to see what Philip Laing has gone on to do. He's now a professional and was in Storyhouse's rep company last year.
Cast
Little Voice - Kirsty Challinor
Mari Hoff - Pippa Redmayne
Ray Say - Richard Taylor
Sadie - Pat Pearce
Mr Boo - Mike Heathcote
Billy - Phillip Laing
Phone Man - Dave Pearce

Director - Gail Young

Stage Manager - Andrew Roberts
ASM -
Sound - Paul White
Lighting - Ian Jones

Set Construction - Richard Taylor
Props - TBC


Production team
Director - Gail Young
Producer/DSM - Andrew Roberts
Lighting - Ian Jones
Sound - Paul White
Set Design - Richard Taylor/Gail Young/Dave Kennedy/Sarah Bell
Set - Richard Taylor
Props - Sarah Green and Lizzie O'Sullivan
Production Co-ordinator - Sarah Greene
Reviews
Tip Top's LIttle Voice Deserves to be heard
Tip Top Productions took a gamble opting for Jim Cartwright's The Rise and Fall of Little Voice to open its autumn season, but it is one that has paid off.
Directed byTip Top Productions Gail Young this production tells the story of a shy reclusive girl, Little Voice (LV), who has a hidden talent for impersonating some of the worlds best known divas. When her overbearing mother brings home sleazy local talent scout Ray Say, he realises LV's gifts and persuades her into performing in a seedy runfown northern working men's clubs.
Although Kirst Challinor plays the title role of Little Voice and does a fabulous job, it is Pippa Redmayne who plays LV's mother Mari Hoff who steals the show.
Redmayne's Mari is loud, brash, nasty and desperate-just a she should be. She makes the audience both cringe and laugh when she stumbles about the stage bullying and terrifying poor LV and her one liners make the audience both laugh and gasp. The actress who plays Mari Hoff has to be strong to carry the play and Redmayne certainly fulfils this role with ease.
Challinor has a big task when taking on the title role. Not only does she have to play the shy and timid LV, she also has to impersonate the stars including the voices of Judi Garland, Shirley Bassey and Marilyn Monroe. She does both very well.
Her LV is childlike, and her fear of loud noises particularly the voice of her overbearing mother and constant nervous shaking and discomfort are totally believable.
Her singing and impersonations are impressive and Challinor shows off the full potential of her vocal talents when LV takes centre stage to perform a series of classic numbers midway through the production.
The Rise and Fall of Little Voice is funny yet dark - the moment talent scout Ray Say played by Richard Taylor turns on Mari is sudden and violent and the constant bullying of LV and best friend Sadie gives this play a very sad edge.
This is a very impressive start to the new season at The Forum Studio in Chester and for an amateur production it really demonstrates the wealth of acting and singing talent in Chester.