The History Boys

by Alan Bennett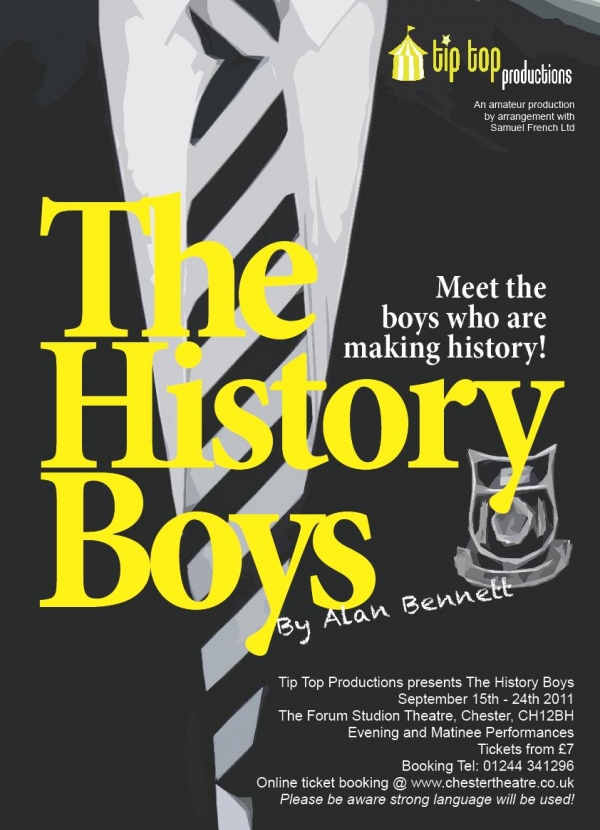 15/09/11 - 24/09/11
Venue: The Forum Studio Theatre
In a Northern Town in the late 1980s eight boys are being groomed for Oxbridge. Hector, the eccentric English teacher takes the boys for General Studies but he sees no value in the lessons.

Aware of Hector's opposition the headmaster is reluctant to leave the boys in Hector's hands alone and to complement him he employs Mr Irwin. Mr Irwin is a young History teacher, recently graduated from Oxford, with a unique view on History and how to get into Oxbridge.

As if soaking up Auden and Housman and understanding the causes of the Second World War were not taxing enough the boys have also to try and unravel their emerging sexualities and discover what school, university and education are really about.
Cast
Atkins - Andrew Heath
Crowther - Matthew O'Connor
Dakin - Josh Horrocks
Lockwood - Alex Hunt
Posner - Joe Roberts
Rudge - James Ralph
Scripps - Phillip Laing
Timms - Matthew Newman
Hector - Nick Sample
Irwin - Simon Phillips
Headmaster - Andy Jordan
Mrs Lintott - Vanda Hargen
Production team
Director - Ruth Evans
Designer - John McGinn
DSM - Pippa Redmayne
Props - Kirsty Stubbert & Charlotte Rutherford
ASM - Zoey Boyd
Assistant Director - Michael Beigel