Keeping Up Appearances

by kind permission of Roy Clarke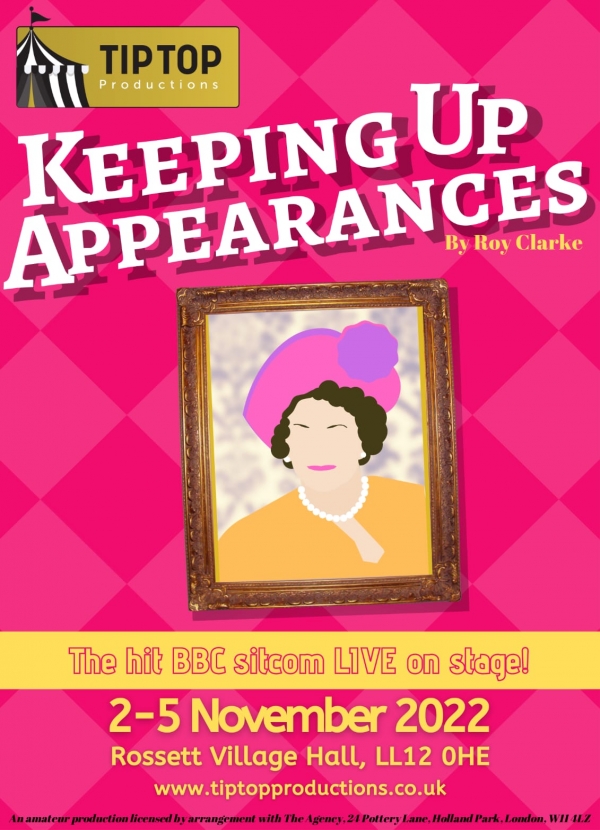 02/11/22 - 05/11/22
We're heading out on the road to take our production of Keeping Up Appearances to Rossett Village Hall. Further details including how to book to follow soon
CAST
Emmet Chris Morgan
Liz (Elizabeth) Rowena Owen
Daisy - to be cast (see below)
Onslow Wiz Wiseman
Milly Steve Cross
Hyacinth Hillary Wiseman
Daddy John Lindop
Rose Kat Tanczos
Mrs. Debdan Jane Dixon
Art Lady Beryl Blackmore
Daisy is the lower-class sister of social-climbing snob Hyacinth Bucket, who lives with her apathetic slob husband, Onslow their surname is never mentioned, promiscuous sister Rose, and her senile father.
Daisy is full of life and always smiling, despite picking up her husband's bad habits of sleeping until noon and watching television all day. She persists in trying to get her apathetic husband to have sex with her (she recalls their first time was in a bus shelter on Milton Street, though Onslow disagrees)), and tries to share romantic moments with him, however, her efforts always fail as Onslow prefers to drink beer and watch "racing on the telly." As a result, Daisy tends to lose herself in Mills & Boon romance novels.
We are looking for a character actress who is aged 40 – 60 to take part in the play 'Keeping Up Appearances' based on the popular TV Series. The actress will join a team who were cast immediately prior to the pandemic and are raring to go.
Audition pieces can be obtained from Leighton Williams on l.williams@thecraftybadger.uk and auditions will be held at Tip Top's Park Street, Wrexham headquarters on May 29th between 2 and 5pm
The play, which is set in a village hall, is being performed at an actual village hall - Rossett and Burton Village Hall - between 2nd and 5th November (2 performances on the Saturday) as part of Tip Top's vision of reaching into the community – in this case literally! Rehearsals will begin in August with a read through, dates of which remain to be confirmed but are likely to be Monday and Tuesdays with occasional Sunday afternoon as production gets nearer.
Director: Christine Dukes
Assistant Director: Leighton Williams (Shadowed by Elen Haf Taylor)
Producer: Phil Cross
Sound: Brian Fray
Lighting: Mark Shenton
Props: Julie Jones and Wendy Healiss