Keeping Up Appearances

by kind permission of Roy Clarke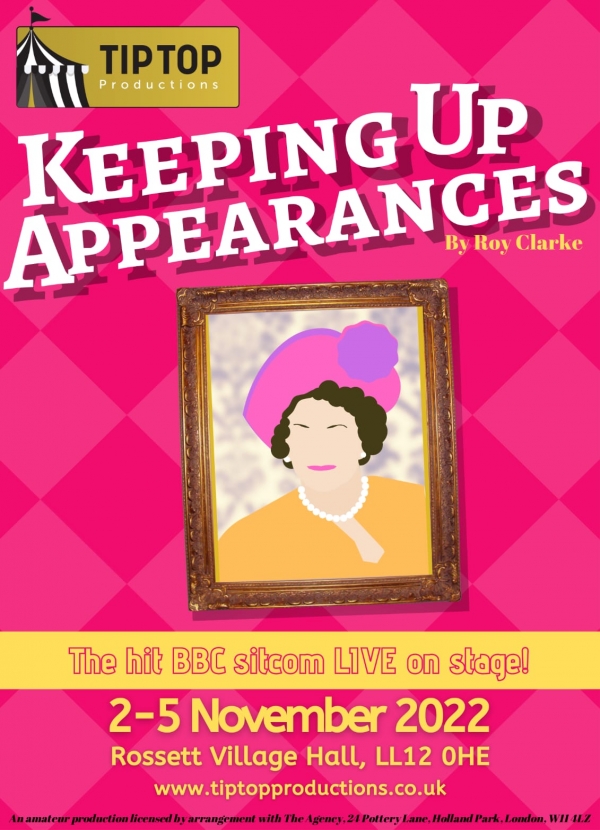 02/11/22 - 05/11/22
We're heading out on the road to take our production of Keeping Up Appearances to Rossett Village Hall.
CAST
Emmet Chris Morgan
Liz (Elizabeth) Rowena Owen
Daisy - Ann Likeman
Onslow Wiz Wiseman
Milly Steve Cross
Hyacinth Hillary Wiseman
Daddy John Lindop
Rose Kat Tanczos
Mrs. Debdan Jane Dixon
Art Lady Beryl Blackmore
The play, which is set in a village hall, is being performed at an actual village hall - Rossett and Burton Village Hall - between 2nd and 5th November (2 performances on the Saturday) as part of Tip Top's vision of reaching into the community – in this case literally! Rehearsals will begin in August with a read through, dates of which remain to be confirmed but are likely to be Monday and Tuesdays with occasional Sunday afternoon as production gets nearer.
Director: Christine Dukes
Assistant Director: Leighton Williams (Shadowed by Elen Haf Taylor)
Producer: Phil Cross
Sound: Brian Fray
Lighting: Mark Shenton
Props: Julie Jones