Joseph and the Amazing Technicolor Dreamcoat

Anthony Hopkins Theatre, Theatr Clwyd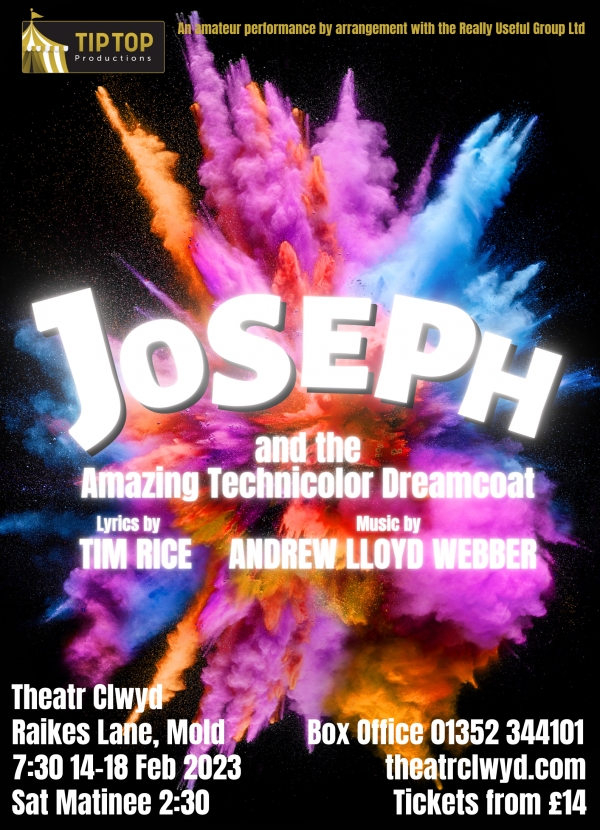 14/02/23 - 18/02/23
We're thrilled to be returning to Theatr Clwyd for one more production before the Anthony Hopkins Theatre closes for the refurbishment.
Tip Top's next musical will be more colourful than ever! With music by Andrew Lloyd Webber and lyrics by Tim Rice, Joseph and the Amazing Technicolor Dreamcoat tells the story of Joseph and his "coat of many colours" with a soundtrack including Any Dream Will Do, Go Go Go Joseph, and Close Every Door.
Joseph and the Amazing Technicolor Dreamcoat
Cast List
Principals
Joseph - Jake Bloem
Jacob - John Lindop
Pharoah - Joel Merry
Narrator - Red Team - Sophie Hygate & Abi Hoarty
Blue Team - Annabel Partington-Smith & Holly Wilson
Potiphar - Rob Tolefree
Male Ensemble
Reuben - Nick Beckwith
Simeon - Peter Edwards
Levi - Ewan Griffiths
Naphtali - Matthew Taylor
Issachar - Sam Eggins
Asher - Luke Disley
Dan - Ed Colewell
Zebulun - Sam Scheitler
Gad - Tomos Bohanna
Benjamin - Calum Craine
Judah - Nathan Thompson
Female Ensemble
Reubens Wife - Red - Annabel Partington-Smith / Blue - Sophie Hygate
Simeons Wife - Joni Rusling
Levis Wife - Kristie Horrocks
Naphtalis Wife - Grace Roberts
Issachars Wife - Lilly Street
Ashers Wife - Elisha Royle
Dans Wife - Tash Puttick
Zebuluns Wife - Grace Sheriff
Gads Wife - Izzie Reid
Benjamins Wife - Red - Holly Wilson / Blue - Abi Hoarty
Judahs Wife - Jessica Wynne-Jones
Apache Dancer - Joni Rusling
Children's Choir
Red Team
Jemima F, Gwenan T, Eleri T, Eve S, Ariane H, Erin S, Summer M, Ava G-B, Marissa R, Isobel S, Lily P, Lili E, Elen W, Francesca E, Neve T, Lily B, Ellis B, Olivia B, Joseph M, Heidi M, Sienna S, Phoebe C, Elif D, Niamh M, Leo W, Beau J, Evie N, Elisha H
Blue Team
Jasper E, Evie-Grace E, Isla S, Anna M, Martha B, Eve W, Maisie W, Freddie E, Scarlett H, Sophia G, Millie W, Gwen N, Efa J, Ffion R, Catrin W, Ivy W, Connie S-H, Lily R, Bethan D, Alice R, Evie D, Niamh H-P, Emily B, Daniel G, Elis A, Jasmine R, Matilda K, Mia R
The performance schedule for the teams is as follows….
Tuesday 14th Feb - 7.30pm - Red Team
Wednesday 15th Feb - 7.30pm - Blue Team
Thursday 16th Feb - 7.30pm - Blue Team
Friday 17th Feb - 7.30pm - Red Team
Saturday 18th Feb - 2.30pm - Red Team
Saturday 18th Feb - 7.30pm - Blue Team
Director and Choreographer - Rob Stevens
Musical Director - Simon Phillips
Production Co-ordinator - Peter Swingler
Stage Manager - Nick Roberts
Assistant Choreographer - Joni Rusling
Deputy Stage Manager - Harvey Shearer
Wardrobe - Clare Thompson
Props - Fiona Rackham
REVIEW
Go, Go, Go Tip Top you've done it again! Tip Top Productions has brought an incredible version of Joseph to Theatr Clwyd and within the first five minutes I know this is going to be something special.
With Direction and Choreography by Rob Stevens, we are treated to a show that would not look out of place on a West End stage and as bold a statement as this may be, this has got to be the best version of this show I have seen. Ever. The direction is clear and precise, bringing out the best in the cast members on the stage, taking us through many emotions and eventually leaving the whole audience on our feet, cheering, clapping, and dancing along. The choreography is incredible. It's inventive, clean, slick and uses many assorted styles. The cast take hold of every move and deliver it with energy and gusto. A standout part of the choreography comes from Joni Rusling who, with the help of the brothers, delivered a beautiful routine, showing her power, strength, and incredible flexibility.
Musical Director, Simon Philips, has worked magic with this score and together with the cast I witnessed some of the strongest vocals and tightest harmonies I have heard in a long time. The numerous styles in which the songs are delivered is very enjoyable, incorporating the likes of country, Vegas and even French at one point, each song keeping the show hurtling along and keeping us thoroughly entertained.
The narrators and the children's cast are split in to two over the shows and tonight we have the blue team. The Children's choir are incredibly talented, giving everything, they have when singing and the little dancing they do yet sit calmly and quietly on the steps when other scenes are going on.
The two Narrators we have this evening are Annabel Partington-Smith and Holly Wilson and the talent that shine from these two is a joy to witness. They hold our attention throughout and deliver phenomenal vocals.
The title role of Joseph is played by the hugely talented Jake Bloem and what a talent Bloem is. He takes us through Joseph' story with emotion and wit. There are numerous standout moments in this show, but Bloem's delivery of Close Every Door is powerful, emotional and shows how much range and control he has with his voice.
Joseph's Brothers are incredible. Each with different strengths, stunning vocals, humour and wit.
Joel Merry as Pharoah may only be on stage for a short amount of time but the hold he has over the audience this evening is incredible. With Elvis like vocals and moves, it is perfect.
The set from Scenic Projects is very well used, with moving staircases and walls which turn in to doors, all quite simple but ever so effective. The costuming is beautiful and so right for the show. Joseph's Coat is stunning, both versions. Well done to Claire Thompson.
Lighting by David Powell is just wonderful. Bringing the whole story to life, it is clever and effective but the way it is used during Joseph's Coat blew my mind a little, with a colour change on every colour sung, it must have taken a huge amount of programming, but it is hugely appreciated and takes the whole piece up a level. The lighting in Close Every Door is another standout piece. Sound by Tom Maurice is fantastic with every word being heard, great levels and makes for an enjoyable listen, even if the Overture did seem a tad deafening at first. The band sounded fantastic and having such a sizable band playing live makes an enormous difference to the quality of the piece.
It is incredible to see theatre thriving in places and with a sold out show tonight and most definitely a sold-out run, Tip Top have done what they do best and bring top quality theatre to local theatre.
Running until Saturday 18th February 2023, for returns https://www.theatrclwyd.com/event/joseph-and-the-amazing-technicolour-dreamcoat
Reviewer Damian Riverol
Reviewed: 16th February 2023
North west End UK Rating: FIVE STARS