Jesus Christ Superstar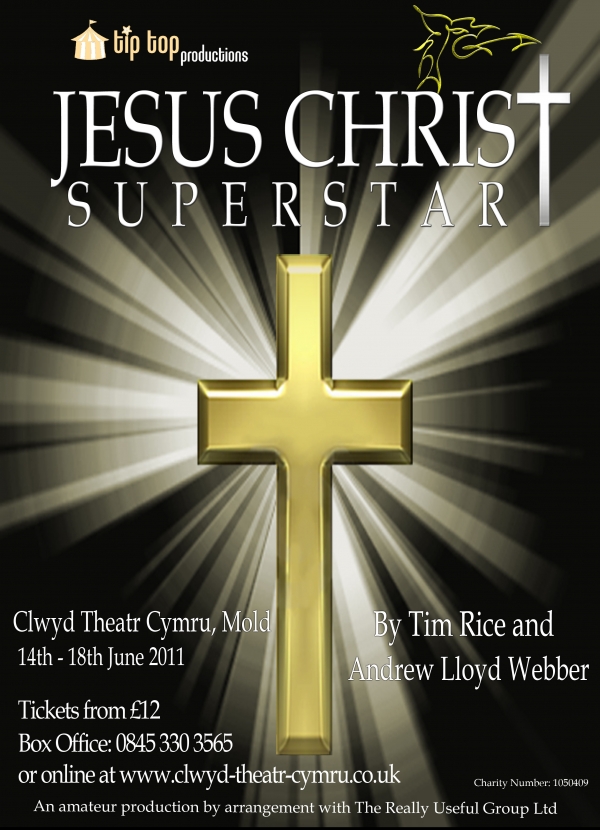 14/06/11 - 18/06/11
Venue: Clwyd Theatr Cymru
Tip Top Productions return to Clwyd Theatr Cymru following our sell out productions of The Wizard of Oz in 2010 and Oliver in 2009.
Jesus Christ Superstar is a rock opera by Andrew Lloyd Webber, with lyrics by Tim Rice. First staged on Broadway in 1971, it highlights political and interpersonal struggles between Judas Iscariot and Jesus. The opera is based very loosely on the Gospels' account of the last week of Jesus' life, beginning with the preparation for the arrival of Jesus and his disciples in Jerusalem, and ending with the crucifixion.
Cast
Jesus - Joel Harper
Judas - Andy Jordan
Mary - Laura Roberts
Peter - Jason Jump
Simon - Joel Merry
Pilate - Tony Prince
Herod - Joseph Mann
Caiaphas - Mark Gairrusso
Annas - Gareth Pierce

Disciples
Andrew - Elan Stuart Macaulay
James the Greater - Matthew Newman
James the Lesser - Joe Roberts
John - Marcus Lyon
Philip - Adam Moysen
Bartholomew - Alex Hunt
Matthew - Chris White
Thomas - Steve Davies
Thaddeus - Andrew Heath

Soul Girls
Julie Blagrove
Aideen McNamara
Carly Cook

Priests
Peter Burke and Alistair Watts

Male Ensemble
Peter Burke, Dave Pearce, Alistair Watts

Apostles Women
Aideen McNamara, Laura Harris, Julie Blagrove, Carly Cook, Caroline Dutton, Jenny Kilner, Emily Quirk, Sarah Jones, Nikki Worden, Sian Williamson, Amy Padley & Emma Prescott

Herod's Court
Julie Blagrove, Amy Padley, Sian Williamson, Fiona MacSween, Jenny Bowes, Sammie Evans, Gemma Clutton, Nikki Worden, Kayleigh Melluish, Kerry Matthews, Katie Walker & Sarah Jones

Female Ensemble
Julie Blagrove, Aideen McNamara, Phillippa York, Laura Harris, Amy Padley, Sian Williamson, Carly Cook, Fiona MacSween, Pat Pearce, Jenny Bowes, Isobelle Davies, Jekaterina Rozorska, Franziska Berling, Sammie Evans, Gemma Clutton, Nikki Worden, Caroline Dutton, Kayleigh Melluish, Kerry Matthews, Katie Walker, Sarah Jones, Julie Jones, Emma Prescott, Jenny Kilner & Emily Quirk
Production team
Director - Rob Stevens
Musical Director - Tim Jones
Producer - Andrew Roberts
DSM - Lizzie O'Sullivan
Assistant MD - Cliff Lloyd
Reviews
Flintshire Chronicle 15.06.11
FOR someone who doesn't go to church, this has been a bit of a religious week for me so far. It started with The Passion in Port Talbot on Sunday evening (BBC Wales) and on Tuesday it was Jesus Christ Superstar at Theatr Clwyd in Mold (Tip Top Productions).

In the former, Jesus (or The Teacher) was played by Hollywood actor Michael Sheen. In the latter, he was played by a young student from The Hammond School and I have no intention of comparing or contrasting the two here.

Tip Top's offering of the 70s rock opera by Tim Rice and Andrew Lloyd Webber was a big undertaking. Amateurs have to grapple with songs made famous by the likes of Ian Gillan, Yvonne Elliman and Murray Head and they didn't let us down.

Jesus, played by 19-year old Hammond student Joel Harper, took a while to get into his role and in Act I lacked the maturity of a man nearing the end of his pre-destined life. By Act II, the vulnerability he had shown earlier on grew as he questions God's will and his solo in Gethsemane (I Only Want to Say) was very moving indeed. Neither he, now Judas, played expertly by Tip Top stalwart Andy Jordan, were helped by their Village People-style costumes of tight white jeans and white vest for Jesus and leather-clad biker gear for Judas. Jesus' transformation in Act II into what anyone alive in the 70s might remember as 'cheesecloth' helped his cause immensely.

Maturity was not an issue for Laura Roberts, who played Mary Magdalene. She portrayed a confident, wise and learned disciple, if I can use that word, and gave the impression that ministering to prophets' needs, with myrrh and a drop of oil, was all in a day's work. Tony Prince's as Pilate also deserves a mention and Joseph Mann's Herod, who started out as a corporate big wig before descending into the glitter of a 70s disco, was redolent of the CEO from the conglomerate ICU back in Port Talbot.

The ensemble work was without fault and director Rob Stephens made people of all ages, shapes and sizes appear as one in fabulous choreographed routines including Hosanna and the reknowned Superstar.

First night gliches with sound will be ironed out and nerves will have calmed to make the rest of the run a treat, I am sure.

Ten thousand people watched The Passion and Clwyd Theatr Cymru was packed out on opening night. Like it or not, this age-old Bible story is a hit.

Jo Henwood
Chester Standard 23/06/11- Peggy Woodcock
AN HISTORIC TALE WELL TOLD

JESUS Christ Superstar is one powerful piece of musical theatre. A super size challenge. Tip Top Productions tackled it with gusto at Clwyd Theater Cymru last Wednesday. The commitment and enthusiasm of the company, all ages, was a sight to gladden the heart.
This rock musical was an early work by Andrew Lloyd Webber and Tim Rice. It stands the test of time because the story of Jesus' final days are known to us all, because the music, the emotional songs, are also now familiar, and, above all, because of the sheer drama of the piece.
Tip Top's production was very much a show of two halves.
The first half, which follows Jesus' life in Jerusalem, with the miracles, his disciples, and his ever growing crowd of worshippers, was done in light, colourful Hosanna waving mood. Joel Harper's gentle Jesus, all in white, was its centre and, with the cast running in and out of the auditorium, the audience was drawn in. But his enemies were plotting. The priests are led by Mark Gairruso's deep-voiced Caiaphus, effectively clad in black (though the mixture of gangster-style suits and white ties with flowing cloaks was a bit strange).
Judas was listening to them and Andy Jordan commanded the stage as the tortured disciple. In contrast, Laura Roberts was a warm, sympathetic Mary Magdelene and she gave a beautiful delivery of the haunting song I Don't Know How to Love Him.
There were some sound problems, the music tending to drown out the words, and one or two of the cast struggling with unfamiliar microphones. But luckily, these were resolved for a highly charged second half, with atmospheric lighting helping to set the dark, dramatic mood.
The symbolic last supper was well staged, and directer Rob Stevens certainly pulled no punches with the depiction of Jesus' betrayal, trial, victimisation by Romans and Jews alike, and culminating in the crucifixion, not an easy thing to stage. It was full-on action.
Joel Harper gained confidence in these scenes, rising well to the challenge and his big solo, though he has a tendency to shrillness at his most emotional. Tony Prince was an assured, unpleasant Pontius Pilate, while Joseph Mann dazzled in more ways than one as Herod, he was all kitted out in a gold-sequinned suit for a most enjoyable song and dance show scene bringing some welcome light relief. Well done too to the glamorous Soul Girls, Julie Balgrove, Aileen McNamara and Carly Cook.
In fact, congratulations to cast, band and all involved for hard work that showed in this strongly delivered, ambitious show. This was a prime example of good community theatre.