'Allo, 'Allo!

by Jeremy Lloyd & David Croft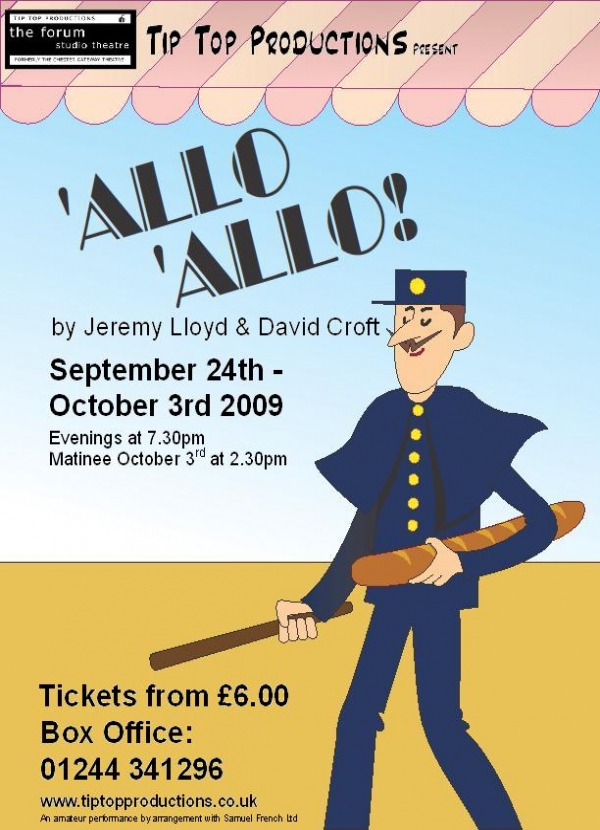 24/09/09 - 03/10/09
Venue: The Forum Studio Theatre
Listen carefully. We shall say this only once....
What better way to launch our new season than with hilarious comedy.
All your favourite characters, including ,René, Edith, Yvette and Mimi come together for another farcical escapade.

Based on the hugely popular TV comedy series, the stage versions of 'Alllo 'Allo follows the adventures of René, the hapless cafe owner in war-torn occupied France, as he and his wife, Edith, struggle to keep for themselves a priceless portrait stolen by the Nazis and kept in a sausage in their cellar. René is not only hiding a portrait but two British airmen and is endeavouring, with the help of the Resistance, to repatriate them. However, communications with London being via a wireless designed as a cockatoo add to many of the embarrassments he has to face. Further complications arise when it is announced that the Fuhrer is to visit the town! Can René save his café and his life? Now that is the question...............!
Cast
René- John Lindop
Edith- Marian Newman
Yvette- Lisa Evans
Mimi- Jess Tilling
Michelle- Bethan Mascarenhas
Colonel- Mark Shenton
Helga- Rebecca Sheppard
Bertorelli- Ken Williams
Flick- Mark Newman
Crabtree- Simon Price
Leclerc- Kevin Keegan
Gruber- Gareth Pierce
Schmelling Mike Heathcote
Airman- Dave Pearce
Airman- Peter Simpson
Other parts played by Beth Conroy and Peter Brownbill-Hughes
Production team
Director: Richard Taylor
Production co-ordinator: Sarah Green
DSM: Lizzie O'Sullivan
ASM: Paul White
Lighting: Ian Jones
Sound: Richard Stokes
Wardrobe: Barbara Davies
Props: Pat Pearce; Andrew Pettigrew
Musical Director: Paul Crofts
Reviews
Wrexham Leader - 2nd October 2009 - Les Chamberlain
It is never easy to adapt a highly-successful television for the stage.
Audiences are inclined to compare the stage actors with those who have made a name for them selves in the TV series.
Such i s the case for 'Allo' 'Allo' but tip top productions have bridged the divide admirably.
All the characters are there, but the actors do not try to impersonate their television counterparts.
The result is another smash hit for the company and it is not surprising that they have played to full houses this week.
There are excellent individual performances but it is the sheer team work that excels throughout.
Director Richard Taylor has done a fantastic job in gelling the actors into a superb unit and a tremendous amount of hard work has been done to make it such an outstanding success.
He has also designed and wonders to build the cafe set in such a confined space at the Forum Studio Theatre, Chester. High praise too Barbara Davis for convincing costumes, especially the German ones.
John Lindop as lecherous cafe owner Rene can not be faulted as he confides with the audience the goings on in his care while Marian Newman is his excellent foil as his off-key singing wife Edith.
Lisa Evans is his tarty waitress Yvette and their hugs are in the true style of the originals in the TV series.
Jessica Tilling is equally convincing as his other waitress, Mime, egger to kill any German who enters the cafe.
Mark Shenton makes a great Colonel Von Strom while Ken Williams milks all the laughs as the Italian Lieutenant Bertorelli. Mike Heathcote is frightingly convincing as General Schmelling while Simon Price Copes admirably as officer Crabtree mangling the French language.
It is Gareth Pearce, however, who steals the show as the Gay Lieutenant Hubert Gruber as he minces in and out of scenes. A gem of a performance this.
Mark Numan make an ideal sinister Heir Flick as the Gestapo and Becky Sheppard is a delicious private Helga shouting out as German officers make their entrances.
Bethan Mascavenhas delights as Michel ('Listen very Carefully', ect) equally adding to the fun are Kevin Kegen as LeClerc and David Pearce and Peter Simpson as the air men hiding in the cafe.
The scene is set at the beginning by the fine according playing or Barry Graham as the audience takes their seats and Pianist Paul Crofts adds greatly to the evenings performance.
One little criticism that hit me. When Mimi goes to light a Cigar to Gruber, she uses a box of British Swan Vistas. Only a minor blemish in an otherwise outstanding production.
It can be seen again tonight and tomorrow, but it is fully booked and the only chance of seeing it is there are any returns.
Chester Standard - 22nd October 2009
"Quality of production puts you right in Rene's shoes"

I was invited to attend an amateur stage performance of popular television comedy series 'Allo, 'Allo, writes Robert Platt.

This was the second time I have gone to a show thrown on by the local theatre group Tip Top Productions at the old Gateway Theatre, now the Forum Studio Theatre.

A live accordion musician opened the play with luring music, making the audience feel like they had stepped outside of Chester into 1940s Nazi-occupied France.

It quickly became apparent that the production managers had gone through some effort to recruit actors and actresses who closely resembled the characters of the show.

I was impressed by the authenticity of the costumes and the fake French accents which had me thoroughly convinced they were real.

The play itself largely stayed n step with various themes of the television version, following the misadventures of Rene, (John Lindop), the hapless café owner, and his nagging wife, Edith (Marian Newman), who thinks she can sing.

A few times the audience broke out into applause for Edith, such as when she sang for all the fellows in the bar - much to their displeasure.

Edith seemed to be an audience favourite.

Rene also won the hearts of us spectators with his excessively complicated role.
He had to hide from his wife that he was having an affair with both of his seductive waitresses, Yvette (Lisa Evans) and Mimi (Jess Tilling). For a couple of minutes I was not even completely sure as to whether the two young waitresses were actually played by two French women because of their very well-performed and consistent accents.

The story continued that Rene and Edith must keep for themselves a priceless portrait - the Fallen Madonna with the Big Boobies - stolen by the Nazis and kept in a sausage in their cellar.

But Rene was not just hiding the portrait from the Nazis but also two British airmen.

He was endeavouring, with the help of the French Resistance to the occupation, to repatriate them.

The plot was put on with a lot of wittiness and irony and kept me on the edge of my seat most of the time. The show was put on so well it would not be necessary for someone to have seen the television version to get the humour.