You Decide

by Paul Kelly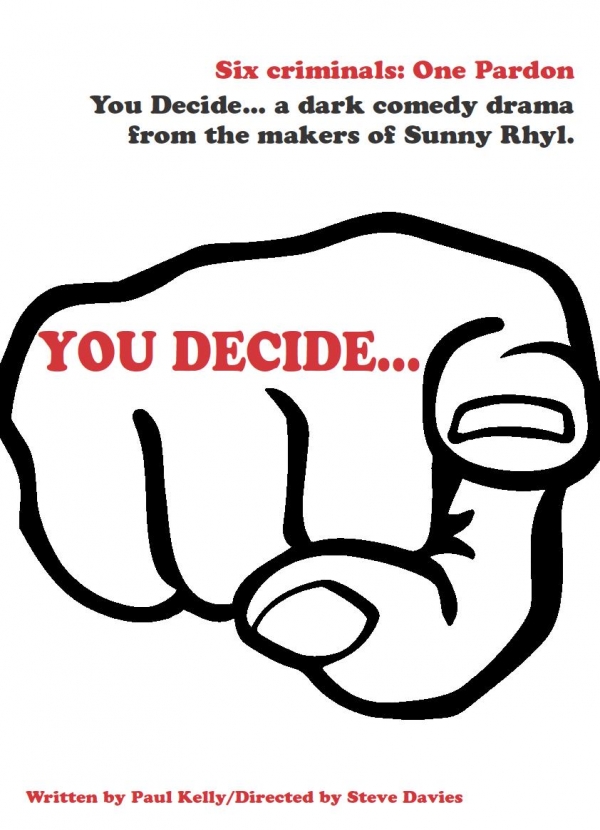 04/10/12 - 06/10/12
Venue: The Forum Studio Theatre
All we ask is forgiveness.

To raise funds and ease prison overcrowding a desperate government agree to release one in every four pre-selected criminals on the say so of a Saturday night public vote.

Bemused and abused, the chosen four struggle to convince the voters and their desperation and humiliation is lost to humour and candour.

You Decide...a passionate story of right and wrong.

You Decide...is a new comedy drama from the makers of Sunny Rhyl.
Cast
Howie - Stuart Evans
Bingo - Mark Newman
Dolly - Pippa Redmayne
Raymond - Steve Lancashire
Jolene - Rachel Bloomer
Production team
Written by Paul Kelly
Directed by Steve Davies

DSM Rob Stevens
Lights Ian Jones
Sound Brian Fray
Props Sheila Roberts with Muriel Jennings
Howie's suit by Mel Regan of TheatreCostumeHire