Witness for the Prosecution

by Agatha Christie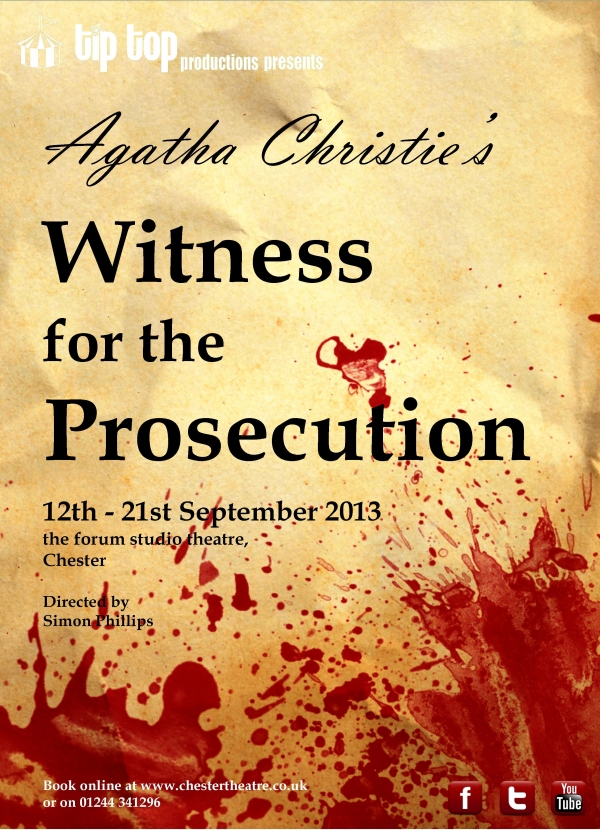 12/09/13 - 21/09/13
Venue: The Forum Studio Theatre
Only Agatha Christie could have conceived such a suspenseful thriller and then capped it with an uncanny triple flip ending!
A young married man spends many evenings with a rich old woman. When she is found murdered, the naive young man is the chief suspect.
The testimony of his wife is expected to result in an acquittal, but she is a shrew who damages his case and all but hangs him until......
Cast
Sir Wilfrid Robarts Q.C. - John McGinn
Mr Myers Q.C. - Bill Robertson
Leonard Vole - Stuart Evans
Romaine Heilger - Sally Dillon
Mr Mayhew - Simon Phillips
Inspector Hearne - Neil Mason
Mr Justice Wainwright - John Lindop
Carter - Kiefer Jones
Janet Mackenzie - Jinny Owen
Greta - Lottie Davies
Mr Clegg & Policeman - Jamie Lee
Dr Wyatt & Policeman - Grahame Smith
Girl - Rachel Sumner

and

Agatha Christie played by Ruth Evans
Production team
Director & Original Music - Simon Phillips
DSM/Production Assistant - Janice Craine