Useless Beauty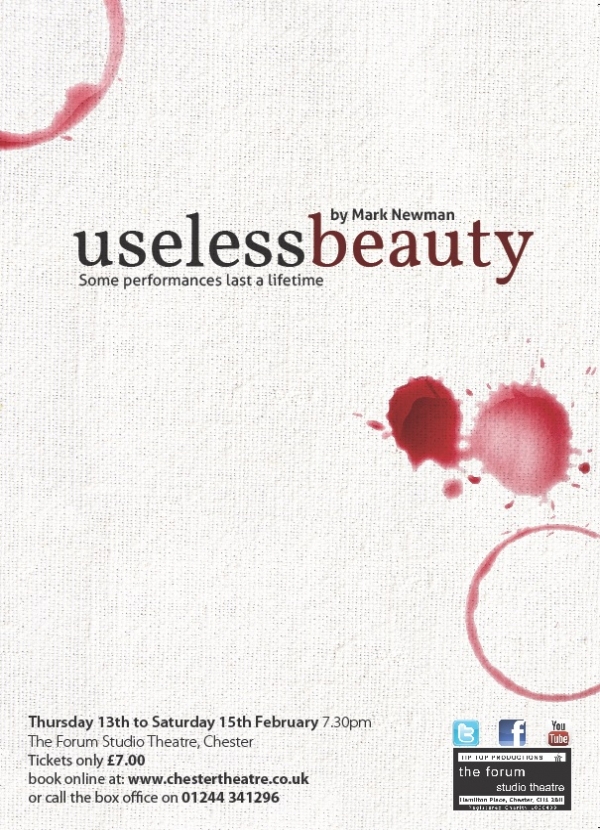 13/02/14 - 15/02/14
Venue: The Forum Studio Theatre
Old friends and new partners, short fuses and long memories.
What should have been a simple social evening, when married couple Kate and Martin invite Helen and Kate's old friend from University, Alex, round for some food, takes a series of unexpected turns in Tip Top regular, Mark Newman's, new black comedy of bad manners...and good wine.
Cast
Alex - Dhugal Fulton
Kate - Marian Newman
Martin - Richard Steventon
Helen - Fiona Wheatcroft
Production team
Writer/Director - Mark Newman
Reviews
A Review by Rose McInerney
When invited to see 'Useless Beauty', I truly did not know what to expect, perhaps raucous laughter, perhaps an angst-ridden extravaganza, and when I arrived the program gave nothing away, my first impression however was pure joy. Having never been to the Forum Theatre before – despite having lived in Chester for nearly four years – I was delighted to find myself encased in a gorgeous little hotbox after eagerly following the crowd downstairs. Perched up close to the rafters, I had the perfect view of the black draped room and the sparse furniture that adorns the floor. With truly no idea what was coming, I have to say, I was a little over excited…

I was not disappointed. the first thing that hit me was the wonderful characterisation, I believed every single person onstage, the acting simply superb. These four people are at a dinner party, a married couple (Martin and Kate) clearly rub along nicely together, Alex who knows Kate from uni and Helen, a clinical psychologist, another more recent friend of Kate's. It is very clear within minutes that Alex and Kate some sort of history together, and quite clear that their history is still very much present in their interactions today. Though Helen seems the perfect foil for Alex, the mild attempts at flirting remain unanswered and by the end of the first act, Alex has made it quite clear that, despite the presence of Martin, he still has feelings for Kate. These feelings are not returned.

The interactions between these four characters are so tension filled and perfect, each character so very true to themselves, changing in each others company and, as the wine-fuelled evening progresses, the actors keep up perfectly. This is a show that not only leaves you empathising with every character onstage – it is so easy to see aspects of yourself in every character – but also looking into yourself and your own character. Growing up, it is so easy to be left behind in the idealisms of youth that Alex is trying so hard to cling to while Kate tries just as desperately to escape them. Helen is clearly struggling with the duality of a responsible adult life while wishing she was still young, meanwhile Martin is simply wishing for truth in his life and for others to take him seriously in that role.

When the second act began, we are a full year on from the last dinner party, the evening is already in full swing and every character has had more than their share of wine. Helen and Alex, despite how it looked last year, are together. Kate is trying very hard to appear happy about this, but obviously regrets bringing these two together – something she only did in the first place to push Alex further away. Her displeasure comes across in her bitterness towards Martin and is received with a certain bewildered anger, she also hints at something deeper in her past with Alex leaving Helen very upset. It becomes even more clear during a very pregnant scene that their university days hold a darker truth for these two, that we will never fully know.

This play strikes right to the heart of the human condition, the constant state of unfulfillment that haunts so many of us when spit out of the world and expected to build a life for ourselves. The characterisation was so true, the acting so sublime, that I found myself drawn in with every line. Useless beauty is a play that leaves you thinking about certain lines and characters long after you have seen it. I can only hope to see more from this first-time playwright very, very soon.