Under Milk Wood

by Limelight Productions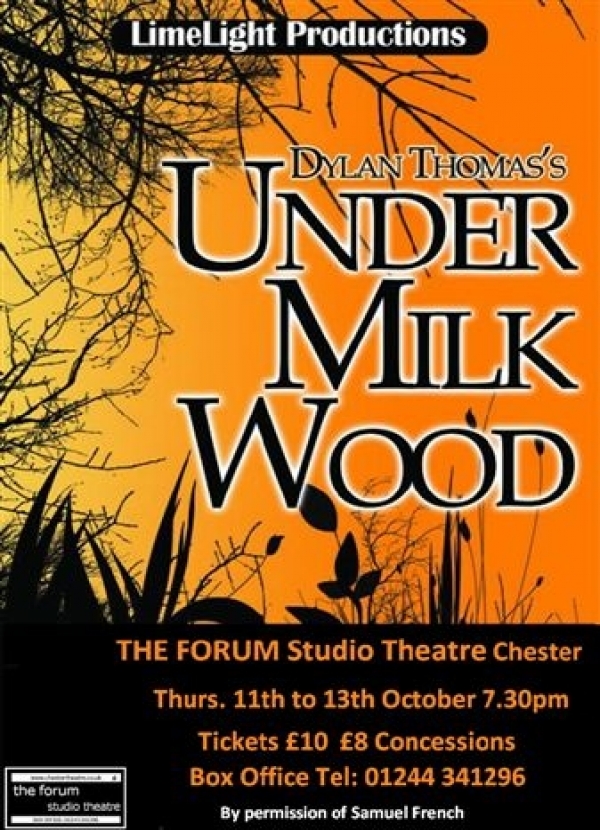 11/10/12 - 13/10/12
Venue: The Forum Studio Theatre
*LIMELIGHT PRODUCTIONS IS A VISITING COMPANY*

Under Milk Wood is a 1954 radio drama by Welsh poet Dylan Thomas, adapted later as a stage play. A movie version, Under Milk Wood directed by Andrew Sinclair, was released in 1972 starring Richard Burton and Elizabeth Taylor.
There is a timeless quality to "Under Milk Wood". Starting on a 'moonless night in the small town, starless and bible-black', we peep into the houses of sleepers.
Bawdy and beautiful, sad and sensual, through the music of language, it creates indelible, unforgettable images of humanity. "Under Milk Wood" is a sensitive, funny, occasionally disturbing, story of one day in the life of the town Llareggub, (spell it backward and what do you get)? All life is here and with over 50 characters Dylan Thomas paints affectionate portraits of the seaside people he knew so well.
Dylan Thomas' extraordinary richness of language is the real star of this play. There is not a redundant word in the text with imagery cascading over lyrical imagery in every line.
LimeLight present "Under Milk Wood" on a simple set, designed to bring the actors close to the audience to maximise the intimacy of the text.
A massive undertaking from a small theatre company who are never frightened to take risks. LimeLight invite you to come into the world of dreams and lives of a little Welsh fishing village, and be uplifted by the magic words of Dylan Thomas.