The King and I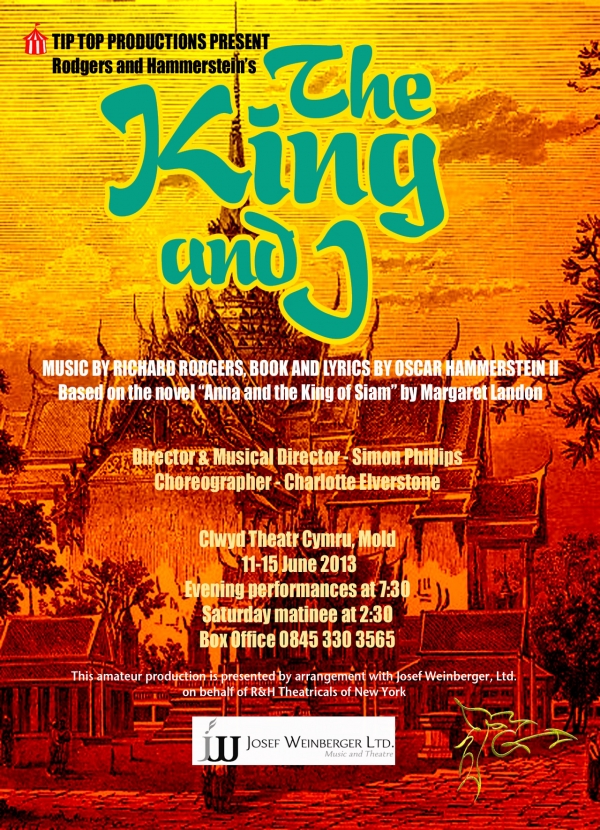 11/06/13 - 15/06/13
Venue: Clwyd Theatr Cymru
The King and I

Credits
Music by Richard Rodgers
Book and lyrics by Oscar Hammerstein II
Based on the novel 'Anna and the King of Siam' by Margaret Landon

We return to Clwyd Theatr Cymru to perform the Rodgers and Hammerstein classic The King and I.

East versus West makes for a dramatic, richly textured and ultimately uplifting tale of enormous fascination. It is 1862 in Siam when an English widow, Anna Leonowens, and her young son arrive at the Royal Palace in Bangkok, having been summoned by the King to serve as tutor to his many children and wives. The King is largely considered to be a barbarian by those in the West, and he seeks Anna's assistance in changing his image, if not his ways. With both keeping a firm grip on their respective traditions and values, Anna and the King grow to understand and, eventually, respect one another, in a truly unique love story. Along with the dazzling score, the incomparable Jerome Robbins ballet, The Small House of Uncle Thomas, is one of the all-time marvels of the musical stage. Always a firm favourite with the public, the score also includes I Whistle A Happy Tune, Hello Young Lovers, Getting To Know You, Something Wonderful and Shall We Dance?
Cast
Anna Leonowens - Sandra Jones
The King - Bill Hughes
Lady Thiang - Clare Thompson
Tuptim - Lindsay Kearns
Lun Tha - Elias Jones
The Kralahome - Richard Steventon
Prince Chululongkorn - Calum Craine / Greg James
Louis Leonowens - Alex Pendleton / Oliver White
Sir Edward Ramsey - Kevin Keegan
Captain Orton & Siamese Musician - Grahame Smith
Phra Alack - Jamie Ablett
Princess Ying Yaowlak - Brogan Craine / Mille Quinn

The King's Wives - Jessica Blease, Zoey Boyd, Catriona Hogg, Jenni Kinouchi, Fiona MacSween, Kate Parkes, Anne-Marie Vickers & Natalie Wright

The Royal Dancers/Female Chorus - Laura Roberts (Principal Dancer), Olivia Ashton, Katy Auty, Natasha Beach, Gemma Clutton, Chloe Dignam, Georgina Dixon, Leah Dovey-Evans, Caroline Dutton, Charlotte Elverstone, Emma Humphreys, Chloe McEniff, Leah Tyson, Rhian Underwood & Natasha Williams

Male Chorus - Ben Davies, Tom Dixon, Andrew Heath, Jordan Padmore & Ben Parkes

Royal Princes - Henry Bowles, Michael Dean, Lewis McAllister, Joe Mears, Jamie Moore & Kaya Phillips

Royal Princesses - Ellie Brickland, Nieve Cook, Isabel Daniel, Ella Davies, Eve Elverstone, Holly Elverstone, Limonée Fearn, Ciara Golding, Katy Hall, Aleyah Hannigan, Alexandra Hughes, Evie Johnson, Fia McDonnell, Zoe McDonnell, Lauren O'Connell, Ellison Roberts, Millie Rustom, Robyn Smith, Alicia Thompson & Freya Watson
Production team
Director/Musical Director - Simon Phillips
Asst. Director/Choreographer - Charlotte Elverstone
Production Manager - Brian Fray
Stage Manager - Nick Roberts
Director's Assistant & Head Chaperone - Janice Craine
DSM - Oliver Price
Sound - Richard Stokes
Lights - Ian Jones
Costume - Mel Regan & Allan Forrest
Props - Sheila Roberts