The Hound of the Baskervilles

By Sir Arthur Conan Doyle, Adapted by Steven Canny & John Nicholson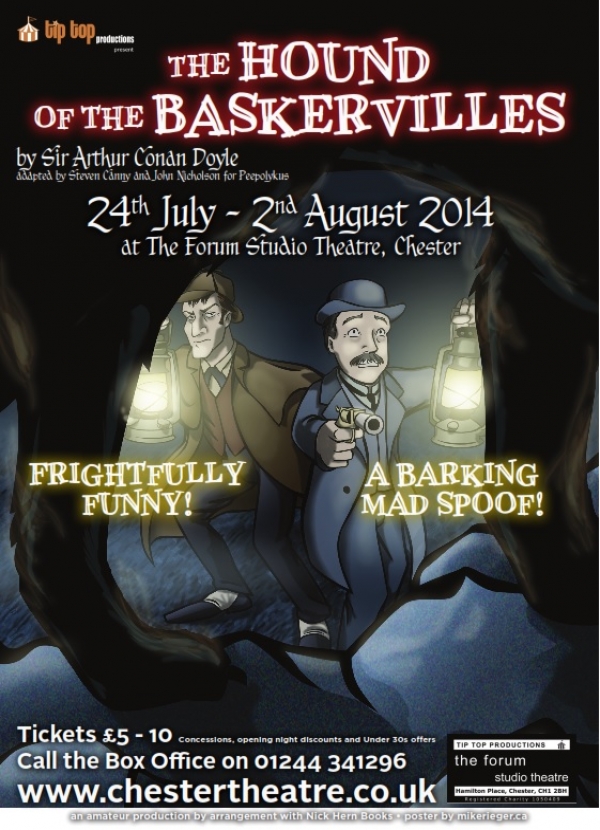 24/07/14 - 02/07/14
Venue: The Forum Studio Theatre
An ancient family curse, a desolate moor, a spectral hound and a deranged killer on the loose. The Hound of the Baskervilles is the most celebrated Holmes adventure of all, a masterpiece of mystery and suspense. And lord it's scary...really, really, scary. The story of Sherlock Holmes's investigation into the monstrous beast terrorizing the dark and dangerous moors, has gripped people's imagination since it first appeared in print in 1901.
The brilliant comedy trio Peepolykus have taken all the familiar elements of the tale, and - through an exhilarating collision of anarchic verbal slapstick, absurd scenarios and wonderfully ridiculous comic performances - have managed to create one of the most sublimely funny adaptations of a classic that you are ever likely to see.
Once you've managed to stop laughing this is a Hound that you will never forget. It's absolutely barking!
Cast
Simon Phillips - Actor 1 (Simon/Sherlock Holmes/Stapleton/Cecile/Mr Barrymore/Mrs Barrymore/Yokel 3/Guard/Hermit)

Stuart Rathe - Actor 2 (Stuart/Watson/Yokel 1)

Kiefer Jones - Actor 3 (Kiefer/Sir Henry Baskerville/Sir Charles Baskerville/Mortimer/Cabbie/Yokel 2/Wise Yokel)
Production team
Director - Gail Young

DSM - Alison Pritchard
Props - Rebecca Carpenter and Annette Clemence
Wardrobe - Allan Forrest
Set construction - Oliver Price
Set artwork - Rebecca Carpenter and her trusty team
Sound - Brian Fray and Abbie Taylor
Lighting - Ian Jones
Gallery images by Kevin Keegan