The Full Monty

Written by David Yazbek & Directed by Steve Davies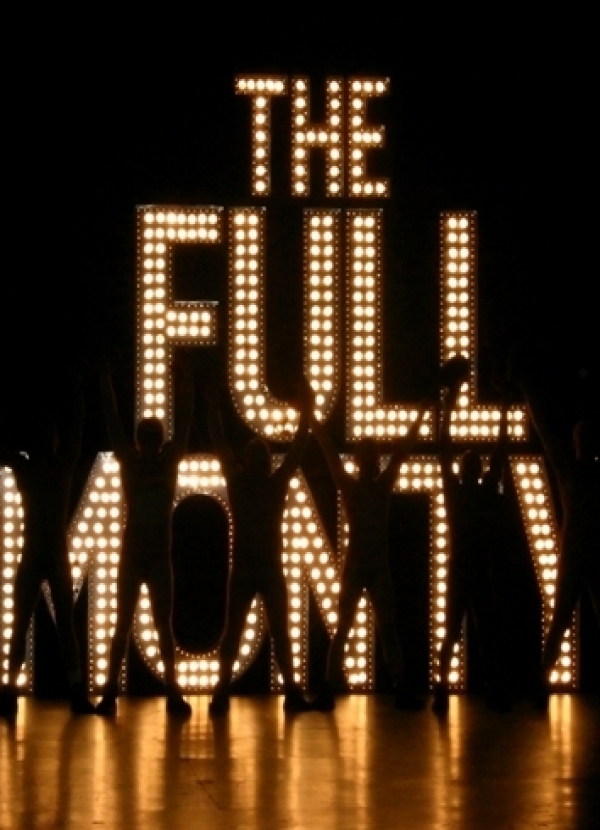 24/07/07 - 28/07/07
Venue: Clwyd Theatr Cymru
Drop everything for THE FULL MONTY!

Six good friends, whose plan to get their lives back together requires them to triumph over their fears, their nerves and their clothes!

All the characters, the friendship, the laughter - from the film that the whole world fell in love with, is brought to life on stage by Tip Top Productions in a repeat of the sell-out production from last summer. With a heady mix of razor-sharp humour and toe-tapping pizazz, this is musical comedy at its most heart-warming

Seeing how much their wives enjoy watching male strippers during their "Girls' Night Out," unemployed steelworkers come up with a bold way to make some quick cash. In the process they find renewed self-esteem, the importance of friendship and the ability to have fun.

As the guys work through their fears, self-consciousness, feelings of worthlessness and anxieties they come to discover that not only are they stronger as a group, but that the strength they find in each other gives them the individual courage to face their demons and overcome them.

This show contains nudity.
Cast
Jerry Lukowski - Mike Deakin
Dave Bukatinsky - Rob Tolefree
Harold Nichols - Mike Kelsall
Malcolm MacGregor - Andrew Philippou
Ethan Girard - Chris Peate
Noah (Horse) T. Simmonds - Richard Pinder
Georgie Bukatinsky - Leslie Churchill Ward
Vicki Nichols - Sandra Jones
Pam Lukowski - Julie Andrew
Nathan Lukowski - Jacob Millar
Jeanette Burmeister - Audrey Rhodes
Molly MacGregor - Ruth Evans
Buddy (Keno) Walsh - Joel Murray
Estelle Genovese - Samantha Jones
Teddy Slaughter - Neil Mason
Reg Willoughby - Jonathan Francis
Tony Giordano - Mark Shenton
with
Natalie Brett
Kate Salmon
Laura Coard
Lyndsay Price
Bethanie D'Avincourt
Lisa Solari
Chris Walton
Mark Lawton
Simon Cartwright
Dave Pearce
Allan Forrest
Production team
Director - Steve Davies
Musical Director - Tim Jones
Choreographer - Rob Stevens
Production Coordinator - Ruth Evans
Stage Manager - Nick Roberts
Deputy Stage Manager - Andrew Roberts
Assistant Stage Manager - Nick Underwood
Assistant Musical Director - Cliff Lloyd
Pianist - Michael Reynolds
Lighting Design - Ian Jones
Sound - Richard Stokes
Wardrobe - Barbara Davies
Props - Sandra Rogers, Wendy Healiss
Make-Up - Jean Leath
Publicity - Sam Williams, Ruth Evans, Lee Hassett
Reviews
Les Chamberlain, Wrexham Leader, Friday 27th July 2007
After their last appearance there ten years ago, Tip Top Productions returned to Clwyd Theatr Cymru this week in triumph with a splendid production of The Full Monty.

It was a great idea to stage it because it has been fully booked every night.

However, I should imagine that most of the women going to see it are there only to see the men doing a strip.

On the first night, with the exception of some middle-aged couples, it was like a massive hen party with the women whooping and screaming at every suggestive gyration and when Chris Peate mooned in an audition scene, the woman sitting next to me, who continually screeched yelled "turn around".

As usual, director Steve Davies has done a professional job with the action moving slickly throughout, while choreographer Rob Stevens is to be congratulated on some fine dance routines.

Musical director Tim Jones keeps the well-balanced orchestra neatly under control, never drowning any of the singers.

The whole cast come up trumps and there is delightful comedy from Audrey Rhodes and Andrew Philippou while Mike Deakin and Rob Tolefree, who had most of the action, excel in their parts throughout.

As expected, most of the women in the audience went wild when the men did their strip. I came away deafened.

Despite no seats for the evening performances tonight and tomorrow, there are plenty of seats available for tomorrow's matinee.
Tony Challis, Evening Leader Thursday 26th Juy 2007
Bare bottoms, plenty of ripe language, high comedy and touching scenes of heartache. It has to be The Full Monty, crude, nude and full of laughs.

Tip Top Productions has reprised the American musical version of the sexy six at Clwyd Theatr Cymru in Mold. Actors strategically placed into the auditorium instantly involve the audience - mostly women - in a strip club, hen party atmosphere.

Joel Murray's opening strip as the athletic Keno sets a standard we know the motley bunch of unemployed ordinary guys can never match. It's their brave, desperate efforts to put on a similar show that forms the story.

But The Full Monty isn't all hairy bums and girlish giggles. The opening number 'Scrap' underlines the loss of manhood among steelworkers thrown out of work, how it affects their lives and relationships with their women who still have jobs.

Mutual friendship and shared problems restore the men's self confidence as they learn about pelvic thrusts, bumps and grinds. The music is jazzy and some of the lyrics owe a debt to rap.

It's a slick production with only a rare flat spot. Mike Deakin excels as the motormouth Jerry, and Rob Tolefree is his perfect foil as the tubby Dave. Andrew Philippou is hilarious as mummy's boy Malcolm. A tour de force in nerdiness that almost stole the show.

Sandra Jones turns in another polished performance as Vicki, the spendthrift wife of one of the jobless, and Audrey Rhodes as Jeanette, the crotchety old pianist with a libellous line in showbiz recollections, is a scream as trousers drop all around her.

The funny lines are well spread among the cast and almost everyone gets a chance to shine. That includes young Jacob Millar as Nathan, Jerry's kid, over whom he's playing tug-of-love with his estranged wife.

A show well worth seeing if you're not easily offended. I take my cap off to it...and so do the male strippers, to hide their modesty!

The Full Monty runs until Saturday. Box Office: 0845 330 3565
Les Lever
THEATRE goers were treated to a stunning stage presentation of The Full Monty when Tip Top Productions took to the boards at Clwyd Theatr Cymru this week.

Superbly directed by Steve Davies, the Tip Top treatment of this engaging and moving play totally lived up to its promise of being a real moment for the memory for lovers of the dramatic art.

Writing as one of the brave and few colossally outnumbered men in an audience of highly appreciative women, I can only report I was completely wowed by a staggeringly good all-round performance from this talented team. In a phrase it was simply Tip Top.

The acting was superb, with humour and pathos regularly vying with each other for ascendancy, and the cast sustained their American accents splendidly throughout.

Movement round the stage, whether in their dancing or in simply getting from one part of the stage to another, was energetic and flawless – so hats off to the choreography team.

Sets and costume were perfect for the piece, carefully and imaginatively put together, while the music, under Tim Jones' expert direction, provided the perfect backdrop for a splendid evening's entertainment.

Steve Davies' direction was simply outstanding, and his attention to the smallest detail showed a creativity and love of his art that was just breathtaking.

It seems almost churlish to single out any one performance, but Andrew Philippou's interpretation of the role of Malcolm was pure gold.

Looking for all the world like Rowan Atkinson as Mr Bean, he extracted every ounce of humour and emotion from his role and won the hearts of us all.

The stage production of The Full Monty transferred the action of the well known British film to the depressed steel town of Buffalo, New York.

The characters that were made popular in the film by Robert Carlyle, Tom Wilkinson and Mark Addy were still there, but they were joined by their wives and girlfriends, who told the full story of the unemployed guys who turn to stripping to raise money.

The show took us through the guys' rehearsals, their first performance in front of a group of old age pensioners and finally to their ultimate performance. It was here that we found out whether they were actually brave enough to go The Full Monty!

Steve Davies once again took control as producer and director, with musical direction from Tim Jones and choreography from Rob Stevens. Joining them as stage manager was Nick Roberts who is a theatre technician at Nottingham Playhouse.

Nick was working alongside his brother, Andrew Roberts, who took on the role of deputy stage manager. Completing the backstage team was Nick Underwood who took on his first major back stage role with the company as assistant stage manager.