The Full Monty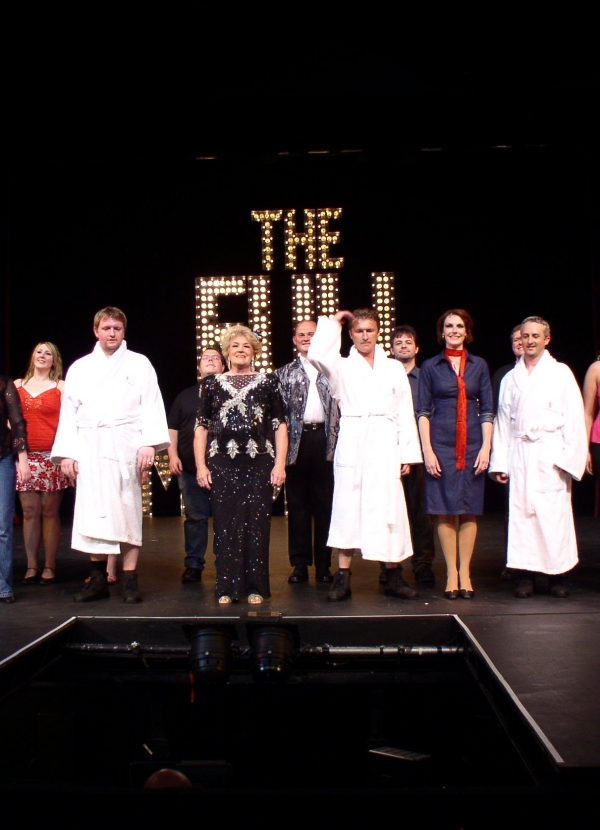 10/07/06 - 15/07/06
Venue: Gateway Theatre
Cast
Jerry Lukowski - Brian Fray
Dave Bukatinsky - Simon Phillips
Harold Nichols - Mike Deakin
Malcolm MacGregor - Andrew Philippou
Ethan Girard - Chris Peate
Noah "Horse" T. Simmonds - Richard Pinder
Georgie Bukatinsky - Leslie Churchill Ward
Vicki Nichols - Lisa Williams
Pam Lukowski - Julie Blagrove
Nathan Lukowski - Ben Merrick
Jeanette Burmeister - Audrey Rhodes
Molly MacGregor - Ruth Evans
Buddy "Keno" Walsh - Terry Samuels
Estelle Genovese - Samantha Jones
Teddy Slaughter - Neil Mason
Reg Willoughby - Jonathan Francis

All other parts played by:

Natalie Brett
Ceri-lyn Cissone
Laura Coard
Lee Hassett
Dave Pearce
Kate Salmon
Mark Shenton
Production team
Director - Steve Davies
Musical Director - Tim Jones
Asst. Musical Director - Cliff Lloyd
Choreographer - Rob Stevens
Producer - Ruth Evans
Stage Manager - Nick Roberts
Deputy Stage Manager - Andrew Roberts
Stage Crew - Will Hall, Mark Griffiths, Jonny Hughes, Nick Underwood
Lighting Designer - Ian Jones
Sound - Richard Stokes
Wardrobe - Barbara Davies
Props - Wendy Healiss & Sandra Rogers
Make Up - Jean Leath
Publicity - Lee Hassett & Ruth Evans
Reviews
Les Chamberlain - Wrexham Leader
AS USUAL, it's another hit of a show for Tip Top Productions with The Full Monty.

The full auditorium of the Chester Gateway Theatre on the first night resembled a massive hen party as the women screamed, screeched and whooped at the suggestive gyrations of the actors.

The scene was set when black actor, Terry Samuels, did a strip tease down to his underpants and they almost went wild when another bared his bottom.

This, however, is a slick production and for Steve Davies, it must be about the best show he has directed. It is loud, brash and vulgar, but the first night audience absolutely loved it.

Most of the work falls on Brian Fray and Simon Phillips as the two jobless friends desperate to make money. They bounce off each other brilliantly in the comedy, but they are excellent in the pathos of their parts.

Equally hard working, to make the show such a huge success are Neil Mason, Andrew Philippou, Chris Peate, 11-year-old Ben Merrick and Richard Leo Pinder whose solo dance in the first act almost brought the house down.

Audrey Rhodes gives a gem of a performance as the old pro pianist as does Lisa Williams as the brassy wife of the former boss of the unemployed factory workers. other outstanding female roles are played by Leslie Churchill Ward , and Julie Blagrove.

All credit to choreographer Rob Stevens for his splendid dance routines and to Tim Jones and the orchestra for some fine playing.

And how those women in the audience went wild when the six strippers did their routine at the end.

Here was a case of bums on stage putting bums on seats. it was a riotous night.

Bookings have been the best ever for a Tip Top Productions' show, and it can be seen again tonight and tomorrow - if there are any seats left.