The Flint Street Nativity

by Tim Firth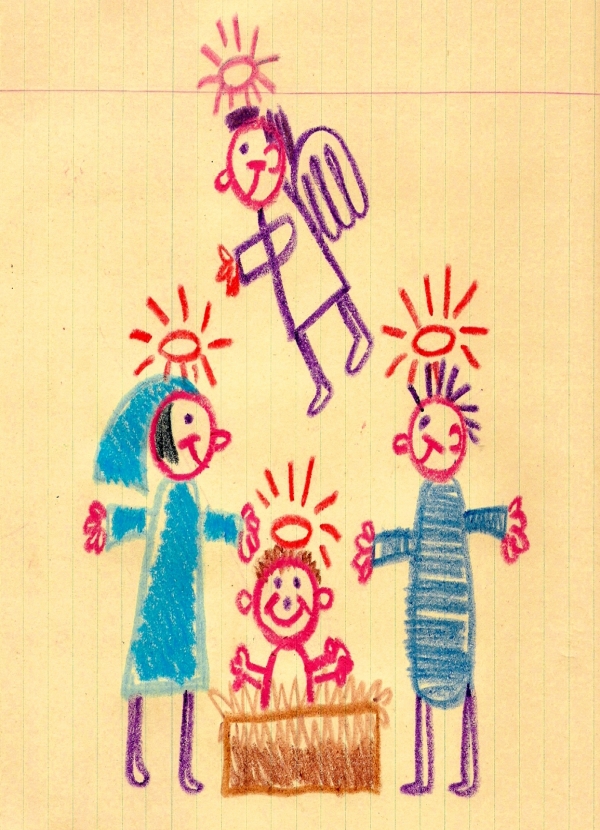 18/11/10 - 27/11/10
Venue: The Forum Studio Theatre
Flint Street Nativity by Tim Firth

This hilarious comedy written by local Cheshire writer Tim Firth (Calendar Girls; Kinky Boots) takes us into the world of the school nativity play. We meet two girls fighting over the role of Mary; a screamingly funny innkeeper; and the boy who has a unique method of judging women's ages! What makes this seasonal play even funnier is that all the children are played by adults! The classroom antics backstage at Flint Street Primary School's nativity play are awash with jealousies, teasing, blackmail, unrequited love and of course, Christmas carols as only children know how.
A perfect preparation for Christmas!
"There are moments when you may wet yourself laughing." Alfred Hickling, Guardian
Cast
Innkeeper - Neil Mason
Mary - Jo Lloyd
Wise Gold - Pippa Redmayne
Shepherd - Del Underwood
Gabriel - Sally Dillon
Star of Bethlehem/Ass - Mark Newman
Angel - Emma Bithell
Narrator - Simon Phillips
Herod/Joseph - Stuart Evans
Wise Frankincense - Rob Tolefree
Production team
Director - Steve Davies
Musical Director - Simon Phillips
Production Assistant - Maureen Tolefree
Sound - Paul White
Props - Sandra Rogers and Sheila Roberts
Work Experience Student - Dominic Cawdell
Set Building - Richard Taylor
Set Painting - David Kennedy
Reviews
Chester Chronicle - Naomi Dunning
AS CHILDREN, parents and schools prepare for the stresses of the annual school nativity it is definitely worth taking time out to enjoy the humour, heartache and festive feel-good fun of the latest Tip Top productions' performance.

The Flint Street Nativity by Cheshire writer Tim Firth has been taken on by the talented Tip Top Productions team and once again they have proved they are far from amateur.



Firth takes the audience into the world of the school nativity, and in particular into Mrs Horrocks's class at Flint Street Primary School.

It is the night of the nativity and the audience sees bickering girls, bullying boys and a stick insect each play their part in the traditional Christmas story. What makes this play funnier is that the children are played by adults.

The Tip Top actors cleverly pair fun, humour and excitement of the school play and the prospect of an audience full of relatives with the harsh reality of the homes and family circumstances the children return to at the end of each school day.

Sally Dillon expertly plays the attention seeking child who is desperate to play Mary but has only been given the part of Gabriel. Her little madam character strops on and off the stage turning friends against each other, shouting the loudest and shamelessly trying to steal the role of Mary from her classmate.

The Narrator played by Simon Phillips steals the heart of every audience member as he nervously tries to learn his words to impress his Dad. His facial expressions, body language and comic timing are hilarious and heart wrenching all at the same time.

As in the company's last production Little Voice , Pippa Redmayne once again showcases her acting skill- this time by playing the mostly upset and bewildered wise man.

Mark Newman and Emma Bithell both beautifully portray children innocently delighted at the prospect of taking to the stage but easily lead by their more forthright classmates.

All the characters in this production are are well played and once again the company has showcased the exceptional acting talent we have in Chester.

The Tip Top Productions team mixes Christmas carols and comic timing to make this performance a must see. The audience exits the theatre with a real festive feeling and a smile on their face after a thoroughly entertaining evening.
Wrexham Leader - Les Chamberlain
It is unusual for me to review two productions of the same play within a month of each other. However, this has just happened with Frodsham based Tim Firth's comedy Flint Street Nativity. I saw the play in Wrexham in October and again last week at the Forum Studio Theatre, Chester. Flint Street was originally written for TV, but in 2006 Tim Firth rewrote it for the Liverpool Playhouse where it played to packed houses for two Christmases. If this week's run by Tip Top Productions is anything to go by, local audiences should look forward to seeing it again next year. The packed house I was in absolutely loved the production. There was laughter from start to finish, including the rather unusual last scene. I would spoil the surprise if I were to reveal the twist at the end but it certainly sticks in the memory.

Director, Steve Davies who is soon to make his professional debut in Snow White at the Stiwt in December, has moulded a strong cast together. The entire company acts out the annual school nativity play with a difference as all the children are played by adults. There are several outstanding performances including Sally Dillon as a spiteful and jealous Angel Gabriel who is desperate to grab the leading role of Mary from Jo Lloyd. A lot of nice comedy touches come from Delyth Underwood as a plodding shepherd; a very funny Joseph played by Stuart Evans. For me some of the best moments came from Mark Newman as the Star of Bethlehem as he tried to show that, although he came from the remedial class, he still needed all his appeal to impress his Uncle Ted- a neat cameo performance this. There was also excellent support from Neil Mason, Pippa Redmayne, Simon Phillips, Rob Tolfree and Emma Bithell. Incidentally, the costumes looked as if they had come straight from a school nativity play. It was also refreshing to have the music played live on stage- a nice touch