The 25th Annual Putnam County Spelling Bee

On The Mark Theatre Company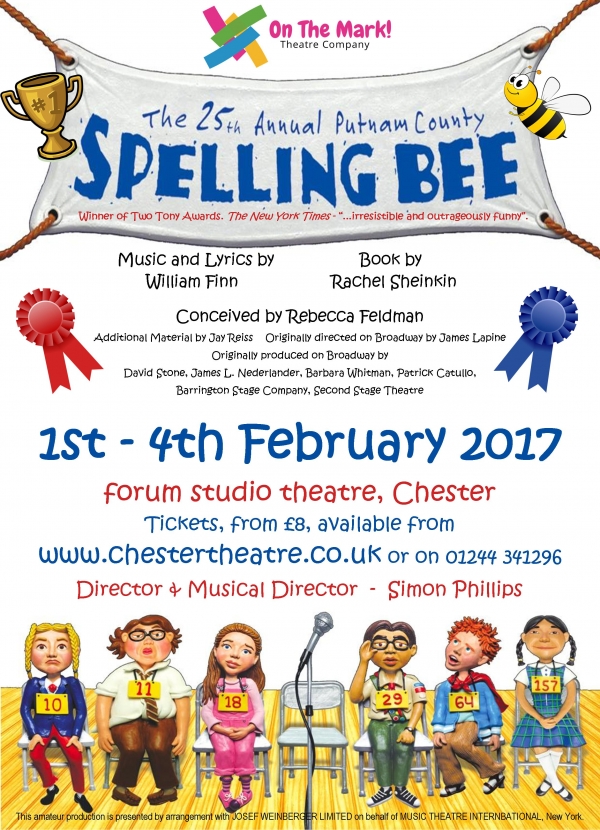 01/02/17 - 04/02/17
Venue: The Forum Studio Theatre
On The Mark Theatre Company is a brand new company, created by long time Tip Top Productions Director/Musical Director, Simon Phillips.
For their first production, On The Mark present this award-winning musical comedy.
An eclectic group of sixth-graders arrives at the 25th Annual Putnam County Spelling Bee, each eager to win for very different reasons. Sweet and shy Olive brings only her best friend (the dictionary) with her to the bee; bold and hyperallergic speller William Barfee uses his "magic foot" to propel him to greatness; former champion Chip is struggling with his burgeoning puberty; easily distracted Leaf is unconvinced that he's smart enough to be a challenger; overachiever Marcy is disappointed by her consistent success; and politically aware Logainne Schwartzandgrubenierre only wants to impress her gay dads.
In hilarious, touching, and catchy songs, each speller reveals his/her hopes, struggles, and passions as they make their way through the competition.
With an engaging, tuneful score by William Finn and a sweet, funny book by Rachel Sheinkin, The 25th Annual Putnam County Spelling Bee causes audiences to fall in love, both with the show itself and its "perspicacious," "jocular," and "effervescent" spellers.
Cast
Chip Tolentino - Rob Lyon
Logainne Schwarzandgrubenierre - Rhian Underwood
Leaf Coneybear - Andy Reilly
William Barfee - Chris Jones
Marcy Park - Brogan Craine
Olive Ostrovsky - Laura Roberts

Rona Lisa Peretti - Annie Howarth
Vice Principal Douglas Panch - Stuart Evans
Mitch Mahoney - Luke Disley
Production team
Director & Musical Director - Simon Phillips
Choreographer - Laura Roberts
Sound Design/Installation - Richard Stokes
Lighting Design/Operation - Mark Shenton
Sound Operation - Brian Fray

Keyboard - Simon Phillips
Flute, Clarinet & Saxophone - Gordon Macey
Cello - Alison Dawson
Percussion - Neil Middleton