Sunny Rhyl

by Paul Kelly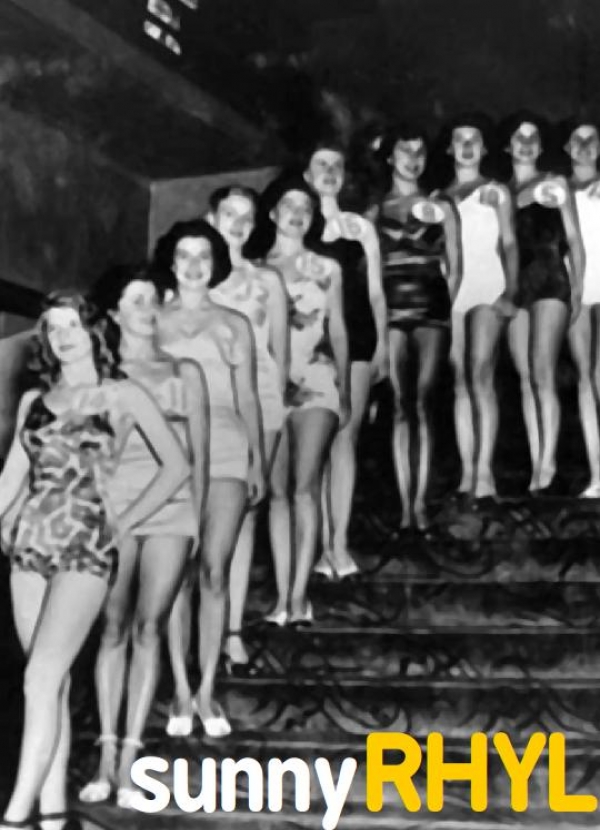 03/03/11 - 05/03/11
Venue: The Forum Studio Theatre
A new play by Chester writer, Paul Kelly. Directed by Steve Davies

'I like the sea and the sand. I like the pier and the pavilion. I like buckets and spades, crabs and mussels, rowing boats and ice cream. I like Punch and Judy, Gypsy Rosie Lee, the esplanade and the bandstands. I like cups of tea and afternoon scones, sweet rock and the penny slots. I like the war memorial, the rose garden and the putting green. I like deck chairs. I like the innocence'.

It's July 1962 and The Beatles are playing the Dansette, Miss Sunny Rhyl will be crowned in the Pavilion and the Pier is about to be sold.
Sunny Rhyl is a comedy drama about Francis and Lola. An unlikely pair in an innocent seaside town that can't help but change.
Cast
Francis - Stuart Evans
Lola - Molly Bourne
Production team
Director - Steve Davies
DSM - Rob Stevens
ASM - Paul White
Sound - Gary Roberts
Lighting - Ian Jones
Props - Pat Pearce
Additional thanks to Ken Williams
Reviews
Chester Standard - 10.03.11 - Peggy Woodcock
Tip Top Productions took audiences to the seaside with their latest venture at The Forum Studio Theatre, Sunny Rhyl, awash with nostalgia for the resort's hey day in the 1960s.
As one character remarked, Rhyl then was great for the pier, funfair, Floral Hall, beach, and also the 'innocence', ie unsophisticated, candy floss and all, the holiday dream before the Spanisg costas.
Yet this unusual play, by Chester writer Paul Kelly, in collaboration with director Steve Davies, was all about an unlikely friendship struck up by two young people: Francis, a deckchair attendant, and Lola, posh daughter of a high flying businessman passing through.
Francis loved his job, but had no money to buy into it. Lola was precious, but lonely, and soon tempted to enter the Miss Sunny Rhyl contest and give Francis the prize money.
This was a challenging piece, especially for Molly Bourne, as Lola, for she had to talk posh, talk scouse, strus her swimsuit stuff and sing Diamonds are a Girl's Best Friend!
She showed remarkable pouse, ably supported y Stuart Evans, nicely unassuming as Francis.
Friday's show had a few timing issues, but it hit the 60s button and entertained.
The National Student - 06.03.11 - Hannah Blackwell
It shows how the two different characters from different backgrounds become important to each other all due to a chance meeting. The production was simple with no scenery, only a few props and the cast consisting only of Stuart Evans (Francis) and Molly Bourne (Lola), which concentrated all the audience's attention on the characters and their story.

The atmosphere in the small theatre was intimate which made it easier to connect with the characters and the storyline whilst predictable, but was entertaining all the same, and this made the play easy going and pleasant to watch. Giving a light hearted performance, the actors gave a performance which humorous, cheeky and quick, although at times a bit corny. They functioned well as a team as they were the show's stage managers as well as its actors, which I felt was clever and something that I personally hadn't seen from a play before, so it was interesting to see a play put together in a different way to the norm.

The audience was involved in parts of the play, playing the part of an audience of a beauty pageant which was a nice touch that added to the intimacy. I felt that Evans was the stronger actor - his comedy was well timed and he was likable in a down to earth way. Bourne played a good upper-class character but her acting didn't seem as effortless as Evans' whose character was far more believable. Overall it was an enjoyable play which had a simple idea and plot behind it, but it was good to watch a play that was easy to follow and wasn't too heavy-going.
Wrexham Leader - 18.03.11 - Les Chamberlain
For those who remembered the Rhyl of the 1960s, this play, written by Paul Kelly, a Chester playwright, evoked memories of deckchair concessions, bathing beauty competitions and a seaside life that is so different to today's experiences. Paul had previously written another play that was premiered at the Forum - "Goodwill" - and "Sunny Rhyl" offered the same mix of humour and relationship complexities. Featuring Stuart Evans, a seasoned Tip Top performer and Molly Bourne a young actress studying for her 'A' Levels, the play called for two actors who could recreate those heady 1960s. Despite her youth, Molly brought the character of Lola straight to the audience, a character who was a mix of vulnerability and manipulative abilities. She had some lovely moments when that vulnerability made you feel sorry for her and moments where her manipulation of people and situations made you uncomfortable for the people she might meet along her life path. Stuart, as the deck-chair attendant in constant battle with his opponents from the West End of Rhyl who run their part of the beach, added a character portrayal that complimented Molly's. A simple but effective set, a direction that was solid in its delivery of the author's original aim and an opportunity to remember those 'Sunday School trips' made it an enjoyable and nostalgic evening.