SUMMERSCHOOLS

by Theatretrain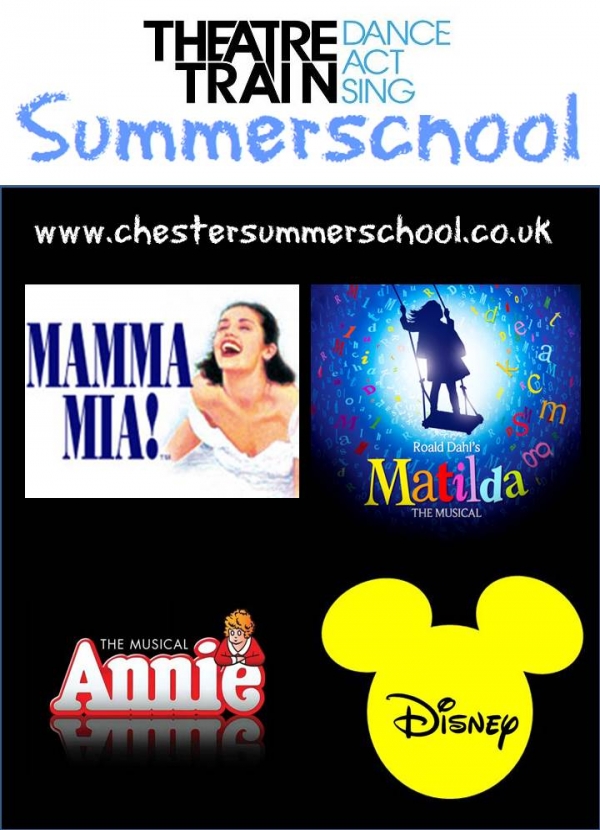 28/07/14 - 22/07/14
Venue: The Forum Studio Theatre
Theatretrain return to The Forum Studio Theatre with their themed Summerschools. This year's subjects will be:
28th July - 1st August
M A M M A M I A
4th - 8th August
M A T I L D A
11th - 15th August
A N N I E
18th - 22nd August
D I S N E Y
Theatretrain Friday evening and Saturday morning schools offer pupils the opportunity to train in Dancing, Acting and Singing. Now in it's eighth year the programme for the Summerschool Workshop has been developed to offer a full programme of a variety of skills. It offers a fun filled five day programme that culminates in a performance for family and friends in a working theatre environment. ?
Whether your child has bags of experience or they want to discover their hidden talents, enrol them onto one of our themed weeks and watch their confidence grow. They'll love it so much that they'll want to come back for a second week! Visit the company's website for further details: www.chestersummerschool.co.uk