Summerschool

by Theatretrain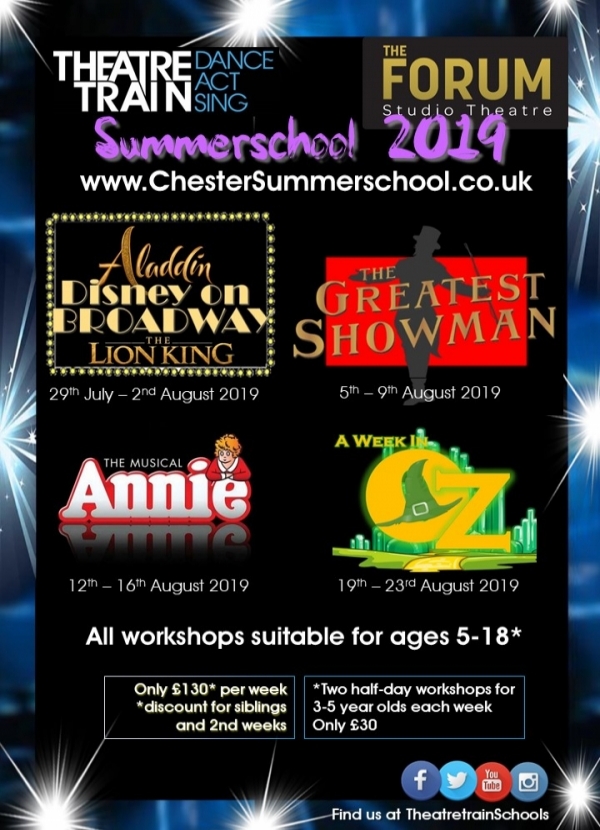 29/07/19 - 23/08/19
Theatretrain return for their thirteenth year of Summerschool. Week-long workshops with classes in dancing, acting and singing; each one working towards an end of week production for family and friends in the studio theatre.
Each week runs from 9.30-3.30 from Monday to friday and is suitable for children age 5-18
There are also shorter sessions for younger children on Thursdays from 12-3 and Fridays, 12-3.30. These sessions are suitable for ages 3-5. They'll also have the opportunity to perform in the end of week show.
29th July - 2nd August - A WEEK OF DISNEY featuring Aladdin and The Lion King
5th - 9th August - THE GREATEST SHOWMAN
12th - 16th August - ANNIE
19th - 23rd August - A WEEK IN OZ featuring The Wizard of Oz, Wicked and The Wiz

Theatretrain have weekend classes in Chester, Wrexham and Mold. Join their regular sessions here at The Forum Studio Theatre every Friday during term time from 4.30 - 7.30pm or visit www.theatretrain.co.uk to find your nearest school
Pricing:
FULL WEEK
£130 per child per week
£90 for a sibling or second week

TINIES & MINIS (ages 3-5)
£30 per child per week
£25 for a second week
Booking:
Tel 07809 871600
Email chester@theatretrain.co.uk
Website http://www.chestersummerschool.co.uk