Stepping Out

sponsored by THE LIVING ROOM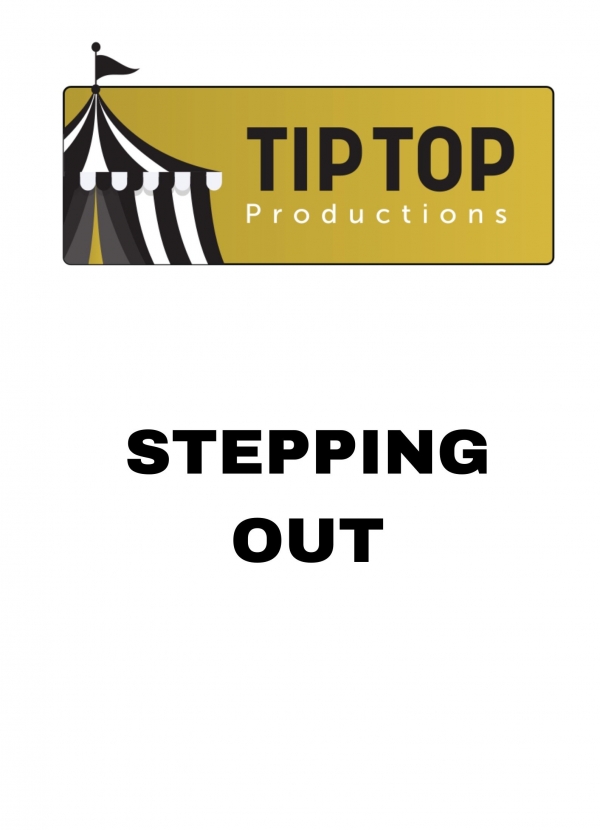 13/03/08 - 22/03/08
Venue: The Forum Studio Theatre
This comedy chronicles several months in the life of a beginners' dance class. Each of the eight students has his or own reason for coming every week to chat, relax and, if they can manage to, learn a couple of dance steps.
Led by their eternally patient instructor, and accompanied by the acerbic pianist, the students strive to master the basics of dance. But the steps and the routines are just the background for the real focus of the play - the relationships and interactions of these ten very different people.
Cast
Andy - Kate Salmon
Vera - Sally Dillon
Dorothy - Delyth Underwood
Geoffrey - Richard Taylor
Mavis - Jo Randles
Mrs Fraser - Maureen Shakeshaft
Maxine - Gwen Cowan
Lynne - Jessica Tilling
Sylvia - Julie Andrew
Rose - Michelle Kelly
with Beryl Blackmore
Production team
Producer and Director - Steve Davies
Choreographer - Pam Evans-Hughes
Assistant Stage Manager - Ken Williams
Set Designed and Built by Matt Yeoman
Decor - John Evans with Neil Mason, Lee Hassett and Derek Healiss
Sound - Richard Stokes
Lighting - Ian Jones
Wardrobe - Barbara Davies with Allan Forrest, Peggy Davies and Mark Lawton
Props - Sandra Rogers and Wendy Healiss
Wigs - Jean Leath
Reviews
Audience Review
A few words of appreciation for the regions own amateur theatre company - Tip Top Productions.

Following their tenancy agreement with Chester City Council for the use of the old Gateway Studio Theatre, Tip Top have produced a series of plays, musicals and showcase cabaret style shows at the venue.
Each has been very different, but they have all been absorbing, exhilarating and unbelievably good - not least the latest show "Stepping Out" which was absolutely brilliant, with every one of the cast of 10 really bringing their characters personality to life.

This company - a registered charity - seems to go from strength to strength and we are all very lucky to have them in our area.

If you want a really good night out and you get the chance, (and can get a ticket), GO.

WJ and M Moorhouse, Wrexham by e-mail
Les Chamberlain - Wrexham Leader 28.03.08
There is the occasional play that, having seen it once, you do not wish to see it again.
On the other hand, there are plays which you enjoy seeing many times and Tip Top Productions of Richard Harris' hilarious Stepping Out is one of those.
This was the third time for me to see it and it was as fresh as the first production of it I saw a long time ago.
It is the story of eight women and a man who join a tap dancing class to escape from their dull home problems and during the evening their frustrations are given vent as they take it out on each other.
There is great comedy in it and, from a beginners dancing class, they emerge as excellent dancers giving two excellent public performances.
Director Steve Davies worked wonders squeezing the performance into such a small stage at the Forum Studio Theatre, Chester, and the action never falters throughout. He disciplined the actors brilliantly.
Honours too to choreographer Pam Evans-Hughes who has taught most of the actors, just like those in the play with no experience, to tap dance. A superlative effort here.
Delyth Underwood, as the awkward Social Security office worker, had me chuckling throughout. Her antics in trying to dance
were hilarious. It was the same with Gwen Cowan as the tarty young housewife.
Sally Dillon was exceptionally funny as the snobbish nosey parker with a fetish for cleaning everywhere.
Kate Salmon was perfect as the highly-strung young woman who kept a worried-looking face throughout until the final dance routines when she produced a
dazzling smile. She plays Andy and when asked what it was short for she replied: "It's not short for anything, it's long for Ann." There were many good one-liners like this throughout. Jo Randles, a qualified dance teacher, relished her role as the dance teacher knocking her awkward squad into shape and there were equally outstanding performances from Gwen Cowan, Jessica Tilling, Julie Andrew, Michelle Kelly, Richard Taylor and Maureen Shakeshaft as the grumpy pianist.
This was indeed a magnificent team effort and plaudits all round to the actors and production team.