Snow White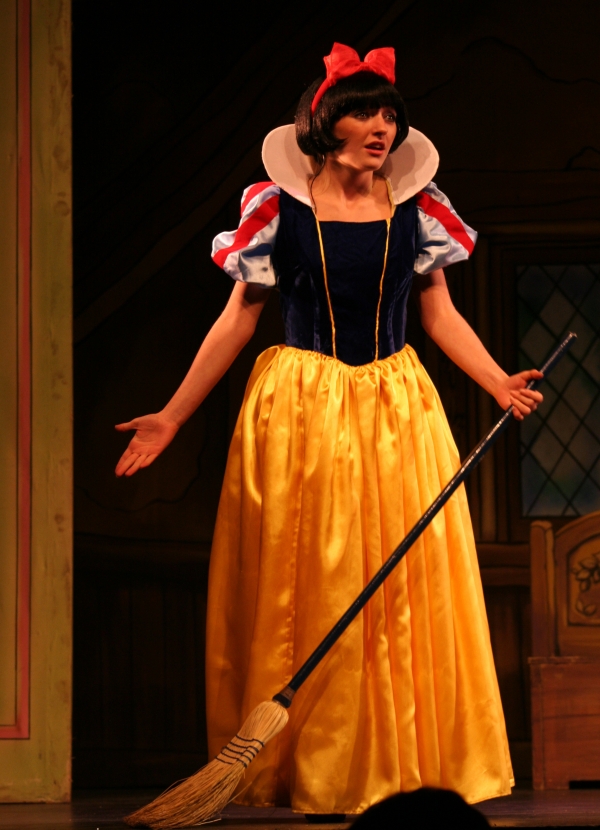 28/12/06 - 30/12/06
Venue: The Stiwt
Cast
Snow White - Daniella Fray
Chuckles - Gareth Pierce
Nurse Gertie - Steve Davies
Queen Gabriella - Lisa Williams
Fairy Kindheart - Joanne Lloyd
Basil - Mark Shenton
Brush - Lee Hassett
"Hogwarts" The Rabbit - Barbara Davies
Prince Troy - Brian Fray

Dwarves:

Chloe Scaife
Chris Jones
Carl Jones
Kieran Jones
Amy Kelly
Alice Jones
Isobel Crowther
Production team
Director - Peter Swingler
Musical Director - Simon Phillips
Choreographer - Pam Evans-Hughes
Asst. Musical Director - Michael Reynolds
Stage Manager - Nick Roberts
DSM - Andrew Roberts
Stage Crew - Mark Griffiths, Nick Underwood, Kaite Walker
Sound - Richard Stokes
Lighting - Ian Jones
Make-up - Jean Leath
Wardrobe - Barbara Davies
Props - Julie Andrew
Publicity - Lee Hassett & Ruth Evans
Reviews
Les Chamberlain - Wrexham Leader
YET again Tip Top Productions came up with another fundinger of a pantomime in Snow White and the Seven Dwarfs at the Stiwt.

The doyen of pantomime writers and directors, Peter Swingeler, presented another spectacular production and moulded a big cast into a superb, disciplined unit.

The costumes were sumptuously spectacular especially the outrageous ones worn by Stephen Davies who made the transition from his usual baddie character to the hilarious Dame Gurtie Glucose with ease. His cod mirror ballet sequence with Snow White was a hoot and for one sequence he was dressed as a Robin Hood principle boy complete with a thigh slap which brought roars from the audience.

As usual, there were plenty of topical one-liners such as the Hafod Quarry tipping saga. Wrexham's new retail park, the fron Choir, and the veil controversy and a good deal of audience participation.From her first apperience in a flowing blue gown, Joanne Lloyed, as Fiary Kindheart, set the scene for a most enjoyable evening. Gareth Pierce gave an effervescent performance, bounding around with the great energy as Chuckles the simpleton who had the children in the audience right on his side from the start. Adding to the comedy to the delight of the children where Mark Shenton and Lee Hassett and the wicked duo, Basil and Brush. Daniella Fray gave a faultless performance in the title role and Brain Fray was equally as good as the macho Prince. They combined exceptionally well. Barbara Davis again proved that she is a natural in an animal skin, this time as the rabbit. Lisa Williams was the wicked queen who, for me, proved to be more attractive that she should have been. Some gruesome make-up and long finger nails would have made her look more wicked. Nevertheless she gave an exercellent performance. Th dwarfs were played with great confidence by Kieran Jones, Carl Jones, Chris Jones, Alice Jones, Ckloe Scaife, Amy Kelly and Isabella

Crowther, proving that they could be the future performers for the company. The usual high-standerd of dancig was splendidly choregraphed by Pam Evans-Hughes and the musical quartet was under the direction of Simon Phillips. Once again, another outstanding show which, hopefully next year, will see a pantomime performed for more than four times it was a scheduled for this year. it certanily deservers more audienced.