Snow White and the Seven Dwarfs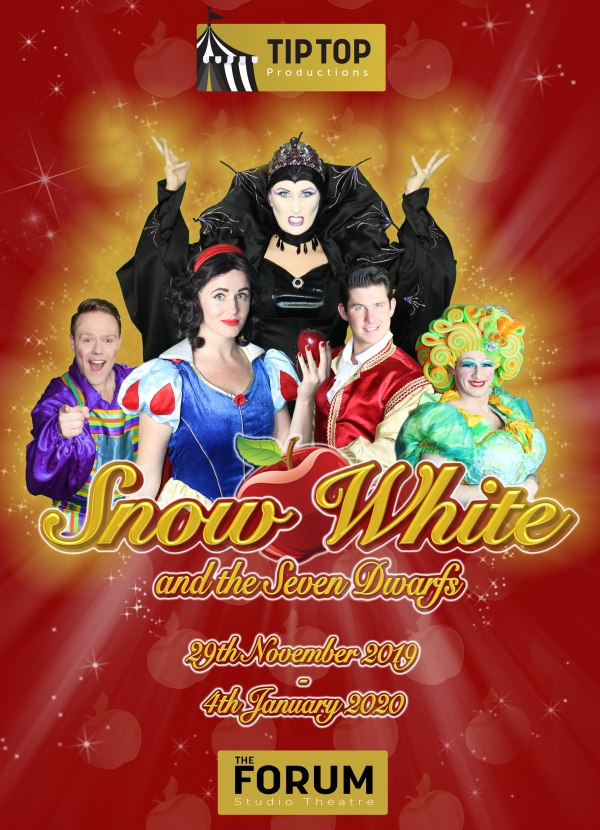 29/11/19 - 04/01/20
Don't miss Tip Top's festive family pantomime, Snow White and the Seven Dwarfs.
"Mirror mirror on the wall, Tip Top's panto is the best of them all!"
Join Snow White and her Seven little friends in this story of magical twists, fun, and adventure. This laugh a minute production of the timeless tale is guaranteed great fun for all the family. There's surprises in store for you at every performance plus, of course, the old jokes,,, and maybe a new one here and there!
Cast and Crew
| | |
| --- | --- |
| Snow White | Bethan Fflint |
| Archie | Ashley Sollars |
| Simple Simon | Rich Roberts |
| Wicked Queen | Josephine McHugh |
| Nurse Kitty Litter | Andrew Rawlinson-Heath |
| Man in the Mirror | Rob Lyon |
| Rabbit | Connor Booth/ Beatrice Sutton |

Times, tickets and availability
Tickets from £7 during previews (29th November - 1st December) and from £11 for all other performances. Further discounts for groups of 10+ and special term-time performances for schools - call for more details.
| | | |
| --- | --- | --- |
| Thursday 2nd January | 1pm | Single seats |
| Thursday 2nd January | 5pm | Single Seats |
| Friday 3rd January | 1pm | Sold out |
| Friday 3rd January | 7pm | Very low availability |
| Saturday 4th January | 1pm | Single Seats |
| Saturday 4th January | 5pm | Single Seats |
Review by The Chester Blog:
Tip Top's productions annual festive show is now as much a part of Chester tradition as community parades, pretty light displays and people moaning about the Christmas market. This years offering Snow White and the Seven Dwarfs, is as usual written and directed by Peter Swingler and choreographed by Rhian Lyon.
The appealing cast is headed up by Bethan FFlint, sweet and sassy as the title character. Ashley Sollars is the dependable prince in waiting Archie, with Josephine McHugh getting all the boos as the wicked queen. New to Tip Top is the energetic Rich Roberts as comedy sidekick Simple Simon. Roberts, bursting with energy, and carrying a Chester market canvas bag, was a hit with the youngsters in the audience and delivered some fun audience interaction sequences. Another well know local performer, Rob Lyon , this time appears via CGI on a video screen as the Man in the Mirror ( minus points for the song not being performed in the show!), sadly the video only role does lessen the impact of the mirrors interaction with the rest of the cast. The panto cast is completed by the always excellent Andrew Rawlinson Heath as Nurse Kitty Litter, the master/mistress of innuendo and increasingly outlandish outfits.
Across three acts, the simple tale is delivered via energetic song and dance sequences , well supported by the child dancers/ 7 dwarves. Highlights include a fun "Don't go Breaking my Heart" and Kitty Litter channelling Shirley Bassey's version of "Get the Party Started". Ashley Sollars gets his chance to shine via a solo version of Lewis Capaldi's recent hit, "Someone you loved" at Snow White's tomb.
The winning formula of fun and interaction for the kids and innuendo for the older members of the audience continues, with pussy jokes and reference to a "spark in a cucumber", neatly fitted into the dialogue. The cast were clearly having a great time and during a lengthy interpretation of the Twelve Days of Christmas ( 5 toilet rolls memorably wielded by the Dame) were close to laughter themselves. It'll make you smile.
Offering fun for all the family, with traditional panto fun and a good dose of contemporary references from Wrexham jibes to Storyhouse (and a cleverly worked Donald Trump running joke) , Snow White offers easy going fun and guaranteed laughs.