"Slasher" Kincade

A Too Write Productions presentation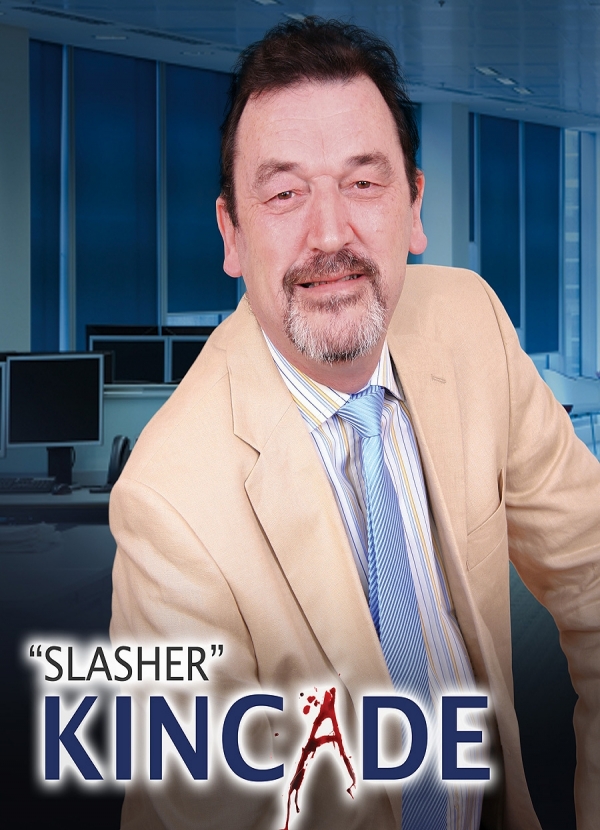 15/04/10 - 17/04/10
Venue: The Forum Studio Theatre - Main Venue
VISITING COMPANY

Written and directed by Chris Leicester

There's 80 minutes to go before the big speech at the trade convention. But if Robert's new business and his very survival depend on it being a success, why has he asked terminally nervous Daniel to deliver it for him? Victims of his past savage down-sizing, what did Kincade do to them; what is Robert trying to prove? With the deadline fast approaching Daniel is still too petrified to speak when something unexpected happens. Unable to step in and save the situation Robert seems doomed. His and Daniel's positions have changed utterly but now their perceptions must also as Daniel is now Robert's only salvation.


'With the chemistry of such a beautiful text and believable acting, the spell is indeed cast...'
Extra! Extra! on 'The Baby Box' 2008

'Chris Leicester's clever, acerbic, unpredictable play...'
The Stage on 'The Fourth Wall' 2005

'...beg, borrow or knee-cap for a ticket!'
The Scotsman on 'Mafioso' 2003

www.slasherkincade.info
Reviews
Apr 15 2010 by Naomi Dunning, Chester Chronicle
A CHESTER director shows clearly what happens when corporate greed overcomes personal compassion in his new play "Slasher" Kincade.
Chris Leicester, who lives in Christleton decided to open his play in the Forum theatre Chester as a rallying call to get the city back on the cultural map, and this play's mix of intense drama and comedy certainly should encourage theatre goers to give Chester a second look.
It is produced by Leicester's professional company Too Write Productions and is performed by three professional actors.
The play depicts the dark and ruthless world of cost cutting, streamlining and efficiency which those who have a knowledge of the modern workplace will be all to familiar with.
Kevin Brannagan plays fat, arrogant boss whose clever manipulative words to make sure he never actually reveals his true intention. His brilliant speech to his new employees on an "away day" will remind many audience members of those uncomfortable meetings which have occurred all to frequently recently outlining cost cutting and efficiency measures. The audience become the employees an Brannagan's character encourages questions and challenges sceptical employees to speak up and reveal their concerns in a compelling piece of theatre.
The relationship on stage between the two main characters Robert and Daniel really captures the imagination. The two men played by Chris Carney and Gray Hughes are the dichotomy of each other. Robert ambitious, confident and positive forever the optimist whilst Daniel is nervous, timid and weak.
The play focuses around a presentation on which Robert's new business depends upon. The interaction between these two characters makes the play, and the fast paced escapist fantasies which they both indulge in add humour to the desperate reality of their situation.
On a stark black set with just two chairs the two characters hold the audiences attention, and draw you in to their predicament.
Anyone who has had to give a presentation to a large group, been a victim of cost cutting and efficiency savings or just lived through this current recession will relate to and enjoy this play.
Apr 16 2010 by Michael Hunt, Whats On Stage
Writer Chris Leicester has decided to open his new play in the city he resides and is delivering North West theatregoers an excellent evening of entertainment.

As well as entertaining, Slasher Kincade provokes thought, makes you question the corporate world and - if you�ve had experience of the modern workplace � familiarises you with some of the scenarios being created.

Leicester�s new play, which he is also directing, has been written during the ongoing doom and gloom of a worldwide recession, where cuts have to be made for those business advances.

And the overriding issue being shown in Slasher Kincade is greed vs compassion. One person represents one and another person the other.

Three actors, two chairs, and effective use of lighting and sound is all that is used to tell the story. Kevin Brannagan represents greed as the fat, arrogant boss Kincade and is menacing whenever on stage even by just a simple stare.

Chris Carney represents more of a compassionate side as Robert and steps up to Kincade to challenge his decisions, even though he does so somewhat unsuccessfully. Stuck between the two is Daniel (Gray Hughes), an employee who lacks in self-confidence and is the complete opposite to the more self assured pair of Kincade and Robert.

The main storyline running concurrently throughout the play is the build-up to an important convention speech Daniel has to deliver in order to save Robert�s new business from collapsing.

We become the audience which Robert and Daniel practice with and whereas Carney brilliantly shows Robert�s confidence in speaking � making eye contact with every single one of us � Hughes successfully shows the torture his character Daniel suffers as he becomes haunted by sounds of laughing which take him back to childhood days he�d rather forget.

The pair also fall into fantasy pretending to be in a car rally race � to highlight team work at its best � and also envisage being on a battlefield, where using their own initiative is required the most.

In a desperate attempt to get Daniel to overcome his fears, Robert suffers an unfortunate injury. We are left clutching to the hope Daniel can finally pluck up the courage and deliver his speech.

Slasher Kincade is a play that is cut back to the bare minimum where imagination runs riot. A brilliant evening of live entertainment and theatre at its rawest best.

It runs at The Forum Studio Theatre in Chester until Saturday, before returning to the region at Liverpool�s Unity Theatre in the summer after a stint in London.

-Michael Hunt
Apr 15 2010 by Naomi Dunning, Chester Chronicle
Review: "Slasher" Kincade at The Forum
Studio Theatre in Chester

SLASHER KINCADE/Forum Studio Theatre, Chester
REVIEW/by Naomi Dunning
A CHESTER director shows clearly what happens when corporate greed overcomes personal
compassion in his new play "Slasher" Kincade.
Chris Leicester, who lives in Christleton decided to open his play in the Forum theatre
Chester as a rallying call to get the city back on the cultural map, and this play's mix of
intense drama and comedy certainly should encourage theatre goers to give Chester a second
look.
It is produced by Leicester's professional company Too Write Productions and is performed
by three professional actors.
The play depicts the dark and ruthless world of cost cutting, streamlining and efficiency
which those who have a knowledge of the modern workplace will be all to familiar with.
Kevin Brannagan plays fat, arrogant boss whose clever manipulative words to make sure he
never actually reveals his true intention. His brilliant speech to his new employees on an
"away day" will remind many audience members of those uncomfortable meetings which
have occurred all to frequently recently outlining cost cutting and efficiency measures. The
audience become the employees an Brannagan's character encourages questions and
challenges sceptical employees to speak up and reveal their concerns in a compelling piece of
theatre.
The relationship on stage between the two main characters Robert and Daniel really captures
the imagination. The two men played by Chris Carney and Gray Hughes are the dichotomy of
each other. Robert ambitious, confident and positive forever the optimist whilst Daniel is
nervous, timid and weak.
The play focuses around a presentation on which Robert's new business depends upon. The
interaction between these two characters makes the play, and the fast paced escapist fantasies
which they both indulge in add humour to the desperate reality of their situation.
On a stark black set with just two chairs the two characters hold the audiences attention, and
draw you in to their predicament.
Anyone who has had to give a presentation to a large group, been a victim of cost cutting and
efficiency savings or just lived through this current recession will relate to and enjoy this
play.
"Slasher" Kincade is on at The Forum Studio theatre, Hamilton Place, Chester from April 15
to 17. Tickets £10/£8. Box office: 01244341296.
The Courtyard Theatre, 40 Pitfield Street, London from April 27 to May 23. Tickets via
www.thecourtyard.or.uk.
Unity Theatre, Hope Place, Liverpool. July 1 to 3. Box Office 08448732888