Simon & Garfunkel – Through The Years

Performed by Bookends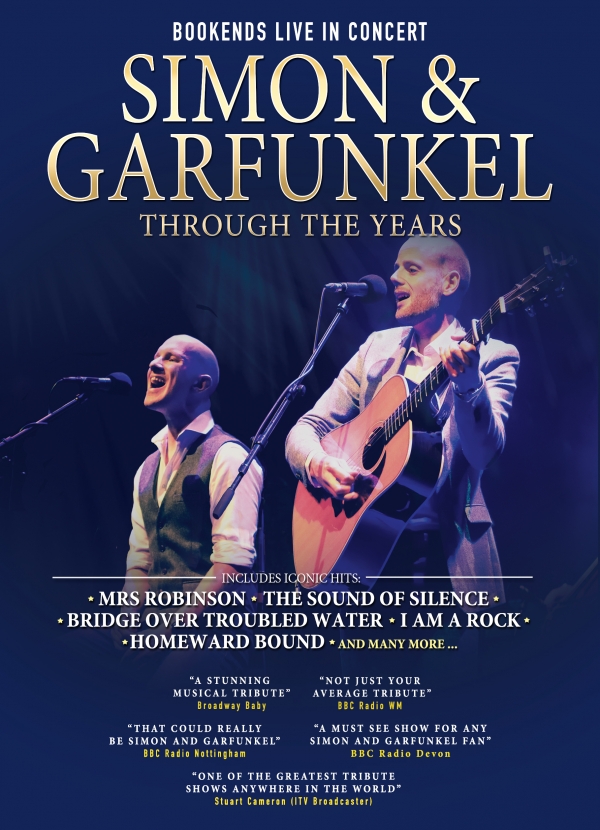 01/02/14
Venue: The Forum Studio Theatre
Simon and Garfunkel met as youngsters in a school production of Alice in Wonderland.
At this time neither Paul Simon nor Art Garfunkel could have imaged the career that lay before them. Although their time together as recording artists was short, their impact on the music industry worldwide was great and their music would live on for decades.
Now, follow the story of the American duo from the first meeting, through the troubled waters and to their reignited friendship in the Bookends show, 'Simon & Garfunkel – Through the Years'. The 'Through the Years' show is the only show of it's kind. Written and performed by 'Bookends', the show is a unique blend of video clips, audio snippets, imagery and delicate live performances.
'Bookends', made up of old friends Dan Haynes and Peter Richards have been performing the works of Simon and Garfunkel for many years and their voices blend together to create, what has been describe as an uncanny recreation of the trade mark sound of Simon and Garfunkel. Watch Paul Simon and Art Garfunkel give their personal accounts of their rise to fame, hear them make light of their break-up and listen to wonderful live performances of many of their hits including Mrs Robinson, Homeward Bound, Bridge Over Trouble Water and The Boxer in the must see show: 'Simon & Garfunkel – Through The Years'. This is the only Simon & Garfunkel of its kind in the world.
The full story of Simon & Garfunkel featuring visual clips of the America duo giving their personal accounts of their rise to fame. Bookends are the UK finest tribute to the music of Simon & Garfunkel. The show was described as a 'Must See Show' on BBC Radio.