Shirley Valentine

by Willy Russell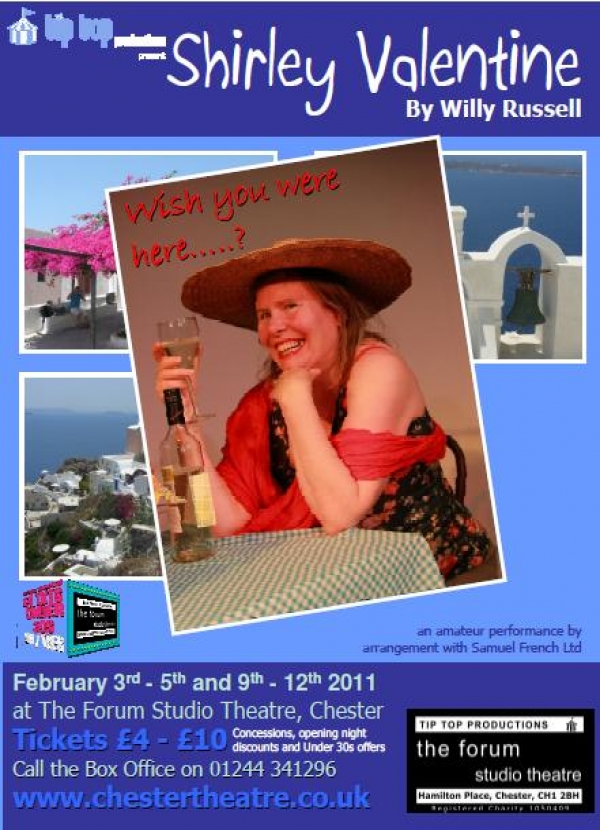 03/02/11 - 12/02/11
Venue: The Forum Studio Theatre
Shirley Valentine by Willy Russell

Following our recent sell out of Willy Russell's "Our Day Out" we are delighted to present Shirley Valentine who is an ordinary housewife. As she prepares chips and egg for dinner, she ruminates on her life, talking to the wall about such subjects as her husband and her children.
At the age of 42, Shirley feels that her marriage and life are in a rut. Her children have left home and she yearns for romance and adventure. But when a friend invites her on holiday to Greece will she have the courage to swap housework and drudgery for two weeks in the sun?
"Hello. I used to be the mother. I used to be your wife. But now, I'm Shirley Valentine again. Would you like to join me for a drink?"
Cast
Shirley Valentine - Marian Newman
Production team
Director - Christine Dukes
Reviews
Wrexham Leader Fri 11th 2011
As I left the Forum Studio Theatre, Chester, after seeing Willy Russell's classic, Shirley Valentine, I overheard a woman say "How on earth does she do it?"
She was, of course, referring to one of Tip Top Productions' outstanding actresses Marian Newman, who gave a one-woman brilliant, energy sapping performance for almost two hours in the title role. Amazingly she looked as fresh taking her curtain call at the end as she did on her first entrance.
And what a performance. It certainly looked effortless as she confidently told her story from being a drudge of a housewife in Liverpool philosophising on where she had gone wrong in her life. She is married to Joe who seems to take no interest in her whatsoever and they have a son and daughter no longer living at home.
We have seen Marian's comic prowess in past productions, but in my book this was her best. She had the audience in fits as she related the funny incidents in her life, especially when her son Brian played Joseph in the school's nativity play.
And she was hilarious when she met a posh school friend who she thought was a glamorous air hostess but confessed to being a hooker. She made a great and amusing play of genuinely cooking egg and chips for her husband's dinner instead of the mince he was expecting.
But she switched to pathos and sadness with ease as she thought of what might have been. So brilliant was she that the word pictures she produced were brilliantly portrayed.
Her friend bought an airline ticket for the two of them to go on a fortnight's holiday to Greece and she was an absolute knock-out as she worried herself sick as to how to tell her husband.
The second act saw her dream come true as she sat outside a taverna in Greece, once more the word pictures flowed easily, again and the comedy came to the fore.
Sharing the honours was director Christine Dukes who had updated some of the dialogue bringing in words and phrases that were probably not known when the play was originally written 23 years ago. It was sucessfully done and, if anything, improved it for those who had not seen the play or the film before.
It is quite some time since I have laughed out loud watching a play but I certainly did the night I saw it.
If you didn't see this play - it was a full house the night I was there, - then you missed a rare treat.