Our Day Out

by Willy Russell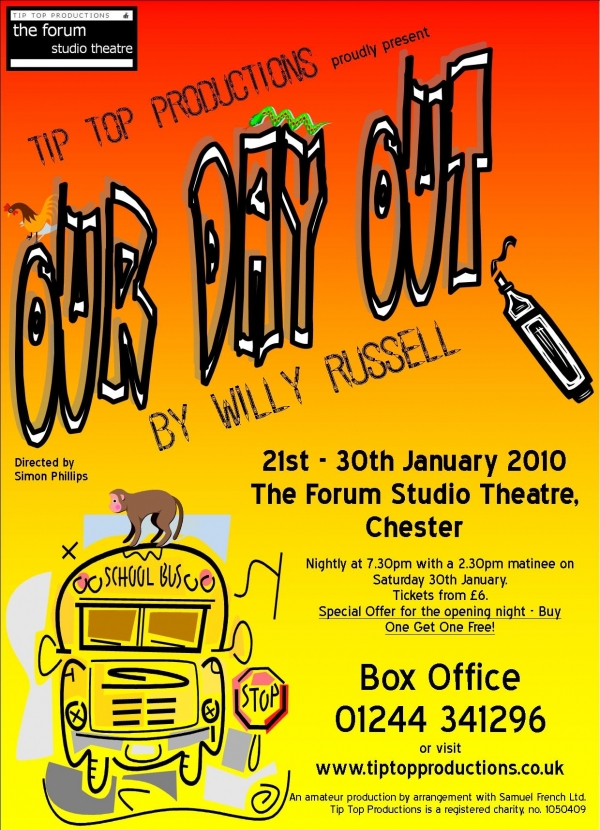 21/01/10 - 30/01/10
Venue: The Forum Studio Theatre
Sad, funny, humourous and true to life, Willy Russell's play for television has been adapted for the stage and given lively, exuberant songs to supplement the action.

It tells the story of a bunch of underprivileged, remedial school children who are taken on a day's outing by their teachers - liberalist Mrs. Kay who just wants the kids to have a "good day out" and authoritarian Briggs who is concerned that there should be a more educational purpose.

The children boisterously rampage through a roadside cafe, a zoo, Conway Castle and a beach. A joyous celebration of the joys and agonies of growing up and being free from school, but also a sharp pointer to the depressing present and empty future for these comprehensive no-hopers, for whom a day out is as much as they can expect.
Cast
Briggs - Mark Shenton
Mrs. Kay - Sally Dillon
Susan - Kimberley Lyon
Colin / Les / Zookeeper - Lee Randle
Ronnie / Head / Shopkeeper - John Lindop
Carol - Daniella Fray
Linda - Gabi Shaw
Jackie - Nadia Devereux
Reilly - Josh Horrocks
Digga - Kieran Roberts
Bored Girl - Samantha Hett
Bored Girl - Lauren Carter
Andrews - Jack Williams
Ronson - Ben Merrick
Maurice - Lee Abbate
Milton - Connor Taylor
Little Kid - Chris Jones


Kid's Chorus Members
Luke Aldous
Claire Brewin
Brogan Craine
Ben Davies
Abby Davies-Moore
Faye Davies-Moore
Katie Deyes
Megan Hughes
Alex Hunt
Megan Jenkins
Carl Jones
Kieran Jones
Amy McCann
Victoria McCord
Georgia Nolan-Rose
Lucy Powell
Anna Ramsey
Phoebe Reynolds
Jasmine Roberts
William Rooney
Rachael Thompson
Production team
Director & Musical Director - Simon Phillips
Producer & DSM - Janice Craine
Sound - Richard Stokes
Reviews
youtube clips
http://www.youtube.com/watch?v=zOOxb_aGPv0

http://www.youtube.com/watch?v=KMixH_rRbus