Oliver!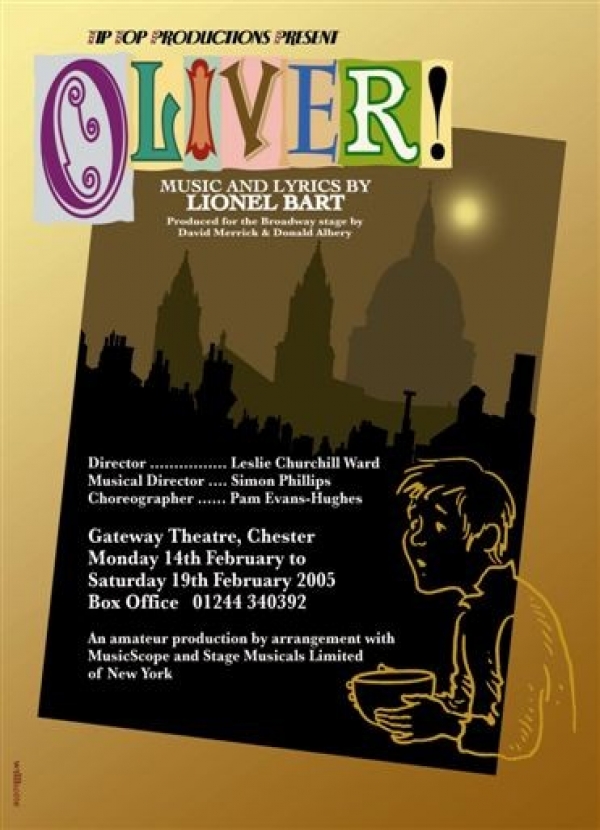 20/02/05 - 25/02/05
Venue: Gateway Theatre
Cast
Oliver Twist - Jonathan Clarke
Mr Bumble - Ken Williams
Widow Corney - Pat Pearce
Noah Claypole - Jack Mittell
Mr Sowerberry - Steve Davies
Mrs Sowerberry - Chris Dukes
Charlotte - Miriam Edwards
The Artful Dodger - Joshua Fray
Fagin - John Lindop
Nancy - Clare Stamper
Bet - Laura Jenkins
Bill Sykes - Mike Kelsall
Mrs Bedwin - Enfys Jenkins
Mr Brownlow - Mike Heathcote
Production team
Director - Leslie Churchill Ward
Musical Director - Simon Phillips
Choreographer - Pam Evans-Hughes
Stage Manager - Andy Cheatham
Co-Producer/DSM - Andrew Roberts
Co-Producer/ASM - Peter Roberts
Publicity - Ruth Evans, Lee Hassett
Reviews
Amateurs Put On A Professional Show - David A Ellis, Chester Standard
Tip Top Productions certainly lived up to their name last week at the Gateway Theatre when they staged Lionel Bart's musical Oliver! based on the Charles Dickens novel. The house was full last Tuesday and it was booked solid for the week. The show was classed as an amateur production but had professional written all over it.

Twelve year old Jonathan Clarke played Oliver. Jonathan trained at Chester's Stagecoach school from the age of six and he has performed in a number of productions including a Footloose production of Bugsy Malone in which he played Fizzy. Josh Fray brilliantly played the Artful Dodger. He has appeared in several professional shows including 'Whistle Down The Wind.' Mike Kelsall put in a convincing performance as the vicious Bill Sykes and made me cringe every time he lashed out.
John Lindop was superb as Fagin. In fact none of the cast would be out of place in a professional version.

The singing and dancing was spot on and the sets were excellent, creating the atmosphere of the time. At the end the applause of the appreciative audience went on and on. A show that is tip top and highly recommended.
Les Chamberlain, Wrexham Evening Leader
Their latest production, Oliver! was yet another triumph for Tip Top Productions at the Chester
Gateway Theatre last week. Such is the company's reputation that the show was a sell-out every night - and that takes some doing. At the end of the week people were told that no tickets were available and the pity is that it could not have been performed for a second week.
It was an absolutely brilliant production, even though there were one or two minor faults, but to
name them would be nit-picking.
The extremely high standard, especially in the comedy stakes, was set by PAT PEARCE as Mrs Corney and her prospective husband Mr Bumble, played imperiously by KEN WILLIAMS. This was followed by an hilarious undertaker's parlour scene featuring STEVE DAVIES as the slimy, scary undertaker, Mr Sowerberry and his screeching, bossy wife delightfully played by CHRIS DUKES.
JONATHAN CLARKE was a huge success in the title role, bringing out the sympathy from the
audience especially in his song, "Where Is Love?". Matching him was JOSHUA FRAY as the street-wise, cocky Artful Dodger. Then we come to Fagin, superbly played by JOHN LlNDOP. His performance was the best I have seen on the amateur stage, but it was of a professional standard as was the rest of the show. His singing of "Reviewing the Situation" was a gem, especially with the extremely funny "business" with violinist JEM BRADLEY in the orchestra pit.
[CLARE STAMPER] played the tart-with-a-heart Nancy to perfection varying her moods with the
boisterous song "Oom-Pah-Pah" to the wistful "As Long As He Needs Me", the he being the
frightening bully Bill Sykes played with great menace by MIKE KELSALL. The murder scene at the end with Sykes falling off a ladder was extremely realistic.
The chorus work was faultless with everyone from FAGIN'S GANG, THE WORKHOUSE BOYS to the SENIOR CHORUS MEMBERS, actively taking part in the action and not standing around just looking on as happens with some amateur companies.
They should award Oscars for amateur musical companies and LESLIE CHURCHILL WARD would
certainly deserve one for her imaginative direction from start to finish. As usual, the first-class
standard of choreography was directed by PAM EVANS-HUGHES while SIMON PHILLIPS was always in control of the well-balanced orchestra. It is little wonder that the company is getting such a big reputation in the North West and Cheshire as well as North Wales on this showing.
Musical Made You Cry For More - Jim Howie, Chester Mail
Sharply paced, attractively choreographed, Lionel Bart's catchy tunes melodiously sung, slickly staged and fluently directed. Tip Top's Oliver was a show to savour. The handling of a 70 strong cast so smoothly was an achievement in itself while the opening scene of the workhouse boys waiting for 'Food Glorious Food' set the seal on a zestful production.

The clear voiced ladies made a visual colourful impact too with Clare Stamper's Nancy strong in the role but able to touch the hearts with As Long As He Needs Me. For Bill Sykes is a real toughie even without the usual dog striking fear in the hearts of folk – a formidable Mike Kelsall in the role. Ken Williams made an imposing Mr Bumble, Pat Pearce a screamingly funny Widow Corney. Their introductory scene was full of comic capers!

Of course Oliver and Fagin are two core characters and here the company were superbly served by young Jonathan Clarke and John Lindop, the one pathetic. the other crafty, a contrasting pair. The gentle Mr Brownlow role was well taken by Mike Heathcote. Indeed these Dickensian characters were all nicely portrayed in a show full of charm and enthusiasm. The audience, like Oliver, wanted more!

Director was Leslie Churchill Ward, musical director Simon Phillips and choreographer Pam Evans Hughes.