Mack & Mabel in Concert

directed by Peter Swingler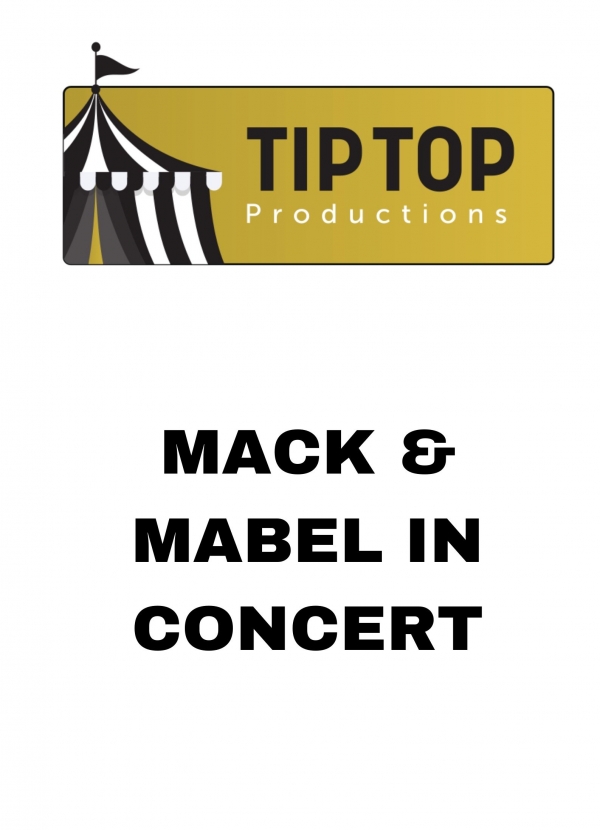 24/04/08 - 03/04/08
Venue: The Forum Studio Theatre
Book by Michael Stewart Music and lyrics by Jerry Herman.

Based on the life and experiences of silent film director Mack Sennett and his greatest discovery and lover, comedienne Mabel Normand. Tip Top transport you to the 1920s Movie Studios in this concert version of the famous musical. Featuring 'I Won't Send Roses', 'Movies were Movies' , 'Hundreds of Girls' and 'Tap Your Troubles Away'

The company of 30 singers is working hard to give you a night to remember as we tackle Jerry Herman's superb score.

Although this is a concert version lovers of the musical won't miss out because Mack and Mabel will take you through the ups and downs of their tempestuous relationship; they will combine fine dialogue with great tunes and dance routines.

Don't miss this opportunity to see this seldom produced show. While you're on the Tip Top site why not visit our photo gallery and see Mack and Mabel in rehearsal? Photographs are courtesty of Steve Lloyd.
Cast
Mack Sennett- Mike Kelsall

Mabel Normand- Amy Tennant

Lottie- Bethany D'Avincourt
Production team
Musical Director-Tim Jones
Choreographer-Rob Stevens
Director-Peter Swingler
Reviews
Les Chamberlain, Wrexham Leader 2nd May 2008
Yet again Tip Top Productions has maintained its extremely high standards, this time with 'Mack and Mabel in Concert'.
Forget the word concert as it gives the impression of performers just singing their way through numbers standing still. This is far from it. There is plenty of action throughout and director Peter Swingler has done a highly-impressive with a large cast and keeps the action flowing effortlessly on a small stage area at the Forum Studio Theatre in Chester.
It is th story of a tumultuous relationship between Hollywood director Mack Sennett and waitress Mabel Normand who eventually became one of his biggest stars.
Mike Kelsall gives a fine performance as the bullying, arrogant, egotistical Sennett, blustering his way through the show from beginning to the end with ease.
Amy Tennant shines as Mabel, runnning the gamut of emotions from elation of becomming a star to the sorrow of being spurned continually by Sennett. She has a delightful singing voice which adds to her performance.
There is a good support in the minor roles from Bethany D'Avincourt and Michael Roberts.
The 30-strong chorus adds greatly to the enjoyment, not only with their first-class singing, but also with their dancing to close the first half.
There is a delightfully energetic dance routine from some of the ladies' chorus to the song 'Tap Your Troubles Away' and choreographer Rob Stevens has done a marvelous job devising the routines.
Musical direction is in the hands of Tim Jones who has moulded all into a fine unit.
This is good entertainment at its best and can be seen again tonight, Friday and tomorrow.
Jean Weir - Ellesmere Port Pioneer
Roaring time with sounds of silent movies
Mack and Mabel In Concert
Tip Top Productions, The Forum Studio Theatre

THE world of the silent movies was brought to life by the versatile cast of Tip Top Productions at The Forum Studio recently Mack and Mabel in Concert has been playing to packed audiences and the night I went along was no exception.
From my front row seat in the intimate setting of the studio I was transported effortlessly back to the Roaring 20s.
Mack and Mabel is the Jerry Herman musical and we were treated to a concert version of this sparkling show which focuses on Mack and Mabel's tempestuous relationship.
The action takes place in flashback as Mack wanders around the set of a new "talkie" reminiscing about his glory days of Keystone Kops, custard pies and bathing beauties.
The concert version features a live band and a sparkling chorus of more than 30 performers. Mike Kelsall, who recently received rave reviews for Bouncers, gave a cracking performance as larger-than-life Mack Sennett, the silent movie director.
Playing the brilliant comedienne of the silent movies and former deli girl, Mabel Normand, was 19-year-old Amy Tennant.
It's hard to believe that this was Amy's debut with Tip Top, so accomplished was her performance.
Despite her tender years, she has a wealth of experience which shone through in her polished and gutsy performance - especially towards the end when she portrays Normand's decline into drug taking and scandal.
The character of Lottie was played by Wirral's Bethany D'Avincourt who has appeared in several shows at the Gateway and in A Chorus Line for Tip Top.
The third of the trio of principal characters, Lottie performs one of the best show-stoppers in musical theatre Tap Your Troubles Away. The tap dancing routine was expertly performed by the chorus - a couple of whom I recognised from Mavis' tap dance classes in the company's last production, Stepping Out. Although the highlight of the show is undoubtedly Mack Sennett singing I Won't Send Roses, the score is packed with other fantastic tunes.
Mack and Mabel in Concert is another resounding hit for Tip Top. The company constantly delivers a fresh and exciting performance which belies its amateur status and is worthy off any professional stage.