Little Shop of Horrors

by Alan Menken and Howard Ashman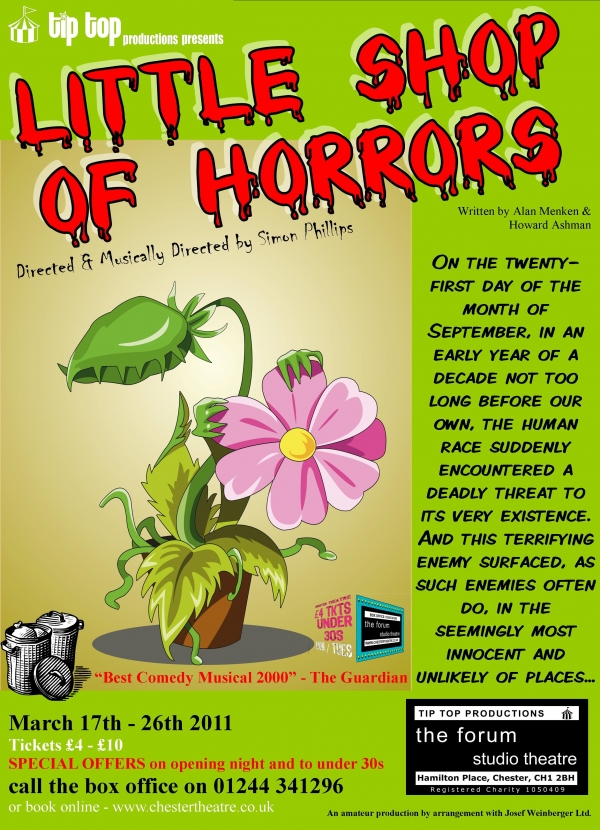 17/03/11 - 26/03/11
Venue: The Forum Studio Theatre
Little Shop of Horrors
Music by Alan Menken, Book and lyrics by Howard Ashman,

A down-and out skid row floral assistant becomes an overnight sensation when he discovers an exotic plant with a mysterious craving for fresh blood. Soon 'Audrey II' grows into an ill-tempered, foul-mouthed, R&B-singing carnivore who offers him fame and fortune in exchange for feeding its growing appetite, finally revealing itself to be an alien creature poised for global domination!

One of the longest-running Off-Broadway shows of all time, this affectionate spoof of 1950s sci-fi movies has become a household name, thanks to a highly successful film version and a score by the songwriting team of Howard Ashman and Alan Menken, who redefined the animated musical film with Disney's "The Little Mermaid", "Beauty And The Beast" and "Aladdin".

Charming, tuneful and hilarious, with tongue firmly planted in cheek, "Little Shop Of Horrors" never fails to entertain.
Cast
Crystal - Laura Roberts
Chiffon - Grace Inskip
Ronnette - Clare Thompson
Mushnik - Bill Robertson
Audrey - Becki Sheppard
Seymour - John Tetlow
Orin, Bernstein, Snip, Luce & Martin - Andy Jordan
Audrey II (Voice) - Tony Prince
Audrey II (Puppeteer) - Rob Stevens
Other charachers played by - Luke Aldous, Lyndsay Hardwick, Alex Hunt, Jenny Kilner, Fiona MacSween, George Price, Emily Quirk & Kieran Roberts

Band
Keyboard - Simon Phillips
Keyboard - Tim Jones
Reed 1 (Flute, Clarinets, Saxophones) - Gordon Macey
Reed 2 (Clarinet, Saxophones) - Caroline Morris
Trumpet - Danny Ortiz / Joe Bentley
Guitar (Electric & Acoustic), Mandolin & Banjo - David Burton
Bass Guitar, Violin & Viola - Josie Forsey
Drums - Liam Hardwick
Production team
Director & Musical Director - Simon Phillips
Choreographer - Charlotte Elverstone
DSM, Production Asst. & Head Chaperone - Janice Craine
Costume & Props - Sheila Roberts
Sound - Will Stokes & Richard Stokes
Lights - Ian Jones & Paul White
Set - Setfree Projects Ltd.
Plants - The Really Youthful Company