Les Miserables

Schools' Edition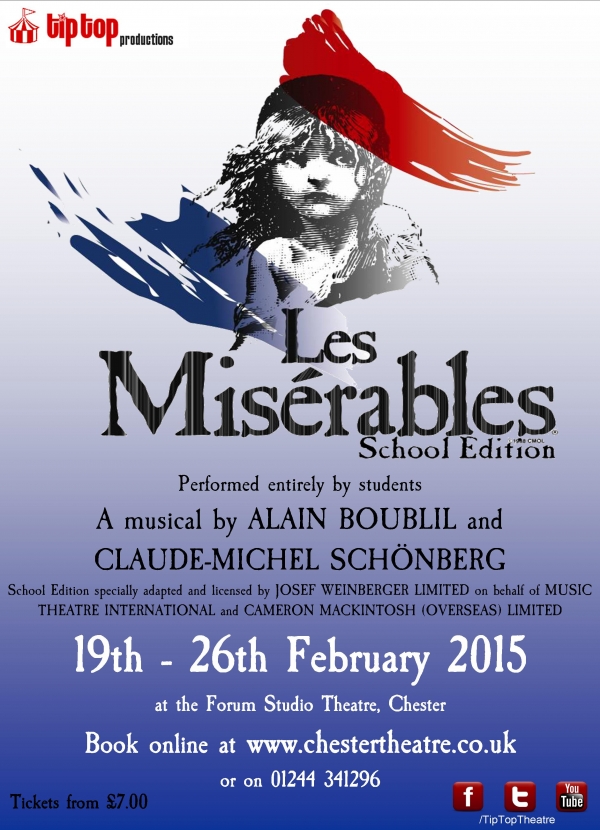 19/02/15 - 28/02/15
Venue: The Forum Studio Theatre
This production is now SOLD OUT. You are advised to queue for returns each night from 6.30pm.
Surely one of the greatest musicals of all time, and certainly the longest running, Les Miserables has been thrilling audiences across the world for nearly 35 years.
Tip Top Productions presents a specially adapted version of the show for young performers with an assembled cast of some of the most talented 16-19 years olds in the north-west, plus younger performers in the roles of Little Cosette and Gavroche.
Featuring all of the shows hit songs and a live orchestra, this is sure to be a sell out show.
Cast
Jean Valjean - Aaron Bladen
Javert - Mitchell Strong
Fantine - Catriona Hogg
Eponine - Maisie McMahon
Thenardier - James Tudor Jones
Madame Thenardier - Abigail Sheratt
Marius - Dominic Melluish
Cosette - Annie Howarth
Enjolras - Alex Aram
Gavroche - Owen Kelly / Jamie Molloy
Little Cosette - Eloise Flavell / Lydia Griffiths

All Other Roles & Chorus - Luke Aldous, Reiss Barber, Elinor Boult, Georgia Burton, Georgia Chadwick, Calum Craine, Thomas Crichton, Natalie Davies, Daniel Finlay, Rhian Givanovich, Greg James, Jack Long, Alexandra Loyden, Victoria MacDonald, Ellena Mackay, Isabel Reid, Phoebe Reynolds, Eleanor Roberts, Amelia Shallish, Connor Taylor, Emily Taylor
Production team
Director & Musical Director - Simon Phillips
Asst. Director & Choreographer - Laura Roberts
Production Assistant - Janice Craine
Set Coordinator - Nick Roberts
Lighting Design - Ian Jones
Stage Managers - Janice Craine & Luke Disley
Stage Crew - Andy Jordan & Tom Jordan
Lighting Operators - Ian Jones, Mark Shenton & Joe McDermott
Sound Design - Richard Stokes & Oliver Price
Sound Operation - Oliver Price
Costume Coordinators - Allan Forrest & Sheila Roberts
Hair, Wigs Make Up Coordinators - Sally Dillon & Laura Roberts
Props Coordinators - Rob Lyon & Rhian Underwood

Band
Keyboard/MD - Simon Phillips
Keyboard - Tim Jones
Keyboard - Caroline Morris
Flute - Dominika Sadczuk
Violin - Jordan Chellig
Cello - Erin Hollingworth
Trumpet - Sam Edwardson
Trombone - Sam Scheitler
Drums & Percussion - Neil Middleton