Kafka's Dick

by Alan Bennett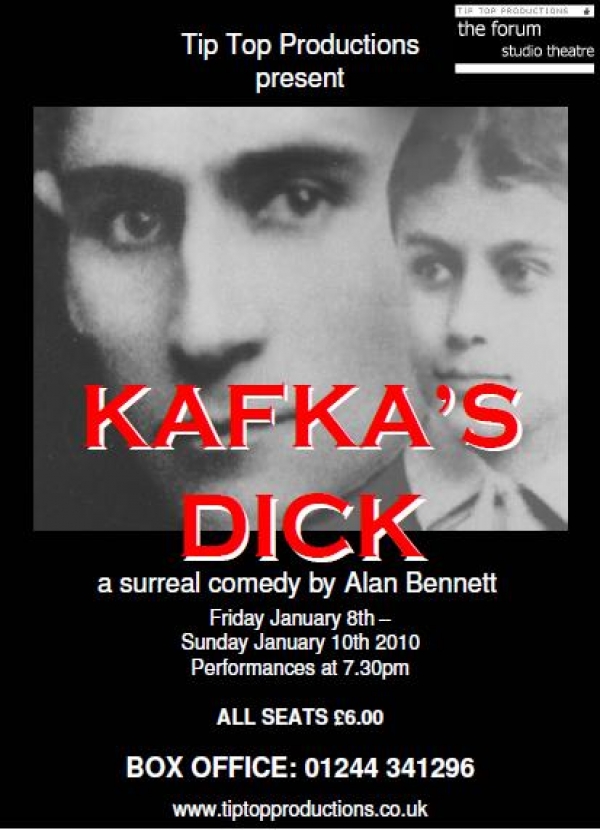 08/01/10 - 10/01/10
Venue: The Forum Studio Theatre
one of our SEASON EXTRAS

This first played to packed houses in 1986 at the Royal Court Theatre, London. The cast of 6 included Alison Steadman, Andrew Sachs, Jim Broadbent and Geoffrey Palmer. The action moves comically and surreally from Kafka's deathbed in 1919 in Prague, to a living room in present day suburbia where Sydney (a Kafka enthusiast) lives with his wife Linda and his senile father. It ends at a cocktail party in Heaven where God is the vulgar name dropping host.
The title of the play originates from Kafka's well known sensitivity about the size of his dick ie small but perfectly formed! This is a wittily observed piece about the modern day understanding that reading a biography virtually counts as reading the biographical subject's works. Then, armed with interesting facts and gossip, and a passing knowledge of the work, the reader of biography can make small talk on the subject and, hey presto, seem cultured! Alan Bennett shows the audience that one need only mention that Kafka had a small penis to appear entertaining and intellectual, as if to say, "Of course I've read Kafka's works. I can talk about those any time. What is more interesting is this..."
Cast
Kafka - Andy Jordan
Max Brod - Mark Newman
Sydney - Richard Taylor
Linda - Marian Newman
Hermann K - Eric Jones
Father - Terry Marland
Production team
Directors - Gail Young/Marian and Mark Newman
Sound - Paul Crofts
Lighting - Ian Jones