Jack and The Beanstalk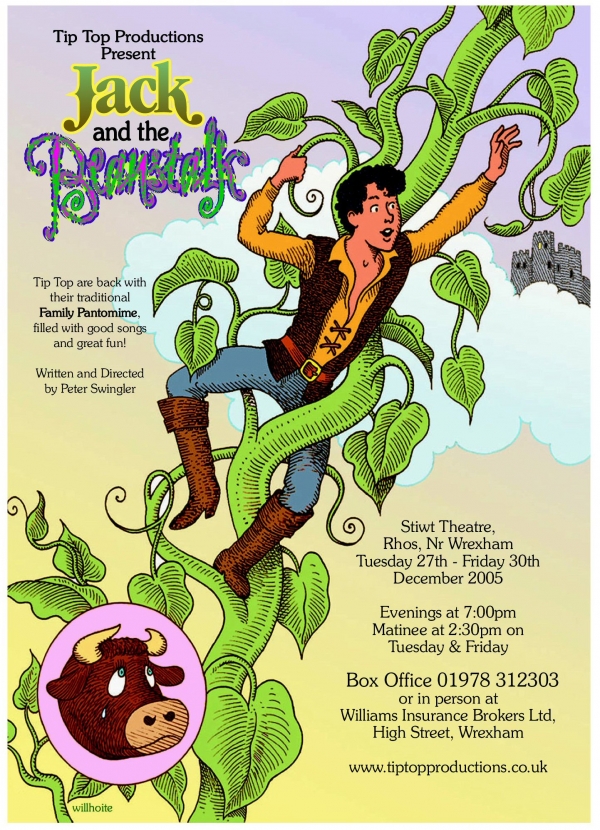 27/12/05 - 30/12/05
Venue: The Stiwt
Cast
Fairy Sweetcorn - Chris Dukes
Jill - Laura Coard
Freddie - Paul Dabek
Jack - Jamie-Lee Edge
Fleshcreep - Steve Davies
Dame Trot - Simon Phillips
Daisy - Barbara Davies & Leah Davies
Elvis - Lee Hassett
Pelvis - John Lindop
Gloria - Leah Davies
The Giant - Ken Williams
Production team
Producer - Ruth Evans
Director - Peter Swingler
Musical Director - Tim Jones
Choreographer - Pam Evans-Hughes
Stage Manager - Nick Roberts
DSM - Andrew Roberts
Rehearsal DSM - Chrissy Evans
Stage Crew - Mark Griffiths & Will Hall
Props - Jo Woodward & Julie Blaigrove
Lighting - Ian Jones
Sound - Richard Stokes
Costume - Barbara Davies
Wardrobe Team - Allan Forrest & Peggy Davies
Hair, Wigs & Makeup - Jean Leath
Publicity - Lee Hassett & Team
Reviews
Les Chamberlain - Wrexham Leader
The good old traditional pantomime is alive and well judging from Tip Top Productions' Jack and the Beanstalk at the Stiwt Theatre, Rhos, last week. It had all the ingredients of what pantomime should really be like, 10 all-singing all-dancing villagers, a 10-strong troupe of junior chorus, a thigh-slapping principal boy who is really a girl, corny gags - some a little risqué - that came fast and furious and plenty of comedy and audience participation.

The mood was set in vegetable land with the entrance of Fairy Sweetcorn, deliciously played by Chris Dukes with her wand of tinsel-covered leek, her basket of vegetables and the puns about them, and her lovely Welsh accent. Stephen Davies again revelled in the part of Fleshcreep, the giant's servant, but not for him the sinister and frightening make-up this time, but a gold lame coat and waistcoat and massive yellow wig. He was hilarious when leaving the stage asking for his exit music and excitably saying "I love it!" No doubt that will become a catch-phrase with the company. Their duet, The Road to Amarillo, which brought in the audience, was a delight.

Jamie-Lee Edge made a robust principal boy and was beautifully partnered Laura Coad, both with lovely singing voices. Simon Phillips excelled as Dame Trot and great credit here to wardrobe mistress Barbara Davies and her team of Allan Forrest, Marion Thomas and Peggy Davies for making some of the most outrageous costumes for him that I have seen for a long time. His finale costume with a massive hat depicting the London Eye, Houses of Parliament and the Olympic logo was a knock-out. In addition, there were four costume changes for the senior chorus and the finale ended in a blaze of colour with red shiny costumes making a fitting climax to the evening.

Paul Dabek gave a lively and energetic performance as Jack, Dame Trot's son Freddie, while Lee Hassett and John Lindop made the most of their comedy as idiots Elvis and Pelvis. Ken Williams, as the giant Blunderbore, managed the cumbersome, massive costume with consummate ease while Barbara Davies and he daughter Leah delighted all as Daisy the cow.

As usual, the dancing of both senior and junior choruses was performed with great precision and slickness for which choreographer Pam Evans-Hughes must be congratulated. Musical director Tim Jones had trained the singers well, and the music ranged from current pop songs to favourites such as YMCA and In the Navy, to the sad Victorian ballad, The Sunshine of Your Smile when Daisy was being sent to market.

A clever innovation was the destruction of the giant by magic when the transformation scene, slickly done, changed him into a little boy instead of the usual sword fight. My only criticism was that the slapstick custard-pie routine was a little overdone, but the children in the audience loved it, so I suppose that's all that matters. Under the direction of Peter Swingler and producer Ruth Evans, this was another triumph for Tip Top and to steal Fleshcreep's phrase - I loved it.
Les Lever - Wrexham Evening Leader
SENSATIONAL — that's the only word which can adequately sum up last week's superb pantomime performance at the Stiwt Theatre, Rhos. Under the expert and, as ever highly imaginative direction of Peter Swingler, Tip Top Productions' presentation of Jack and the Beanstalk was nothing short of magnificent.

Stage shows of any genre tend to be judged by their weakest point, rather as any sports team tends to be judged by the performance of its weakest player. It helps, then, that this particular production had not a semblance of weakness of any kind, leaving the knowledgeable audience free to enjoy all the many outstandingly good aspects of this wonderful show.

Swingler, aided splendidly by musical director Tim Jones, choreographer Pam Evans-Hughes and producer Ruth Evans put together a performance that had pace, poise, panache and precision by the bucketful.

Who else but Peter could have Dame Trot singing a decades-old love song (Give me your Smile) to Daisy the Cow and grabbing the attention of modern youth so well you could have heard a pin drop? Incidentally, the multi-talented Simon Phillips, who played the Dame, sang the song beautifully and had one elderly hack reaching somewhat self-consciously for his handkerchief by the end. Davey Arthur and The Fureys would have been so proud!

The cast of Chris Dukes, Laura Coard, Paul Dabek, Jamie-Lee Edge, the aforementioned Simon Phillips, Barbara and Leah Davies, Lee Hassett, John Lindop and Ken Williams were all excellent, while Stephen Davies played Fleshcreep (the Baddie) so well we even occasionally forgot to boo him!

They were wonderfully supported by both senior and junior choruses, whose singing and dancing were just flawless. As for the production team, what can I say? Set, costumes, lighting, sound, and indeed everything else, were simply breathtaking and provided the perfect backdrop for an evening's entertainment that was both joyful and unforgettable.