Jack and the Beanstalk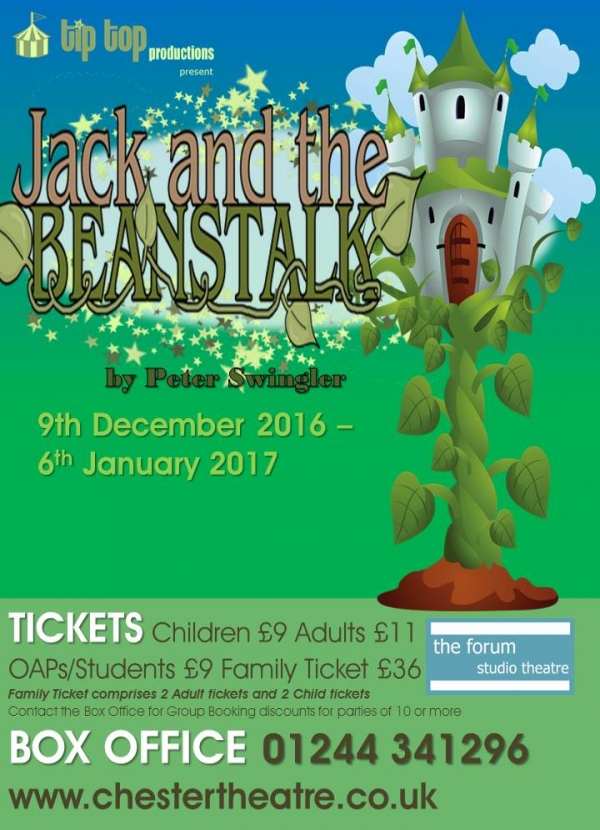 09/12/16 - 06/01/17
Annual panto with all the usual jokes and a few new ones in there too! Come and join Jack in his adventures!
Cast
Joe Wooldford
Julie Blagrove
Jade Pritchard
Dan Ellis
Kieron Attwood
Kevin Dewsbury
Production team
Producer/Director Steve Davies?
Producer Andrew Roberts?
Choreographer Rhian Underwood?
Musical Director Craig Price?
Company Stage Manager Tommy Biglin?
Assistant Stage Managers/Daisy Andrew Rawlinson-Heath, Laura Roberts?
Musical Supervisor Brian Fray?
Set Designer/Scenic Painter Sarah Oxley?
Set Construction Nick Tiernan?
Lighting Design Mark Shenton?
Head Sound Operator Jordan Barnes ?
Wardrobe Clare Thompson, Allan Forrest, Julie Jones,?
Sheila Roberts?
Wig Maintenance Amy Mason?
Additional painting and props Sophie Lydon?
?
Also introducing pupils from PQA Wirral , Theatretrain Schools in Chester, Wrexham and Mold and The Victoria Academy of Dance and Drama?
?
Red Team: Daniel Edge, Elise Devoy, Elise Metcalfe, Gabriella Brown,?
Iris Roberts, Katie Sarath, Libby-Anne Parsonage, Lily-MaeBeamish?
?
Blue Team: Amelia Cullen, Anna Pydiah, Daisy Cooper, Emily Eckersall,?
Emma Franklin, Emma Pemberton, Madison Rodrigues,?
Nykola Ashley?
?
Green Team: Amber Woodbury, Ellie Brickland, Holly Astle, Jennifer Astbury, Josie Roberts, Kathryn Robertson, Katy Snape, ?
Lottie Astle?
?
With thanks to our licensed chaperones and supportive parents?