Honk!

(Joint production in conjunction with Castaway Youth Theatre Company)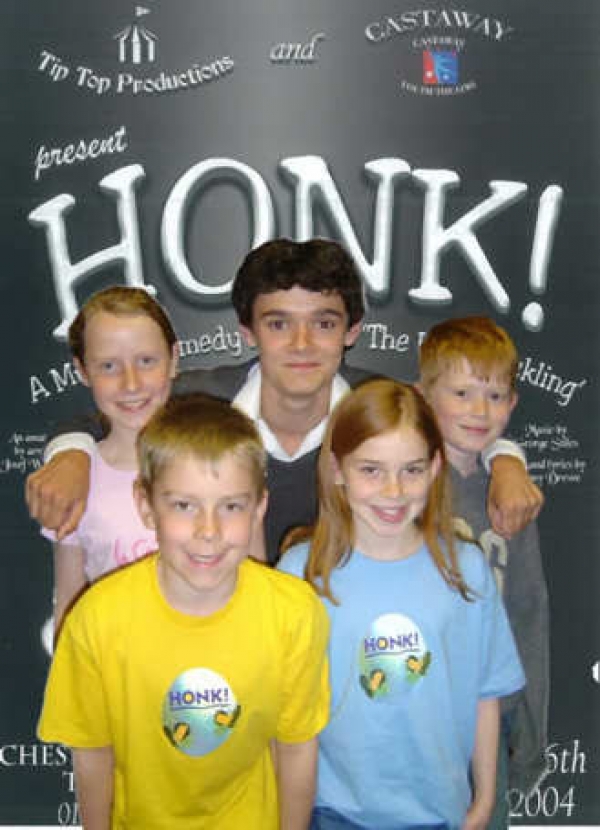 16/06/04 - 26/06/04
Venue: Gateway Theatre
Cast
Drake - Brian Fray

Ida - Joanne Lloyd

Turkey - Dhugal Fulton

Maureen - Ceri-Lyn Humphreys

Ugly - Philip Cross, Simon Phillips

Grace - Jo Mason

Cat - Warren Sollars

Greylag - Stephen Webb

Dot - Leslie Churchill Ward

Queenie - Charlotte Williams

Lowbutt - April Lydon

Bullfrog - Rob Lyon

Penny - Jamie-Lee Edge
Production team
Director - Steve Davies

Musical Director - Tim Jones

Choreography - Charlotte Roberts, Rob Stevens

Publicity - Lee Hassett & Ruth Evans
Reviews
N.O.D.A representative (primarily a review of the production from the Castaway Youth Theatre angle)
"I have always been greatly impressed by this talented youth company and for this production of one of my favourite shows they had combined with the excellent adult Tip Top company to provide me and the rest of the audience with a thoroughly entertaining evening. In fact I would have to go a long way to see this production bettered.



There were excellent performances from the adult players, particularly from Joanne Lloyd as Ida and Brian Fray as Drake. But the youngsters lost nothing by comparison with the adult players. This was particularly the case with Phil Cross as Ugly, the ugly duckling. This was a performance to be savoured, never deviating by word or gesture from a beautifully realised character.



Warren Sollars as Cat also gave a remarkably self assured performance throughout. Although these were major roles the show was studded with excellent performances in lesser, though no less important roles. All were noteworthy though, regrettably too many to mention.



I particularly enjoyed the lugubrious bullfrog of Robert Lyon, the Queenie of Charlotte Williams, April Lydon's Lowbutt and Ceri-Lynn Humphreys' Maureen. The youngsters and the whole company combined to make a delightful evening and it will be a long time before I forget the hilarious Frog Chorus. Aided by the excellent orchestra this was in every way an evening to remember."