Hollywood Story

by Cuckoo's Nest Productions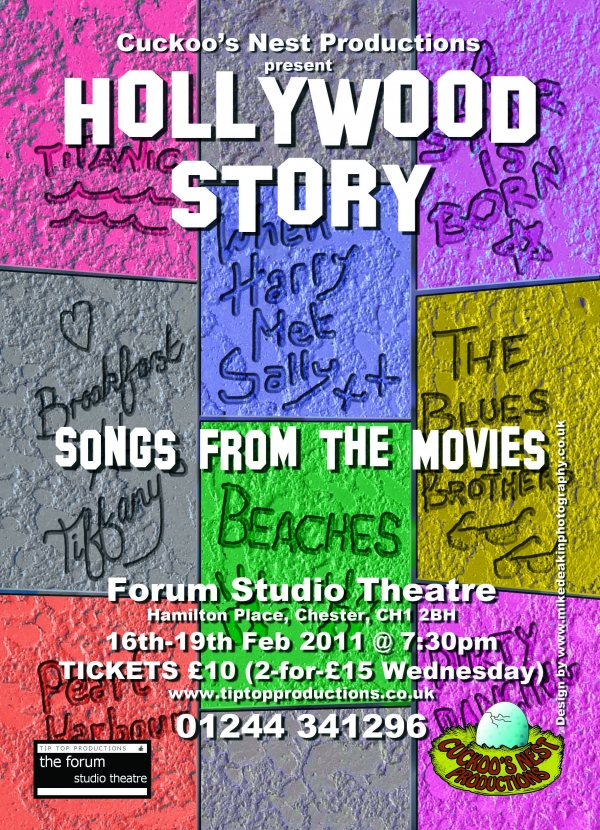 16/02/11 - 19/02/11
Venue: The Forum Studio Theatre
The Golden Age of Hollywood: Judy Garland, Fred Astaire, Audrey Hepburn...

Take a trip down memory lane and explore some of the greatest movie songs of all time. Hollywood Story will transport you through Hollywood's most loved hits in an extravaganza of singing, dancing and drama. Experience the thrilling golden movie tunes such as 'Moon River' from Breakfast at Tiffany's, 'The Man That Got Away' from A Star Is Born and 'Get Happy' from Summer Stock. Dance through the era of Saturday Night Fever and Dirty Dancing and head right up to modern favourites such as 'There You'll Be' from Pearl Harbour.

You don't have to go all the way to Los Angeles to experience the magic of Hollywood... Book early so you don't miss out!
Cast
Laura Coard, Joel Merry, Liz Legerton, Chris Simmons, Rosemary Merry, Rob Stevens, Georgia Merry, Ben Ireson
Production team
Director/ Producer - Laura Coard
Choreographer - Chris Simmons
Musical Director - Tim Jones