Hollywood Story 2

by Cuckoo's Nest Productions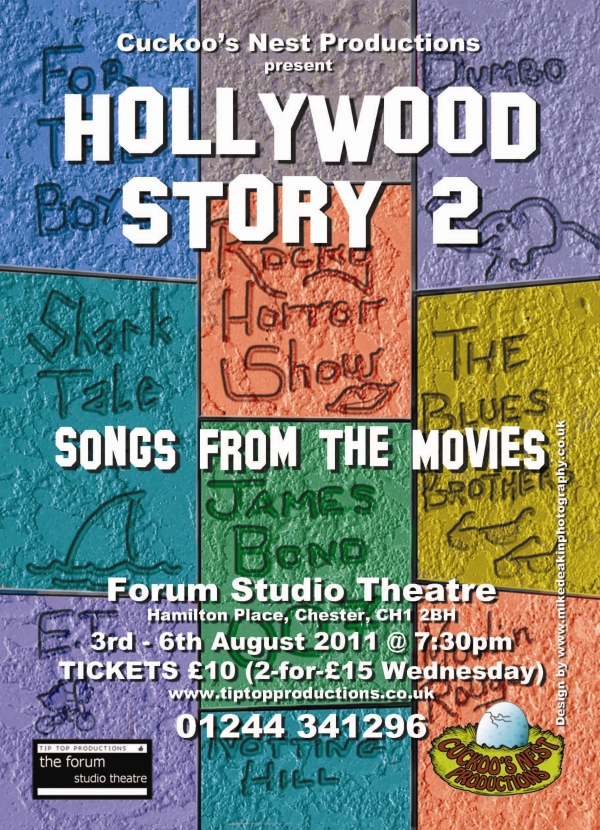 03/08/11 - 06/08/11
Venue: The Forum Studio Theatre
CUCKOO'S NEST PRODUCTIONS IS A VISITING COMPANY

The Golden Age of Hollywood is back! Judy Garland, Fred Astaire, Donald O'Connor...
Take another trip down memory lane and explore some of the greatest movie songs of all time. Hollywood Story 2 will transport you through more of Hollywood's most loved hits in an extravaganza of singing, dancing and drama. Experience the thrilling golden movie tunes such as 'Good Morning' from Singing in the Rain, 'Don't Rain On My Parade' from Funny Girl and 'The Trolley Song' from Meet Me In St Louis. Dance through the era of Grease, Cabaret, The Rocky Horror Show and James Bond and head right up to modern favourites such as 'Car Wash' from Shark Tale and 'Rule the World' from Stardust.
You don't have to go all the way to Los Angeles to experience the magic of Hollywood... Book early so you don't miss out!
Cast
Ben Ireson, Chris Simmons, Daniel James, Jess Walters, Laura Coard, Liz Legerton, Rosemary Merry, Sheryl Dean.
Production team
Producer - Laura Coard
Choreographer - Chris Simmons
Musical Director - Jonathan Clayton