Hold Tight It's 60s Night

devised by Paul Kerryson and Maggie Norris by permission of Vanessa Ford Productions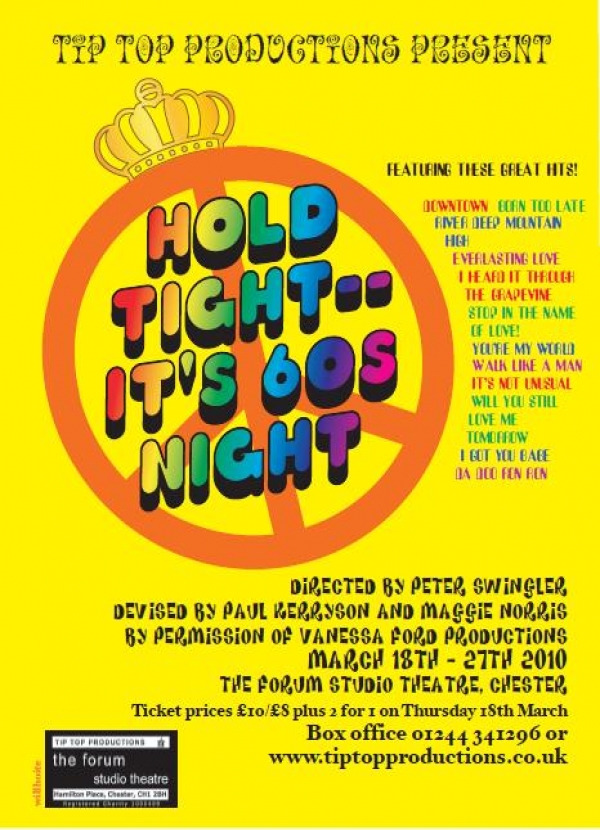 18/03/10 - 27/03/10
Venue: The Forum Studio Theatre
It's a fun filled musical packed with comedy and 60s hits.
The story of Ruby and her dream lover takes us on a trip through that most iconic of decades - the 1960s.
We have beehives galore; bare footed Sandie Shaw; Lulu and her Luvvers; Cilla, Dusty and many more. Not forgetting the guys with Elvis, Tom Jones, the Beatles and Cliff.
This is a show for anyone who enjoys a good night out. And for good measure there is a script too. The story is woven around all those fabulous hits with a hint of the rags to riches Cinderella theme.
Call the Box Office on 01244 341296 or book online at www.tiptopproductions.co.uk
If you like live music, a good story and the 1960s hits then this is your show. So don't delay but book today to hear "Heard it Through the Grapevine"; You're My World" "Yesterday" "Leader of the Pack" "Stop In the Name of Love" plus countless others.

Songs include

Downtown
Born Too Late
River Deep Mountain High
Everlasting Love
I Heard It Through The Grapevine
Stop in the Name of Love!
You're My World
Walk Like a Man
It's Not Unusual
Will You Still Love Me Tomorrow
I Got You Babe
Da Doo Ron Ron
Leader of the Pack...and many many more

The show is almost ready to wow the public! Director Peter Swingler 'This show is one of the best I have ever directed The cast is brilliant; all have excellent voices. If people are put off because they don't know the show they should overcome this obstacle and book now! After opening night I believe that the remaining tickets will be swept up because in rehearsal it has all the hallmarks of becoming a "must see again" show.'

BOOK NOW!
Cast
Ruby-Lyndsay Price
Brenda Beehive/Mum-Stephen Davies
Rock Hard-Ashley Sollars
The Coarsettes-
Charlene- Kate Salmon
Darlene-Laura Roberts
Marlene- Becki Sheppard;
Speed Queen-Becki Sheppard
Voice Box- Andy Jordan
Wayne-Gareth Pierce
Production team
Director: Peter Swingler
Musical Director: Tim Jones
Choreographer: Pam Evans-Hughes
Reviews
Wrexham Leader 26th March 2010 Lez Chamberlain
When I saw Tip Top's Aladdin last Christmas I was amazed at what had been achieved in a small studio place.
This week I was almost speechless at the way Peter Swingler has directed their latest musical Hold Tight It's 60s Night.
It was a stunning show which makes use of every part of the intimate studio theatre. As well as the talented cast of eight who sing brilliantly, there is an on stage live band superbly directed by Tim Jones.
I was among many in the audience who had never heard of this show.
I guarantee that everyone who sees it will remember it for years to come.
It tells the simple story of Ruby, a dreamer, who wants to fall in love with the aptly named Rock Hard, confidently played by Ashley Sollars - what an exellent voice this young man has as he delivers numbers such as, "I Heard It Through The Grapevine" while he is divesting himself of clothes in the launderette.
Tip Top regular Gareth Pierce acquits himself well in a number of neat cameos, while master of ceremonies Andy Jordan rings every bit of comedy from his key role as Voice Box his Tom Jones impression had a packed audience in fits of laughter.
The show gets off with an excellent start with Lyndsey Price as Ruby belting out the Ronetts' "Be My Baby" - her splendid voice was just right for this splendid show.
A real favourite with the audiance was an appearance of the Coarsettes, the girl group, who as well as launching into a quartet of famous songs, entertained with countless comedy routines.
Pam Evens-Hughes was responsible for the flawless 1960's routines which perfectly captured the period.
The cast is strong enough to pass as a professional group. Having said that, there is still the leading "lady" to single out.
Steve Davies, well known as Tip Top's regular dame, is hysterically funny as Ruby's mum, Big Brenda Beehive! People near me where in tears at his antics as he delivered several send ups of the hits we used to take so seriously. If you would like a hugly entertaining night out I can thoroughly recommend this show. It has everything, including a very funny script as well as fantastic period costumes from Babara Davies and her team.
To top the whole thing off there are some excellent projection scenes from Steve Lloyd. If you miss it, you'll lose out on a real treat.