Hello, Dolly!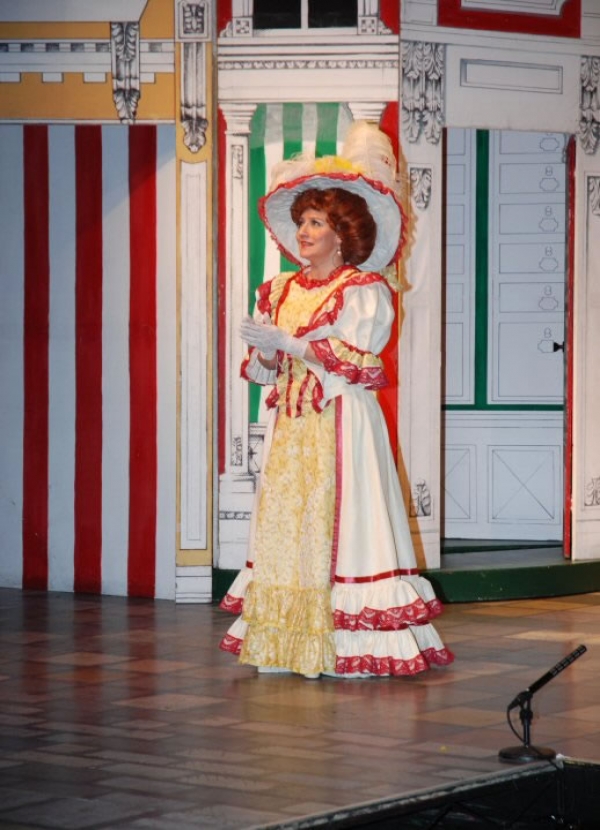 26/03/07 - 31/03/07
Venue: Gateway Theatre
Cast
Mrs Dolly Gallagher Levi - Sandra Jones
Ernestina - Jennifer Jackson
Ambrose Kemper - Stephen Webb
Horace Vandergelder - Kevin Keegan
Ermengarde - Joanne Randles
Cornelius Hackl - Paul Kirkbright
Barnaby Tucker - Chris Peate
Minnie Fay - Ceri-lyn Cissone
Irene Molloy - Joanne Lloyd
Mrs Rose - Pat Pearce
Rudolph Reisenweber - John Lindop
Judge - Mike Heathcote

Townspeople of New York/Yonkers Band/Customers and other roles:

Julie Andrew, Natasha Andrews, Kati Auty, Pam Ball, Marina Barnes, Beryl Blackmore, Natalie Brett, Pamela Dache, Kathryn Davies, Gill Devonald, Lisa Evans-Hughes, Elanor Fern, Wendy Healiss, Judith Holt, Janette Horrocks, Anna Ivison, Leslie Ivison, Muriel Jennings, Claire Jones, Kate Salmon, Julie Jones, Olwen Jones, Sam Jones, Alison Parratt, Clare Roberts, Hannah Roberts, Gemma Robinson, Sandra Rogers, Claire Stephens, Jessica Tilling, Linda Turner, Peggy Watmough, Mary Ann Watson, Jo Webster. David Bithell, Simon Cartwright, Daniel Lee Davies, Allan Forrest, Eric Jones, Gary Jones, George Kerr, Mark Lawton, David Pearce, Gareth Pierce, Rob Stevens, Colin Swinnerton, Nick Underwood, Christopher Walton, Dave Williams.
Production team
Director - Peter Swingler
Musical Director - Tim Jones
Choreographer - Pam Evans-Hughes
Stage Manager - Nick Roberts
Deputy Stage Managers - Andrew Roberts and Chrissy Evans Properties - Sue Edwards assisted by Michael Jones, Sandra Rogers, Wendy Healiss, Beryl Blackmore
Assistant Musical Director - Cliff Lloyd
Rehearsal Pianist - Michael Reynolds
Lighting Design - Ian Jones
Sound Design - Richard Stokes
Wardrobe - Barbara Davies
Costumes Designed and Supplied by - Perceptions Theatre Costumes Ltd
Scenery - SLX of Bristol
Artwork - Michael Wilhoite
Publicity - Sam Williams and Lee Hassett
Programme - Steve Davies Photography - Brian and Dani Fray, Lee Hassett, Steve Lloyd
Stage Crew - Steve Davies, Dani Fray, Mark Griffiths, Will Hall, Lee Hassett, Tom Stephens, Wil Stokes, Neil Underwood, Katie Walker, Richard & Simone
Reviews
Les Chamberlain - Wrexham Leader
The Chester Gateway Theatre has now closed, but it went out in a blaze of glory wit Tip Top Productions' performance of Hello, Dolly!, playing to capacity audiences last week.

It was one of the best shows the company has produced, a lavish production full of colour and excellent movement and singing.

Director Peter Swingler excelled himself by moulding a huge cast into a slick unit with never a hitch or slow-moving scene.

The carnival scene at the end of the first act was absolutely brilliant, the stage heaving with the whole cast, each one having something to do.

The tour de force was the waiters' gallop at the start of the second act. Resplendent in red tunics they performed most energetically and choreographer Pam Evans-Hughes wonders to get such precision from the male dancers, many of whom had not danced before.

Sandra Jones could not be faulted as Dolly Levi. She gave a superb performance – excellent acting, a beautiful singing voice and her facial expressions as she confided in the audience were a treat.

All the principles had been well chosen with Kevin Keegan, Ceri-Lyn Cissone, Paul Kirkbright, Chris Peate, Stephen Webb and Joanne Randles performing with ease and panache.

However, credit must be given to the whole cast for making it such a wonderful performance. Full marks to everyone.

The orchestra, under the direction of Tim Jones, was well balanced and never distracted from the singing by the principles and chorus.

Now the Gateway has closed, it is only to be hoped that Tip Top Productions can persuade the powers-that-be at Clwyd Theatr Cymry to perform their outstanding musicals there.
David Ellis - The Standard
I went to the Chester Gateway to review Tip Top's production of Hello, Dolly last week.

There was a full house to see yet another outstanding effort from Tip Top people. All the stops were pulled out to give a show to remember - this was the final show to be staged at the theatre.

The story centres on Dolly Levi, a matchmaker played by Sandra Jones. Dolly wants to make her own match and has her eyes firmly set on Horace Vandergelder, a wealthy but miserly businessman. Sandra put in a brilliant performance as Dolly, and regular Tip Top actor Kevin Keegan once again excelled as Vandergelder.

Other cast members included Paul Kirkbright, as Cornelius Hackle, and Joanne Lloyd, as Mrs Malloy.

Everyone involved was fantastic, the show matching any professional production.

The dance routines were faultless and it's hats off to choreographer Pam Evans-Hughes. There were a number of scene changes and everyone was wearing colourful costumes.

It was directed by Peter Swingler and produced by Ruth Evans. Musical director was Tim Jones, who has workes on a number of Tip Top Productions. The musical numbers, combined with the dance routines, were an excellent goodbye to the Gateway. I'll miss not bringing reviews from a venue that for nearly 40 years has provided entertainment to generations.