Heaven's Gate

by Quids In Theatre Company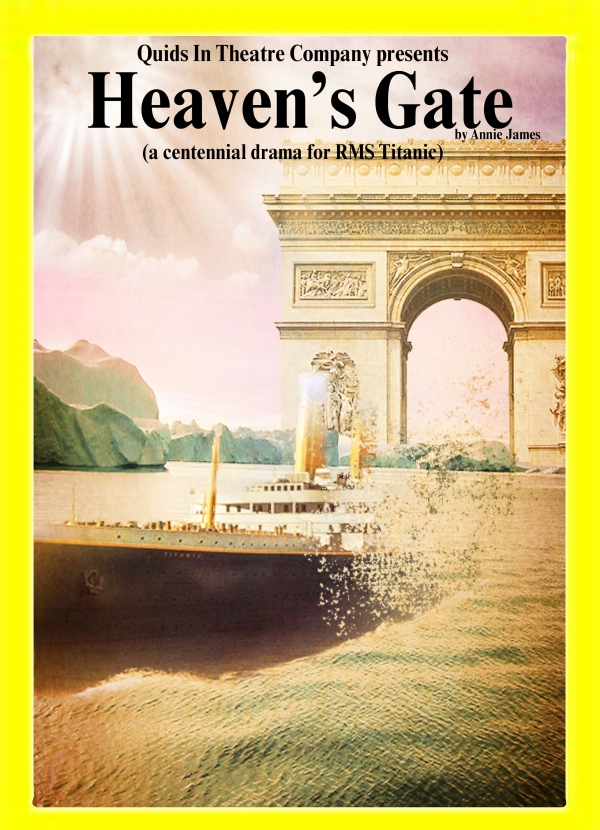 07/04/12
Venue: Chester Little Theatre
THIS PRODUCTION WILL BE PERFORMED AT THE LITTLE THEATRE, GLOUCESTER STREET, CHESTER

Heaven's Gate is an exciting new drama, written to commemorate the centennial of the sinking of RMS Titanic in 1912.

Set in the few hours following the disaster, the show focuses on the fate of three very different people who were on board the ship. Their stories, taken from actual accounts, mirror the experiences of hundreds of passengers on board the liner on that frozen night.

The hand of fate or destiny? That immeasurable force which in that split second changes your life from magic to tragic. Are the characters really the people they seem or do they have a hidden story? Will they survive the tragedy or like more than 1500 unfortunates that night, perish? In this production, you the audience will decide their fate.

Relive the splendour, the terror and the uncertainty of the one night that changed the world for ever...the first truly global disaster.
Production team
Quids In Theatre Company is an innovative new theatre company from Aberdeen, Scotland committed to producing quality innovative theatre at affordable prices. This production will tour the Titanic cities, Liverpool, Southampton, Belfast, Cobh (Queenstown), Halifax, Cherbourg and New York in 2012 before performing at the Edinburgh Festival Fringe.