Five Star Swing

The best of Jazz, Swing and Blues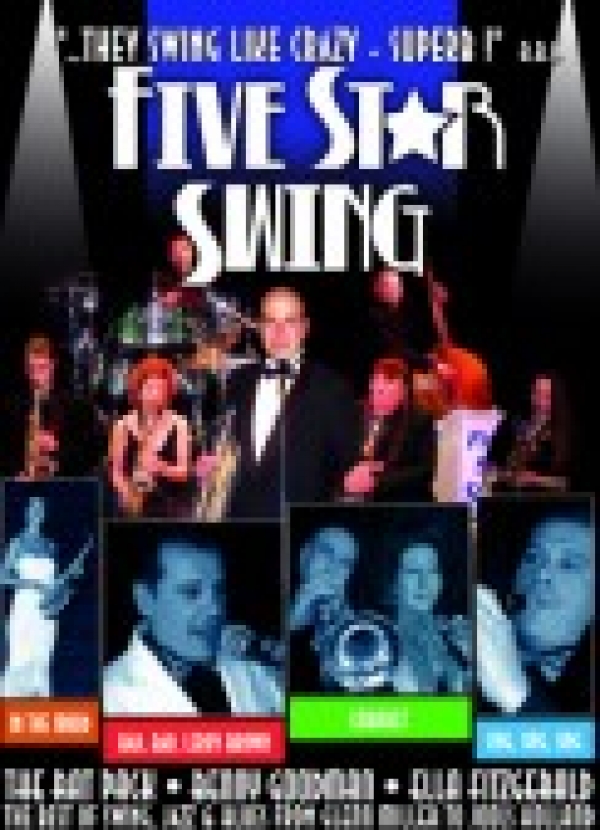 27/02/09
Venue: The Forum Studio Theatre - Main Venue
"They swing like crazy - Superb !" Sheila Tracy (B.B.C.)
"...A celebration of classic Swing !" (Telegraph)

Following their performance at the Vera Lynn Charity Ball in London, this show boasts multi-instrumentalists and singers lead by Chris Smith, the former composer for Glenn Miller's brother - Herb Miller, BBC Big Band and the Royal Variety Performance. Special Guest - Simone, from the latter days of the Ivy Benson Orchestra.
As seen on BBC TV's Children in Need, an exciting evening of hits you'll know and love from the swing era - Benny Goodman, Glenn Miller through to vocals like Mr Bojangles and Bad, Bad Leroy Brown plus foot stomping Jools Holland style jazz.
Reviews
Reviews of Previous Tours
"...fans of this style of music will revel in what is on offer ! "

"...Superb, imaginative scores, ..great three-part vocals,
..brilliance of the sax section,
.. at the finish, cheers rang out continuously until the house lights came up !"
"A musical treat" - Jim Kennedy (Encore Magazine)
JIM KENNEDY (Encore Magazine April '07)


SWING 'n' SINATRA...
HARLEQUIN THEATRE,
REDHILL (16/02/07)
Musical Director: Chris Smith

MUSICAL TREAT.
Take a sixteen piece big band, remove the four trumpets, withdraw the four trombones, lose the rhythm guitar and what are you left with? The answer is the seven handed 'FIVE STAR SWING' - four saxes, bass, piano & drums - and although the line up is as unlikely as you will find anywhere, it really does work a treat. The reasons are two fold. First is that each member of the band is a master of his/her instrument and second, the superb arrangements provided by musical director CHRIS SMITH. His imaginative scoring complements the unusual line up to perfection. Whatever drive is lacking from the missing brass sections, the 'swing' - is more than replaced by the dynamic keyboard, synthesiser and excellent trumpet, all contributed by the multi-talented front man and the fact that he also sings well, comes as no surprise.
The sax section - SIMONE SMITH, VICKY COWLES, STEPHEN DAVIES and DAVID WIGRAM - all play the full range of reed instruments, with the latter playing some fine solos on Viola. The main vocals also come from the brass set up, with the sultry Simone Smith and the swinging Stephen Davies in fine form. If the title of the show is somewhat of a misnomer - the programme is much less of a tribute to 'Old Blue Eyes' than a journey through the great swing ballads of a former era - fans of this style of music will, nevertheless, revel in what is on offer. Some of the highlights which thrilled the onlookers, were the superb arrangement of the Glenn Miller classic 'In the Mood', coupled with 'Don't Sit Under the Apple Tree' which included a great three-part vocal set, the atmospheric 'Misty', the driving 'Bebop', which really showed off the tight brilliance of the sax section and 'You Again' a composition beautifully written and scored by leader Chris Smith....... and the big finish - 'Sing, Sing,Sing', featuring superb solos from the full ensemble including bassist NIGEL EMERTON and, particularly, drummer RICK PHILPOTT'. Oddly, at the finish, there was no (well deserved) standing ovation - more of a 'sitting' acclamation - from the near full house but the cheers rang out continuously until, finally, the house lights came up, announcing that the musical treat really had finally come to an end.
JIM KENNEDY