Equus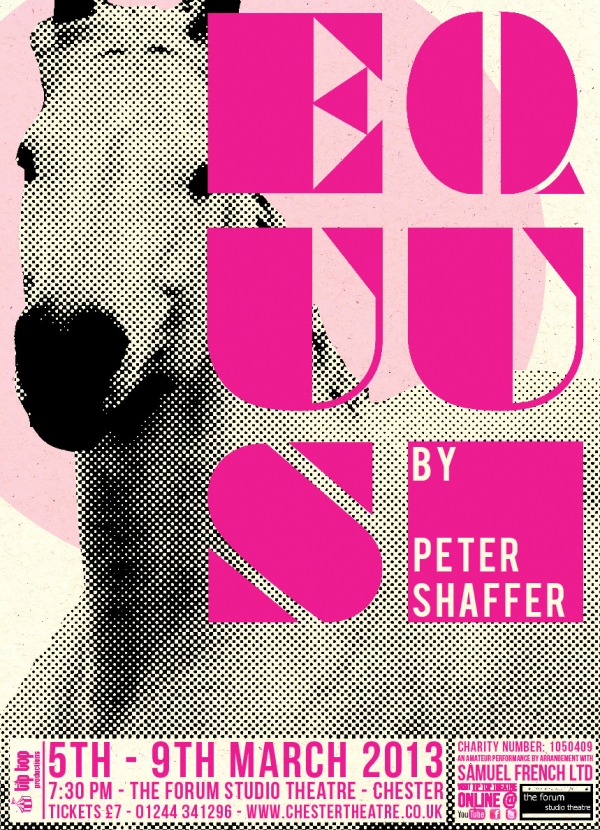 05/03/13 - 09/03/13
Venue: The Forum Studio Theatre
Between 5th and 9th of March 2013, an exciting production of Peter Shaffer's smash hit play, Equus (recently off Broadway), will hit down in Chester for a five night run!

Directed by John Young, an up and coming director who recently became an ensemble finalist at the International Student Drama Festival and founder of Four Eyes Theatre Company.

The Play - A psychiatrist, Martin Dysart, investigates the savage blinding of six horses with a metal spike in a stable in Hampshire, England. The atrocity was committed by an unassuming seventeen-year-old stable boy named Alan Strang, the only son of an opinionated but inwardly-timid father and a genteel, religious mother. As Dysart exposes the truths behind the boy's demons, he finds himself face-to-face with his own.
Cast
MARTIN DYSART - John McGinn
ALAN STRANG - Daniel Ellis
FRANK STRANG - Steve Lancashire
DORA STRANG - Rachel Sumner
HESTHER SALOMON - Vanda Hargen
JILL MASON - Kirsty Taylor
HARRY DALTON (stable owner) - Richard Spilman
YOUNG HORSEMAN- George Price
NURSE - Jane Dixon
NUGGET - Antony Morgan
HORSES - Josh Slater & Jordan-Lee Spilsbury
Production team
Director - John Young