Dick Whittington

Written by Peter Swingler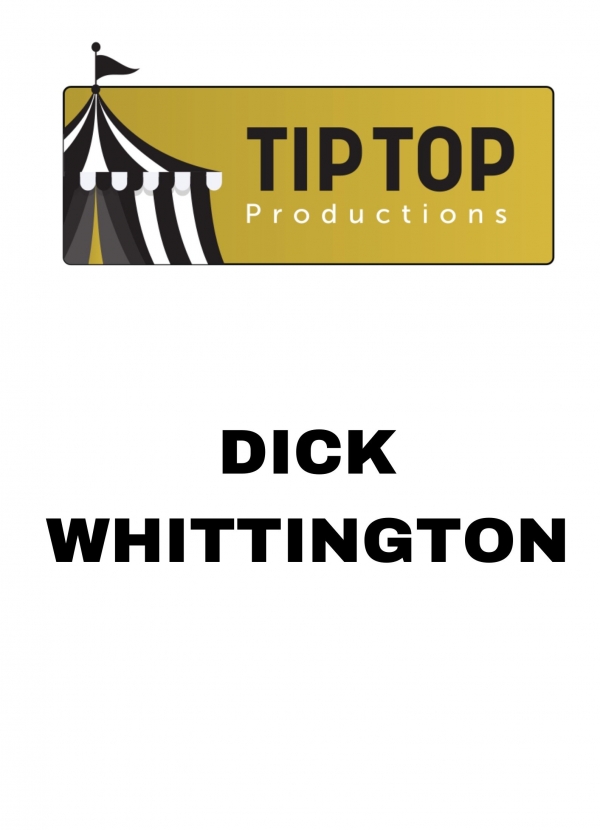 27/12/07 - 30/12/07
Venue: The Stiwt
Tip Top's reputation for top class pantomimes is without equal in the Wrexham and Chester area and this year is no exception as the cat-loving hero Dick is played by professionally trained Steve Catell; he will be an instant hit with youngsters as he brings his warmth and first class singing voice to the title role. Another Stiwt favourite, Steve Davies reprises his role as Dame Sarah the Cook.

Tip Top's aim is always to get the "Wow Factor" particularly on every entrance of the dame and to this end the wardrobe department are now working hard to create new costumes to fullfill this.

To make "Dick Whittington" a success Peter Swingler's script writing is the envy of many groups who find they are paying serious royalty money for the use of the script. Peter tailors his scripts to local audiences and they are packed with local references, jokes, audience participation and above all fun. Direction this year is led by Peter's nephew Andrew Roberts who has also worked on Peter's panto for several years.

Tip Top's "Dick Whittington" with musical director Tim Jones and choreographer, Pam Evans-Hughes is The Stiwt Rhos for six performances from 27 December.
Cast
Dick Whittington-Stephen Cattell
Alice Fitzwarren-Jo Randles
Sarah the Cook-Stephen Davies
Idle Jack-Daniel Lee Davies
King Rat-Gareth Pierce
Fairy Bowbells-Chris Dukes
Captain and Mate-Chris Walton and Richard Hodge
Tommy the Cat-Vanessa Williams
Alderman Fitzwarren-Ken Williams
Sultan -Mark Shenton
Production team
Director - Andrew Roberts with Peter Swingler
Musical Director - Tim Jones
Choreographer - Pam Evans-Hughes
Script Writer - Peter Swingler
Stage Manager - Nick Roberts
Stage Crew - Simon Cartwright, Will Hall, Lee Hassett, Claire Jones, Tom Stephens, Nick Underwood, Katie Walker
Dames Costumes - Mel Regan
Wardrobe - Barbara Davies, Allan Forrest, Peggy Davies
Publicity - Lee Hassett & Ruth Evans
Reviews
Les Chamberlain - Wrexham Leader 04.01.08
YET another spectacular pan­tomime from Tip Top Productions, this time Dick Whittington and his Cat, which was performed at the Stiwt Theatre, Rhos last week.

The performers may be classed as amateurs, but they all gave a fully professional performance.

It was a traditional pantomime with excellent comedy routines, and no smut or vulgarity, ideal for children and adults.

Once again the company's artis­tic director and chairman, Peter Swingler, had written an outstand­ing script complete with topical gags both national and local. There was a cracking gag when the Dame, played perfectly by Steve Davies, walked on stage banging two sticks and saying: "Eagles Meadow Development, St Giles Parish Church, The Stiwt, Rhos." Asked what he was doing he replied: "I'm showing two Poles the tourist attractions in Wrexham'

Again he took off the voice that warns people that they are com­ing to the end of the escalator in Tesco. Great.

Throughout the costumes are a splash of colour, thanks to the hard work by Barbara Davies and her team, while Jess and Mel Regan created some outrageous­ly fantastic costumes for the dame. The costumes for the finale were sumptuous, red and gold, a change from the usual silver and white.

Choreographer Pam Evans-Hughes triumphed again with the senior and junior dancers. per­forming with great precision and it was a treat to see the tap dancing routine at the end.

Musical director and keyboard player Tim Jones was well in con­trol of the music and singing throughout, ably assisted by Mike Reynolds on keyboard and Steve Lloyd on percussion.

Directors Peter Swingler and Andrew Roberts made sure the, action never flagged.

I saw the show on the first night and it was incredible that every­one was so fresh especially as there had been a technical rehearsal in the morning and a full dress rehearsal in the afternoon. Everything went like clockwork.

As stated above, Steve Davies could not be faulted as Sarah the Cook and his transition from baddie in past years to Dame last year and this is complete. He's a natural.

People say that Tommy Cooper only had to walk on stage and they started to laugh before he said anything. I find it the same with Chris Dukes each time she

glided on to the stage as Fairy Bowbell, starting with a cockney accent, but quickly reverting to a delightful Welsh accent. A lovely performance this.

Gareth Pearce makes his first appearance as a baddy playing King Rat with a Cockney accent and times bringing in Cockney rhyming slang, a neat touch this.

He soon had the audience boo­ing and hissing him, a sure sign of a highly successful performance

Adding to the comedy excellently were Richard Hodge as the ship's captain and Christopher Walton as the mate while Mark Shenton

made a fine Sultan of Morocco with his amusing Brummie accent. Daniel Lee-Davies immediately became a firm favourite with the children and adding to the mirth was Ken Williams as Alderman Fitzwarren with his rich baritone voice.

Stephen Cattell made a dashing Dick Whittington while opposite him Joanna Randles made a delightful Alice.

Vanessa Williams was an extremely lithe cat and won the admiration of the audience.

A great evenings enjoyment and no doubt everyone is looking for­ward to next year's pantomime, Cinderella.