Death of a Salesman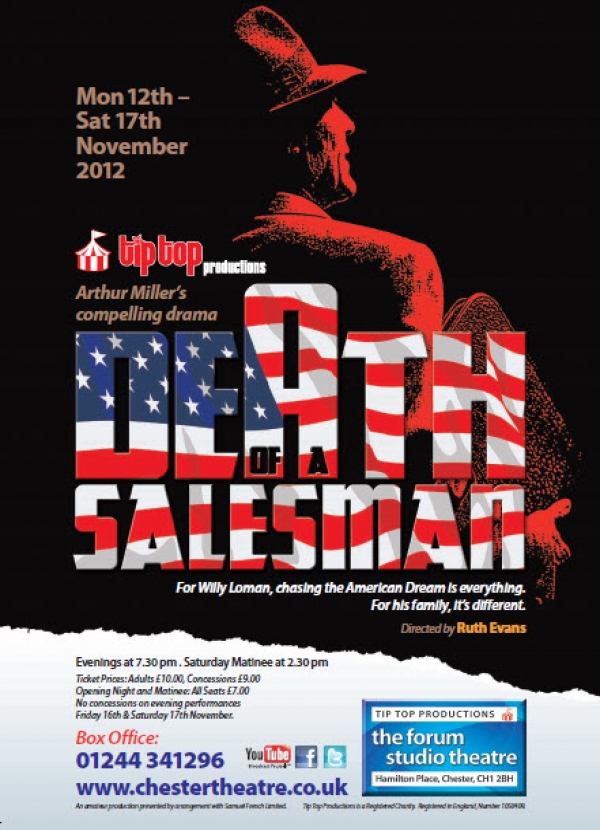 12/11/12 - 17/11/12
Venue: The Forum Studio Theatre
This production is cancelled

Death of a Salesman revolves around the last days of Willy Loman, a failing salesman, who cannot understand how he failed to win success and happiness. Through a series of tragic soul-searching revelations of the life he has lived with his wife, his sons and his business associates, we discover how his quest for the "American Dream" kept him blind to the the people who truly loved him. A thrilling work of deep and revealing beauty that remains one of the most profound classic dramas of the American theatre.
Cast
I have offered ages as a guide but they are flexible in relation to one another. The important thing is to cast able actors who can do justice to the roles. Philip Seymour Hoffman has recently played Willy on Broadway and he is only 45. Dustin Hoffman was only 48 when he made the film.

Willy Loman - Aged 50 - 60yrs. The salesman of the title. Willy believes that to get on in life you need to be well liked and attractive. Willy has spent his life aspiring to live the American Dream. Now at sixty one years old he is unable to reconcile the reality that he cannot achieve success and wealth.

Linda - His faithful dependable wife. 50s. Sometimes she seems to be taken in by Willy's deluded hopes but at other times she seems far more realistic.

Biff - Aged mid 30s. Willy's elder son. Biff led a charmed life in high school and seemed to have all the makings of a high flier. Willy had high expectations of him but Biff has never been able to hold down a job in the city and he really wants to settle in the West and work on the land. Willy nags him to continue chasing the dream.

Happy - Aged early 30s. A couple of years younger than Biff. He's lived in the shadow of his older brother all his life and seems to be almost ignored. Much like his father, Happy is in the pursuit of success, wealth and women.

Charley - 50-60. Willy's neighbour. A successful businessman. He tries to help Willy and frequently lends him money.

Bernard - 30s. Charley's son. Biff and Happy's geeky school friend. Now a successful lawyer.

The Woman -Willy's mistress. She meets with him in hotel rooms. She is a glamorous and sexy 50year old.

Uncle Ben - Aged 50 -60. Willy's successful and wealthy older brother. Recently dead he appears to Willy in dream like moments. Ben is the ultimate in success for Willy and adds to his feeling of inadequacy.

Jenny - Charley's secretary

Howard Wagner -Willy's boss. Late 30s.

Stanley - A waiter at the restaurant where Willy is to meet with his sons to celebrate.

Miss Forsythe and Letta - Two young women who distract the boys at the restaurant.
Production team
Director-Ruth Evans