Coupling

by Steven Moffat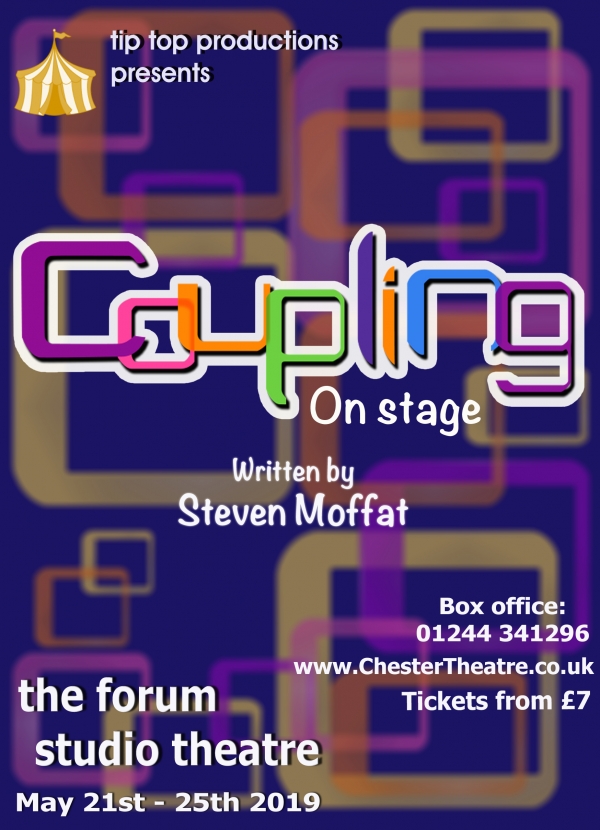 21/05/19 - 25/05/19
Venue: The Forum Studio Theatre
''Coupling' was originally a BBC television sitcom written by Steven Moffat.
Tip Top Productions are proud to present 3 episodes of this hilarious sitcom in the first ever staged production of 'Coupling'.
The play centres around the dating, sexual adventures and mishaps of six friends in their early thirties.
Follow this close-knit group of friends comprising exes and best friends:
Hapless nice guy Steve, strange and disturbing Jeff, womaniser Patrick, sensible Susan, neurotic Sally, and manipulative Jane, as they experience the ups and downs of playing the 21st century dating game.
Cast
Steve - Robert Lyon
Susan - Hollie Anderton
Jeff - Ashley Sollars
Sally - Catherine Bryant
Patrick - Phil Cross
Jane - Brogan Craine
The Woman - Josephine McHugh
Jill - Zoe Milne
Alice - Natalie Brett
Production team
Directed by Ashley Sollars & Josephine McHugh