Cheshire Cats

by Gail Young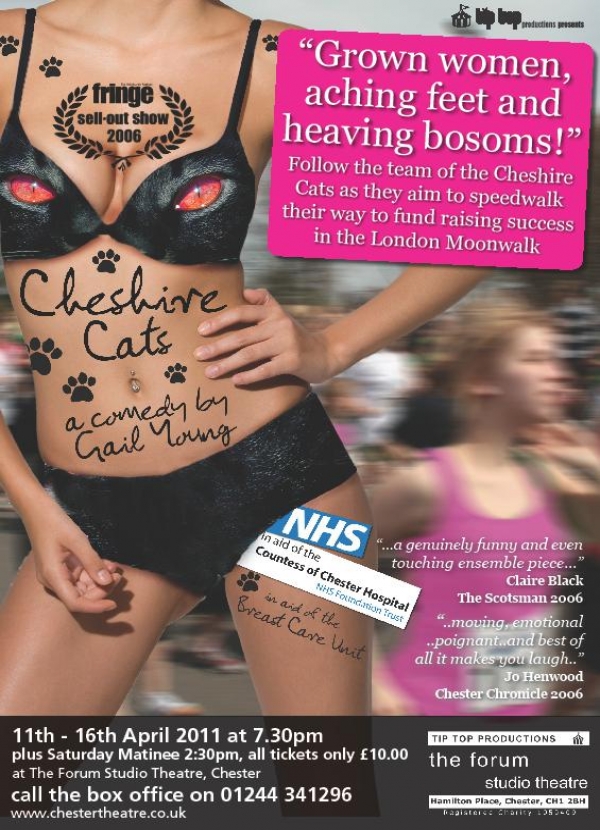 11/04/11 - 16/04/11
Venue: The Forum Studio Theatre
www.cheshirecats.org.uk

Grown women, aching feet and heaving bosoms! Follow the "Cheshire Cats" team as they aim to speedwalk their way to fund raising success in the London Moonwalk. A girls weekend away with a difference - trainers and decorated bras are in, high heels and designer labels out. But a last minute substitute to the team doesn't seem to meet the physical criteria. . . . The "Cats" put their best feet forward in this comic tribute to all those who participate in The Moonwalk and other fund raising walks up and down the country
This ensemble piece is being performed as a fund raiser for the Countess of Chester Breast Care Unit, and visitor facilities for the Intensive Care Unit at the hospital. It was a fund raising Fringe Sell Out show in Edinburgh in August 2006, with three star reviews and Claire Black of the Scotsman writing "... before you jump to the conclusion that I've been dishing out charity stars, this is in fact a genuinely funny and even touching ensemble piece....".
Cast
Hilary - Pippa Redmayne
Siobahn - Ann Moran
Yvonne - Tiz Corcoran
Maggie - Emma Careless
Vicky - Gwen Cowan
Andrew - Richard Cannon
Aerobic Instructor - Jessica Martin
Handsome Drunk - Richard Taylor
Policeman - Richard Taylor
Madge - Maureen Shakeshaft
Ernie - Martin Fraser
Radio Voice - Eric Jones
Marshalls - Eric Jones / Dave Pierce/ Alison Pritchard / Fiona Paterson
Production team
Director - Gail Young
Production Coordinator / DSM - Sarah Green
Choreographer - Jessica Martin
Sound - Gareth Roberts
Lighting - Ian Jones
Press - Paul Crofts
Photos - Terry Marland
Set Construction - Richard Taylor
Set Artwork - Sarah Bell
Costumes - Allan Forrest
Props - Pat Pearce

www.cheshirecats.org.uk