Cheshire Cats

at Theatr Clwyd (Emlyn Williams Theatre)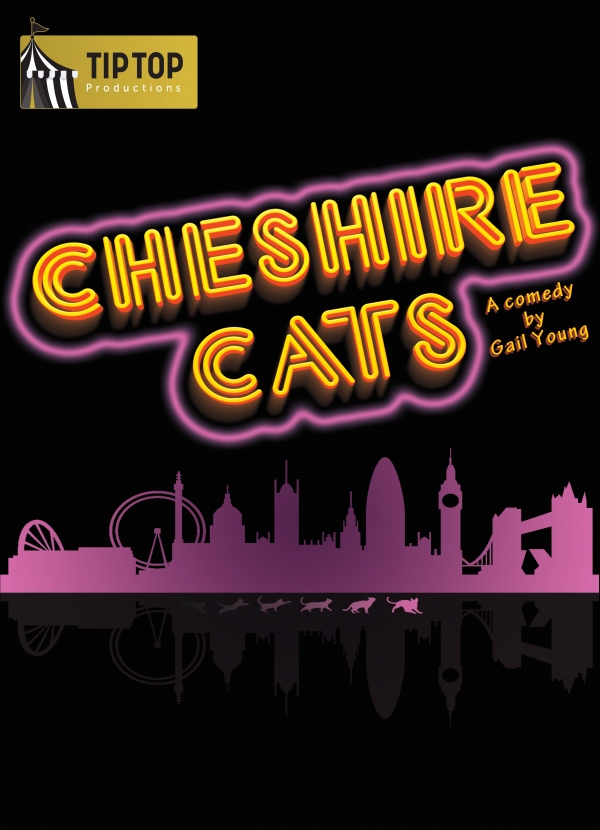 04/03/20 - 07/03/20
Grown women, aching feet and heaving bosoms! Follow the "Cheshire Cats" team as they aim to speedwalk their way to fundraising success in the London Moonwalk. A girls weekend away with a difference - trainers and decorated bras are in, high heels and designer labels out. But a last minute substitute to the team doesn't seem to meet the physical criteria. . . . The "Cats" put their best feet forward in this comic tribute to all those who participate in The Moonwalk and other fund raising walks up and down the country.

For every ticket sold the company will be making a donation to Nightingale House Hospice.
Times and Tickets
Evenings at 7.45pm
Tickets from £10
Now on sale from Theatr Clwyd:
01352 344101
CAST

VICKY - Jenny Rushton
MAGGIE - Catherine Bryant
HILARY - Alison Pritchard
SIOBAHN - Belinda Cunningham
YVONNE - Joanne Sartorius
ANDREW - Des Hinks
AEROBICS INSTRUCTOR - Sasha Edge
ETHEL - Pat Brewin
MADGE - Steph Scott
HANDSOME DRUNK - Richard Taylor
POLICEWOMAN - Richard Taylor
RADIO VOICE - Eric Jones
MARSHALLS - Eric Jones/ Dave Pearce/ Pat Pearce/ Richard Taylor/Sasha Edge/Pat Brewin/Steph Scott
STATION ANNOUNCER - Dave Pearce
CREW
SOUND - Brian Fray
LIGHTING - Mark Shenton
PROPS - Muriel Jennings / Sandra Rogers
Review – 'Cheshire Cats'
Tip Top Productions
Theatr Clwyd
5/3/20
'Cheshire Cats', written by Gail Young, is clever and funny. This is a wordy play, with long speeches and the action relying almost entirely on the dialogue. In the hands of lesser actors this could easily lose it's audience, but not this production.
This is a play about a group of six women who undertake the London Moonwalk, in their brightly decorated bras, and cat ears, hence the name of their team, 'The Cheshire Cats'. All of this is in an effort to raise money for the Walk the Walk cancer charity.
From the dominant leader of the group Hilary, who wants to complete the course in record time, to newcomer Maggie who has never done anything as strenuous before, we get to know about the girls and their various issues throughout the play.
Gail Young's play reminds us that so many people are touched by this awful disease. Each character has a story to tell. Scenes in which we find out more about the character's back-story are said in rhyme and break the fourth wall. Otherwise known as 'meta-theatre' this could have been off-putting. However each actor spoke naturally and the rhyming added to the poignancy of the monologues. Great lighting here from Mark Shenton.
Directed by Gail Young, with a strong cast and minimal set, the production created such a deep, moving but humorous piece of theatre. The backdrop of the stage was host to a projection of different images throughout the story cleverly transporting us to different places to create depth and enhance the pleasure of the play. The Moonwalk itself was a wonderful blue backdrop with a huge prominent full moon,with projections depicting the tourist attractions of the capital as the walkers trudged their 13 miles half marathon. Truly inspired. Great work Sandra Rogers and Muriel Jennings on props.
The play is full of fun and laughter, but also sadness. In dealing with such a difficult topic, there has to be sadness. There is a lot of poignancy in the piece as we grow to learn the truth about the characters and the reasons why they decided to walk the streets of London for this cause. This sentiment was beautifully expressed in a moving monologue delivered with flowing emotion by Catherine Bryant as Maggie in the last speech of the play which brought tears to every single pair of eyes watching.
A strong cast was led by all five ladies who each delivered to the strengths of their characters with such joy and ease. Catherine Bryant played the role of Maggie,the enthusiastic but not really physically up for it member of the group whose shortcomings ultimately undo Hilary's record attempt, and was the character with whom you most sympathised. Her final speech certainly brought a lump to the throat. Jenny Rushton burst onto the stage as the very flamboyant man-eating character of Vicky in a total believable performance. Alison Prichard-Dodd was the dominant leader Hilary. Alison's sarcastic reactions to the 'time wasting' during training were well-timed and she achieved the necessary contrast for her extremely moving monologue about the loss of her mother. A fine performance. Belinda Cunningham as Siobhan, Hilary's good friend, the sensible peacemaker of the group, who was not afraid to remind ambitious Hilary of the true nature of their team's purpose. Belinda performed this role beautifully. Joanne Sartorius played the role of Yvonne, a wife who just wanted a 'girlie weekend' away from her husband and kids. Her indignation at Andrew's arrival ('But he's a man!') paired with her cringing facial expressions in response to his teasing was marvellous. Support was strong from Vicky's love interest Andrew, played by Des Hinks, who was also the surprise entry to the group of Cheshire Cats when Chloe, Vicky's sister, dropped out. Special mention for Sasha Edge who brought energy not just to the group, but to the audience as the Aerobics instructor - a brilliant performance from Sasha. Richard Taylor cameoed as the 'handsome drunk', (he also played the policeman). An excellent comedic masterclass from Richard, who incidentally has a lovely singing voice. His rendition of 'Street where you live' received appreciative applause from a full house.
A special mention must go to the two marshals, Pat Brewin (Ethel) and Steph Scott (Madge) who provided even more laughter brandishing the sign, cheering on participants at of the 8 mile milestone of the walk. Their performance was reminiscent of the Two Ronnie's two men in a pub sketch, the audience really warmed to them, they were marvellous. Ethel's scene struggling to use a walkie talkie was comedic gold. Congratulations ladies.
Gail moved and grouped her characters to good effect with some lovely stage 'pictures' such as the finish line of the race where the scene was in slow motion, very affective. The scene changes were swift and the action kept good pace. Praise also to, Pat Pearce (Marshal), Eric Jones, (Radio Voice,& Marshall) and not to be forgotten Dave Pearce (the Station Announcer Voice & Marshall) - did he ever get his £10.00? It was clear that with Gail's accomplished direction her actors had developed their individual identities and were totally believable as a supportive group of friends who were a life line for each other.
Thank you Gail, cast and crew for a wonderful production, an evening of real theatre. I and over 100 people went home extremely happy.
Joanne Rymer
Appreciative Theatre Goer.
Dress rehearsal shots by Stephen Cain