CATS

by Andrew Lloyd Webber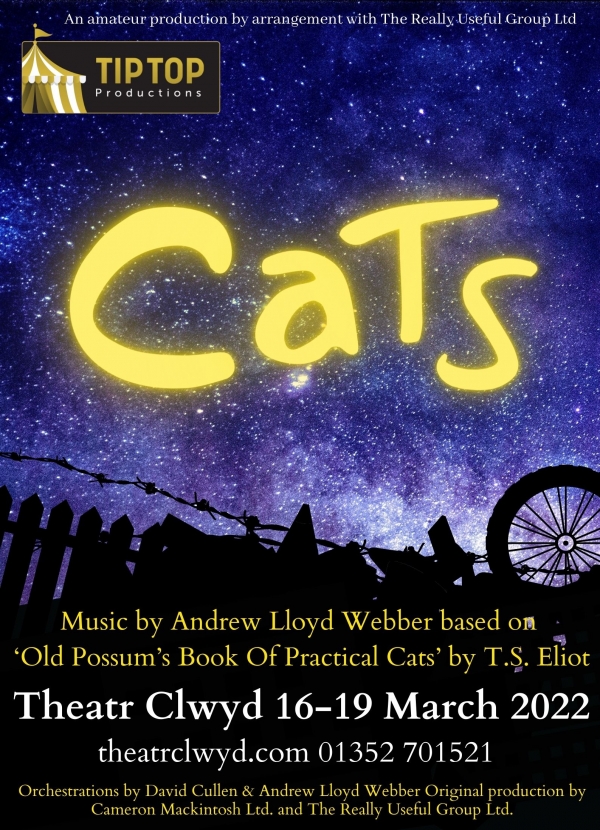 16/03/22 - 19/03/22
This musical phenomenon comes to Theatr Clwyd for the first time thanks to Tip Top Productions.
Music by Andrew Lloyd Webber based on Old Possum's Book Of Practical Cats by T.S. Eliot. "Prologue – Jellicle Songs for Jellicle Cats" additional material written by Trevor Nunn and Richard Stilgoe; "Memory" additional material written by Trevor Nunn.
The Jellicle Cats come out to play on one special night of the year—the night of the Jellicle Ball. One by one they tell their stories to Old Deuteronomy, their wise and benevolent leader, who must choose one of the Cats to ascend to The Heaviside Layer and be reborn into a whole new Jellicle life. Among the candidates are the aging theatre cat, Gus; the rocker, Rum Tum Tugger; and the once-glamorous Grizabella, now but a faded memory of her former self.
Boasting a score that includes Jellicle Songs for Jellicle Cats, Mr. Mistoffelees and Memory, this compelling fable takes audiences to a fantastical world that can only exist in the theatre. Cats has been performed worldwide and translated into over 20 languages. The original West End production ran for 21 years and the original Broadway production ran for 18 years
TICKETS
Tickets available from Theatr Clwyd box office from November 2021
Ticket Prices
Wednesday 16th, 7.30pm - from £12
Thursday 17th, 7.30pm - from £16
Friday 18th, 7.30pm - from £18
Saturday 19th, 2.30pm - from £18
Saturday 19th, 7.30pm - from £18
PRODUCTION TEAM
Director and Choreographer - Rob Stevens
Musical Director - Tim Jones
Stage Manager - Nick Roberts
Deputy Stage Manager - Lizzie O'Sullivan
Wardrobe - Allan Forrest
Make-up - Rhian Lyon, Gemma Richards and team
We'd love to hear from you if you're interested in stage management, props, wardrobe and all other production support. Email rastigger1@hotmail.com
CAST
Principals
Bombalurina - Annie Howarth-Jones
Bustopher Jones - Tim Williams
Demeter - Amy Robinson
Gus / Growltiger - Finn Hibbert
Grizabella - Sophie Hygate
Jennyanydots/Jellylorum - Victoria Lewis
Jemima - Isabella Roberts
Bill Bailey/Macavity - Jack Davies
Quaxo/Mr Mistoffelees -Ethan Underwood
Mungojerrie - Harvey Shearer
Munkustrap - Sam Eggins
Old Deuteronomy - John Lindop
Rumpleteazer - Izzie Reid
Rum Tum Tugger - Joel Merry
Skimbleshanks - Kameron Skeene
Ensemble

Electra - Amie Pill
Alonzo - Edward Colwell
Kokomo - Elisha Royle
Etcetera - Emma Pemberton
Cassandra - Grace Roberts
Clementine - Grace Sheriff
Silvestris - Jessica Martin
Seraphina - Jessica Wynne-Jones
Ophelia - Kati Auty
Tantomile - Leah Tyson
Arriety - Maddie Parry-Carter
Periwinkle - Tash Puttick
Syllabub - Vicky Ashdown
Off Stage Chorus
Alan Roberts, Alison Pemberton, Chris Dukes, Dav Turtle, Dave Pearce, Derrick Fear, Gemma Potter, Greta Daniseviciute, Hannah Jones, Hilary Wiseman, Izzy Rodrigues, Julie Jones, Jurate Daniseviciene, Pat Pearce