CATS

by Andrew Lloyd Webber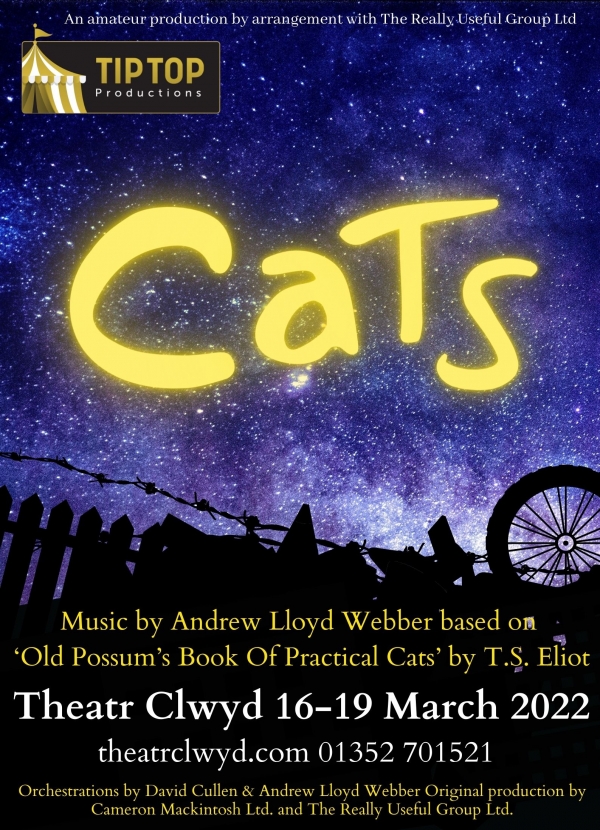 16/03/22 - 19/03/22
This musical phenomenon comes to Theatr Clwyd for the first time thanks to Tip Top Productions.
Music by Andrew Lloyd Webber based on Old Possum's Book Of Practical Cats by T.S. Eliot. "Prologue – Jellicle Songs for Jellicle Cats" additional material written by Trevor Nunn and Richard Stilgoe; "Memory" additional material written by Trevor Nunn.
The Jellicle Cats come out to play on one special night of the year—the night of the Jellicle Ball. One by one they tell their stories to Old Deuteronomy, their wise and benevolent leader, who must choose one of the Cats to ascend to The Heaviside Layer and be reborn into a whole new Jellicle life. Among the candidates are the aging theatre cat, Gus; the rocker, Rum Tum Tugger; and the once-glamorous Grizabella, now but a faded memory of her former self.
Boasting a score that includes Jellicle Songs for Jellicle Cats, Mr. Mistoffelees and Memory, this compelling fable takes audiences to a fantastical world that can only exist in the theatre. Cats has been performed worldwide and translated into over 20 languages. The original West End production ran for 21 years and the original Broadway production ran for 18 years
TICKETS
Tickets available from Theatr Clwyd box office from November 2021
Ticket Prices
Wednesday 16th, 7.30pm - from £12
Thursday 17th, 7.30pm - from £16
Friday 18th, 7.30pm - from £18
Saturday 19th, 2.30pm - from £18
Saturday 19th, 7.30pm - from £18
PRODUCTION TEAM
Director and Choreographer - Rob Stevens
Musical Director - Tim Jones
We'd love to hear from you if you're interested in stage management, props, wardrobe and all other production support. Email robs@tiptopproductions.co.uk
AUDITION INFO:
We're getting ready to stage this mega musical and are on the lookout for an ensemble of Actors, Dancers & Singers to put this feline show onstage in the Anthony Hopkins Theatre in Theatr Clwyd next March.
From the younger kittens right up to Old Deuteronomy we are looking for cast of all ages (17 yrs +) and abilities to bring the show to life. We cannot hide the fact that it is a big dance based musical however don't be put off by that - not everyone will have to dance! We will also be looking for an offstage chorus to add to the vocals required.
Auditions take place on 23rd & 24th November but prior to that our production team, Rob Stevens & Tim Jones, are holding an introduction afternoon on Sunday 14th November to introduce the show and the vision they have for the production. It'll also be a chance to have a chat with them about what's involved, sing some of the music and generally find out more about the show.
Why not come along and find out more, it may not be as lycra & leg warmer based as you think!