Cats Auditions

Here's the all the info that you need to prepare for your audition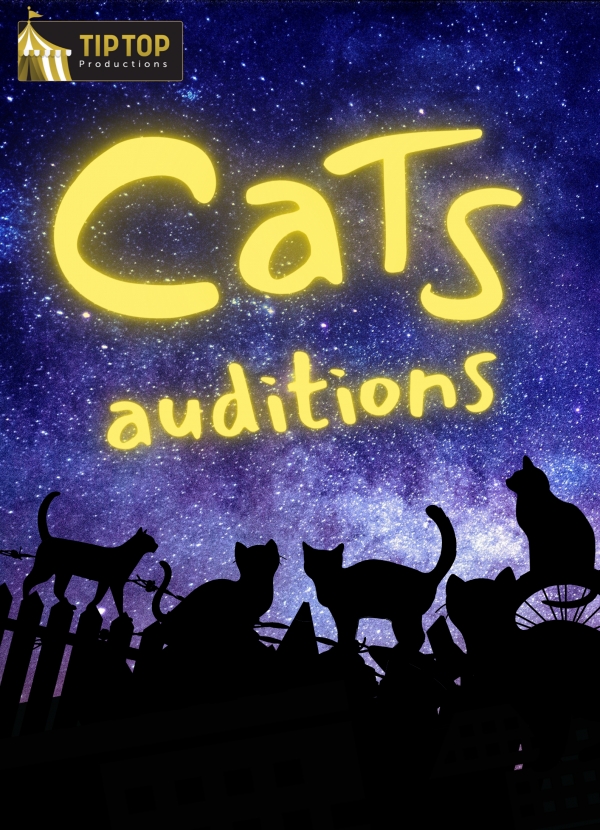 23/11/21 - 24/11/21
The auditions for Cats will take place on Tuesday 23rd & Wednesday 24th November, starting at 7.30pm at Park Street Studios, Wrexham – Tip Top's rehearsal venue.
The format of the auditions will be as follows….
Tues 23rd November
7.30pm – Dance / Movement Audition – for Ensemble & certain named Principals*
8.30pm – Singing Audition – for Ensemble only
Wed 24th November
7.30pm – Singing Audition – for all Principal Characters
*If you are interested in the following named principal roles then you must attend on both days to be considered for them – Bombalurina, Demeter, Jennyanydots, Mungojerrie, Rumpleteazer, Munkustrap & Rum Tum Tugger.
For the auditions on Tues 23rd Nov there is nothing the prepare – just turn up ready to dance, move & sing – we will do the rest!
For the auditions on Wed 24th Nov we have set the pieces we want you to prepare and sing. Please see attached "Audition Songs" pdf for the relevant pieces for each character – the music has been scanned and uploaded HERE

Please let us know if you have any problems accessing this.
If you are successful in your audition you will need to become a member of Tip Top Productions and there is a membership fee involved in this.
You will find further audition info, a draft rehearsal schedule and the audition songs
HERE
So that we can ensure that both audition nights run smoothly can you please let us know beforehand that you are attending and what part/s you are interested in - this will help us plan accordingly!
There is a lot of info attached so if you do have any questions at all please do not hesitate to drop us a line.
Thank you again and we look forward to seeing you at the auditions.
Rob & Tim