Brassed Off

by Paul Allen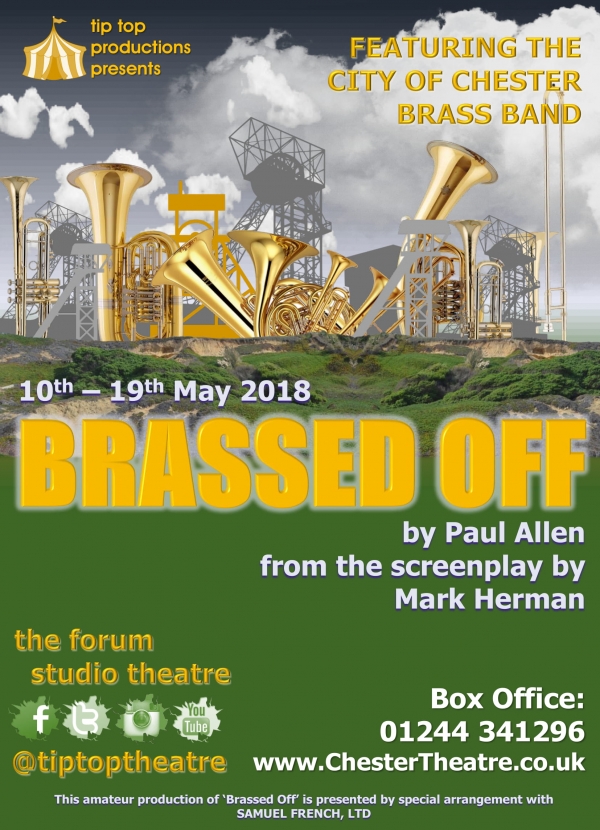 10/05/18 - 19/05/18
Venue: The Forum Studio Theatre
Grimley Colliery is set to close as the accountants say there's more money in it shut than open, even after redundancy payments. It means 1200 job losses, a dying town and the loss of its brass band. But under the leadership of Danny, coughing with coal-dusted lungs, the band is somehow transformed into British champions with local lass Gloria whipping up the money needed to get them to the Albert Hall.
CONTAINS STRONG LANGUAGE AND USES STROBE LIGHTING
Cast
Danny - John Lindop
Phil - Des Hinks
Sandra -Zillah Edwards
Jim - Steve Lancashire
Vera - Rachel Sumner
Rita - Kat Tanczos
Andy - Taylor Roughley
Gloria - Laura Tayler-Black
Shane - Zach Waddington
Melody - Lily Rackham
Nurse - Jane Dixon
Harry - Steve Cross

We are delighted to announce that performers from the City of Chester Brass Band will be joining us for this production to provide live music.
Production team
Director - Chris Dukes