BOUNCERS

Back by popular demand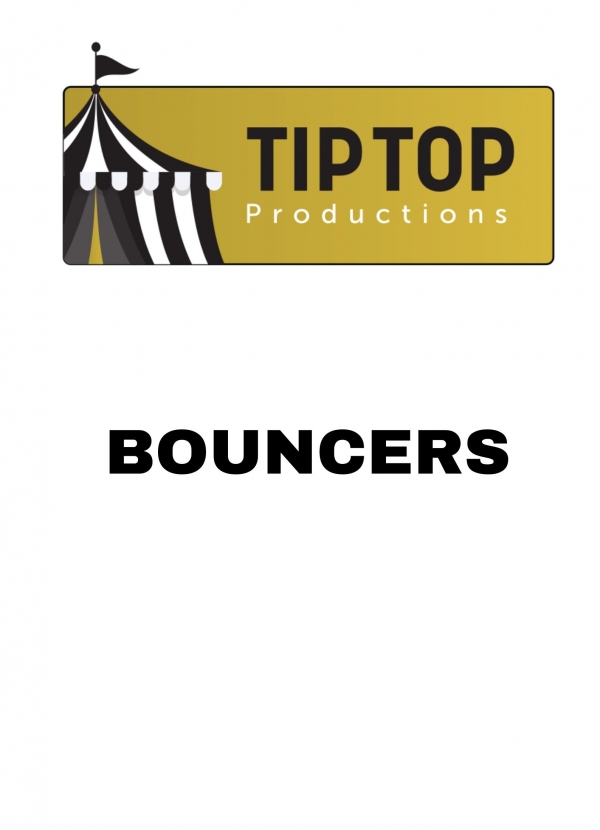 25/06/08 - 28/06/08
Venue: Clwyd Theatr Cymru
STOP PRESS!

Bouncers opened on Wednesday night to a full house in the huge Anthony Hopkins auditorium. The audience loved every minute of this excellent production. So much so that the cast received a standing ovation for their brilliant perfomance.
Don't miss this last opportunity to see a great show!

Following our sell-out production of The Full Monty last year we return to Mold with another hilarious comedy.
With the success of our production at The Forum Studio Theatre in Chester in January this year, Bouncers was an obvious choice for a production to take to the Mold audiences.

Bursting with imagination and wit and presented by just four actors, Bouncers is an outrageous and hilarious parody of the disco scene. The four brutish bouncers of the title portray over twenty different characters as we are invited for a night out on the town. We see them as giggly girls and lads on the make preparing for the big night out as we follow their progress to the disco floor. There, we also meet an entire cross-section of disco-goers, including Hooray Henrys, pogoing punks and drunken slobs! The evening's events are set against the tatty glitzy glamour, flashing lights and pulsating beat of the nightclub scene. An exhilarating night out for all concerned.
`Consistently entertaining.' - Evening Standard.
`Bouncers is brilliant.' - Daily Mail.
Warning: Contains Strong Language
Production team
Director - David Underwood
Reviews
FAULTLESS VERSION OF A CLASSIC OF ITS TYPE - Jean Weir - Ellesemere Port Pioneer
Review of our production of Bouncers at The Forum Studio Theatre - January 2008

THE last time I saw Bouncers was at the Gateway Theatre in the 1980s, so I had a good idea of what to expect from this funny play which has become a classic of its type. One of the brilliant aspects about the play is that from the moment you arrive the bouncers are in "character" and it's slightly unnerving to find yourself coming under their close scrutiny. The play only needs four male actors to bring it to life and contains a host of characters including the giggly girls as well as the lads on the make.
We follow this eclectic bunch through various stages of drunkenness during an evening-at a tatty night club, and we, the audience, are right in the thick of it!
Tip Top's production of this complex play was spot on and all credit to the actors for their faultless and brilliant performances.
The actors receive no help in the way of costume changes or props - although when they are "the girls" they do carry a handbag (and yes, they do dance around them)!
They have to rely on body language and voice to portray the different characters, and the fact that by the end of the play we recognise each character before they begin to speak is a tribute to their skills. Each of the scenes flowed seamlessly and with the help of brilliant lighting and the pulsating beat of the background music, we were transported to a night on the town.
Throughout the evening "Lucky Eric" (Mike Kelsall) exposes a softer side to his bouncer image and provides us with a running commentary of the evening's action with his "speeches". It is in these speeches that Godber's writing conveys some very serious and sobering social comment and reveals the desperately empty lives of all the characters we meet. Bouncers is a rollercoaster of a play and this production, under the skilful direction of David Underwood, is another resounding hit for the company.